Your schools have a bullseye on them, and bad guys are taking their shots. The global education sector has seen a 20% increase in cyber-attacks as criminals exploit newly implemented virtual learning environments. Threats range from nuisance adware to severe malware like trojans and backdoors, but the most common, by far, is ransomware. Recent data suggests that the education sector has been the most affected by the current rise of ransomware attacks across all business sectors.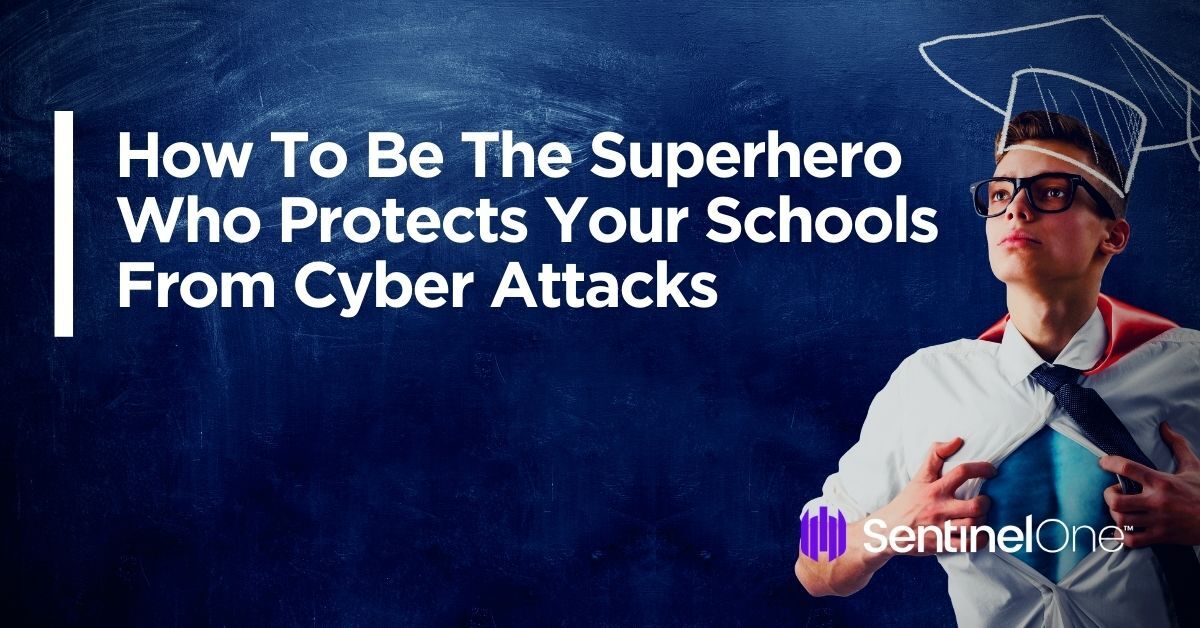 Why Are Schools Attractive Targets For Hackers?
Schools have become enticing targets for attackers because they store personal information on students and teachers, and security updates often aren't installed on remote devices that have been loaned out for remote learning.
Furthermore, students and teachers are frequent victims of phishing scams. They typically use simple passwords across multiple services, making them susceptible to credential harvesting and password-spraying attacks.
Devices loaned out for remote learning also connect to other networks with regularity, giving the hacker access to those systems. For instance, when students connect with their home networks, they're opening the door for hackers to enter and steal private data such as bank account numbers and sensitive documents.
When hackers infiltrate your devices with ransomware or wiper ware, they lock them up so they can't be used for learning. Suddenly, the capacity to simply teach students is held hostage to hackers.
Preventing Cyber Attacks On Education
Preventing these attacks can be difficult because schools have so many different devices. During the COVID-19 pandemic, many of those devices have been loaned out to teachers and students, so maintaining control over them is difficult. IT teams in education typically have limited staff and lack the visibility they need into the institution's attack surface, including cloud-based technologies and remote endpoints, to adequately protect them against threats like ransomware.
But in some educational institutions, these challenges are being met and defeated. Like a comic-book superhero who fights off the bad guy before the villain has a chance to steal the money, SentinelOne can defeat intruders before they hijack your devices. SentinelOne enables your school to automatically detect and manage devices as they join your network, with no hardware or network changes, and extends protection and control to cloud-based assets and applications running on them.
That's why Lenovo pre-enables SentinelOne on its best-in-class laptops, desktops, and Chromebooks, so that you can ensure a seamless and engaging experience for students whether they're learning face-to-face or remotely.
Visibility Into Your Entire IT Surface
SentinelOne is the only cybersecurity solution encompassing AI-powered prevention, detection, response, and hunting across endpoints and cloud workloads in a single autonomous platform. It gives your IT team full transparency into everything happening across the network at machine speed so that you can defeat every attack at every stage of the threat lifecycle.
By autonomously detecting and responding to attacks, SentinelOne eases the burden on under-resourced school IT teams, leaving staff to focus their attention on the most severe and impactful security issues.
The source of a ransomware attack may likely be contained in an infected file sent via email. In such cases, SentinelOne's endpoint detection and response (EDR) system identifies the file as soon as it tries to install itself on the endpoint, disables it, and deletes it from all endpoints across the school system.
If an attacker successfully infiltrates a device, SentinelOne can rollback the device to a healthy state, including decrypting encrypted files.
The SentinelOne Singularity security platform includes:
That's just a hint of Singularity's capabilities. Request a demo to experience this robust solution.
Heroic Defense Awaits
Getting this endpoint protection technology for attack surface visibility and control of your Lenovo devices is simple: the platform is integrated into Lenovo's ThinkShield end-to-end security portfolio.
ThinkShield offers automated and intelligent solutions to help device administrators and end-users secure data against cyber-attacks. SentinelOne strengthens that protection to superhero levels. To learn more about how SentinelOne and Lenovo can help protect your schools, click here.
For the non-Lenovo devices in your institution, you can still take advantage of all the benefits of the SentinelOne platform discussed above. Contact us for more information or request a demo.