Cloud-native CWPP, built on eBPF ensuring deepest possible security visibility with the lowest possible overhead. AI-powered runtime defense for servers, VMs, and containerized workloads in AWS, Azure, Google Cloud, and private cloud.
Automated. Agile. Secure.
Your Hybrid Cloud Footprint is Complex.
Cloud Workload Protection Shouldn't Be.
Real-Time Cloud
Workload Protection
Real-time CWPP in AWS, Azure, GCP, or private cloud. On servers, VMs, containers, or Kubernetes.
Forensic Visibility of
Workload Telemetry
Inform investigation and incident response with a data log of OS process-level activity
Field-Proven,
Optimized & Trusted
Millions of CWPP agents deployed. Trusted worldwide by leading brands, hyper-scalers, and hybrid cloud orgs.
Hybrid Cloud Workload Protection
Across AWS, Azure, GCP, and your private cloud or data center
Real-time detection and response of runtime threats across servers, VMs, containers, and Kubernetes
Stops threats such as ransomware, zero-day exploits, cryptominers, and fileless attacks
eBPF agent architecture, for OS process-level visibility with no kernel dependencies, no kernel panics
Support for 14 Linux distros, 20 years of Windows Servers, 3 container runtimes, Kubernetes
Auto-discover unprotected cloud compute instances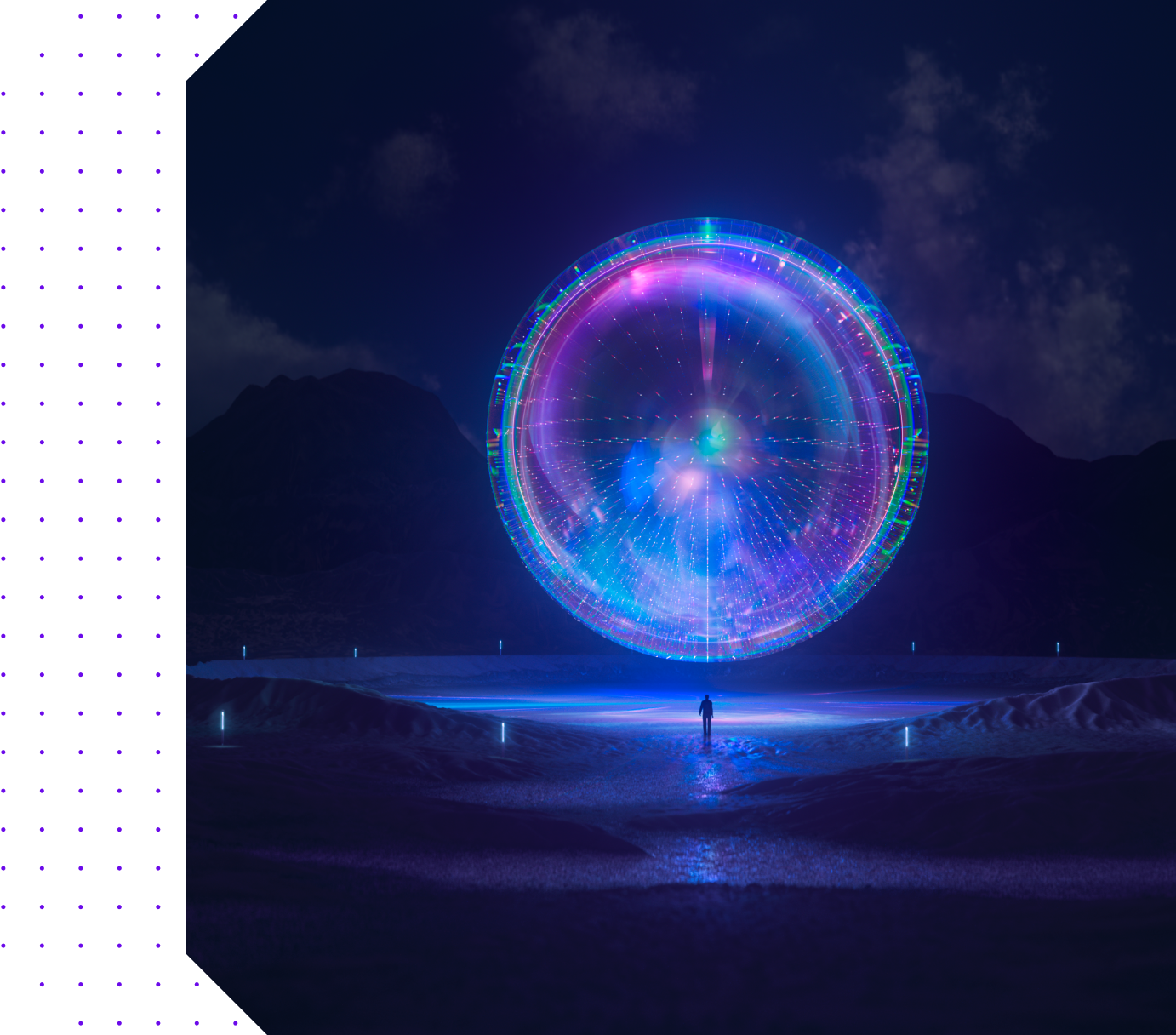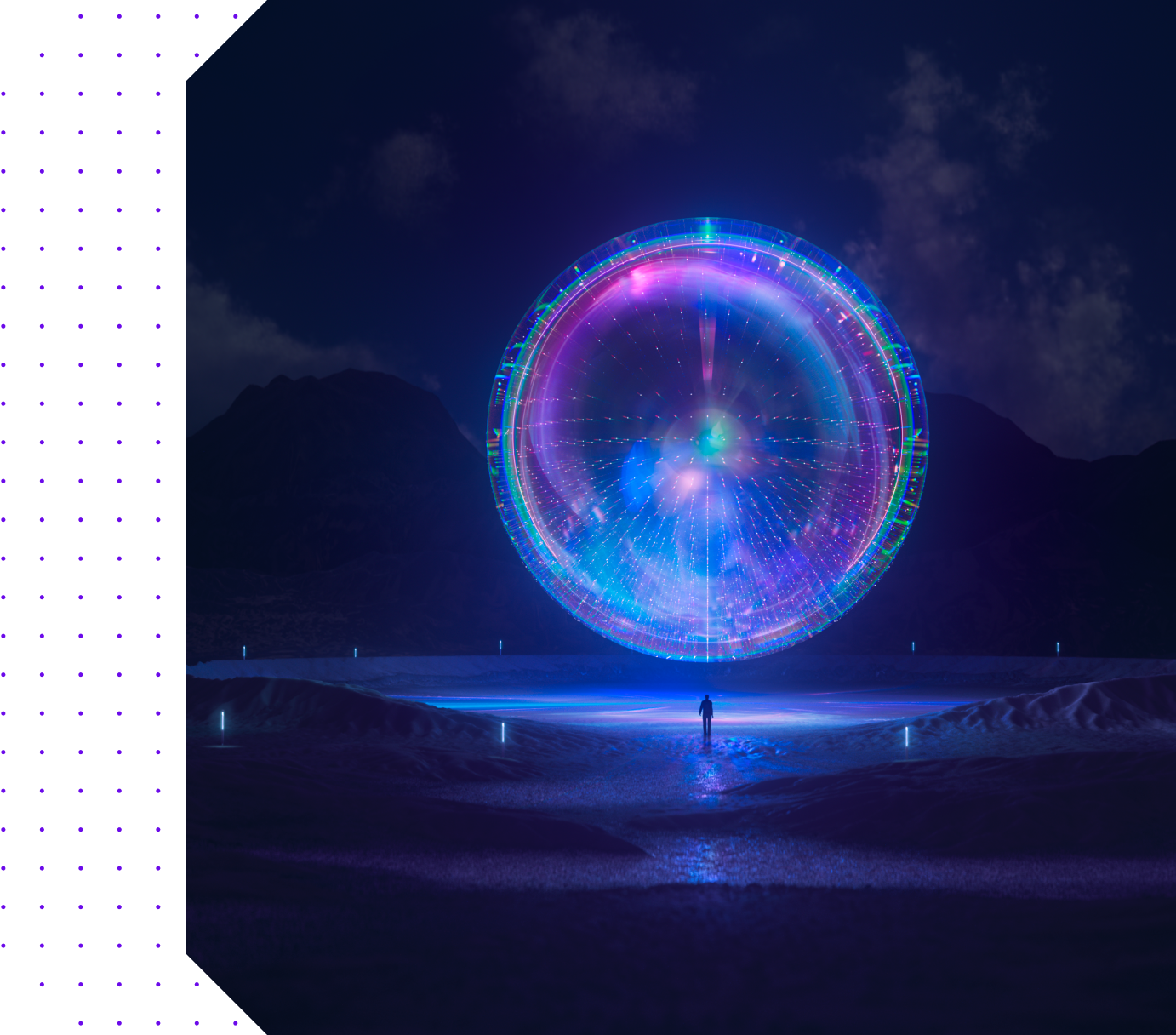 AI-Powered Threat Detection & Response
Machine-Speed Defense vs Runtime Threats
Multiple on-agent detection engines work seamlessly together
Static AI Engine trained over half a billion malware samples, inspects file structure for malicious characteristics
Behavioral AI Engine adds the dimension of time in assessing malicious intent
Application Control Engine defeats rogue processes not associated with the workload image
Threat Intelligence Engine identifies known-bad malware
eBPF agent architecture achieves high security performance with incremental CPU and memory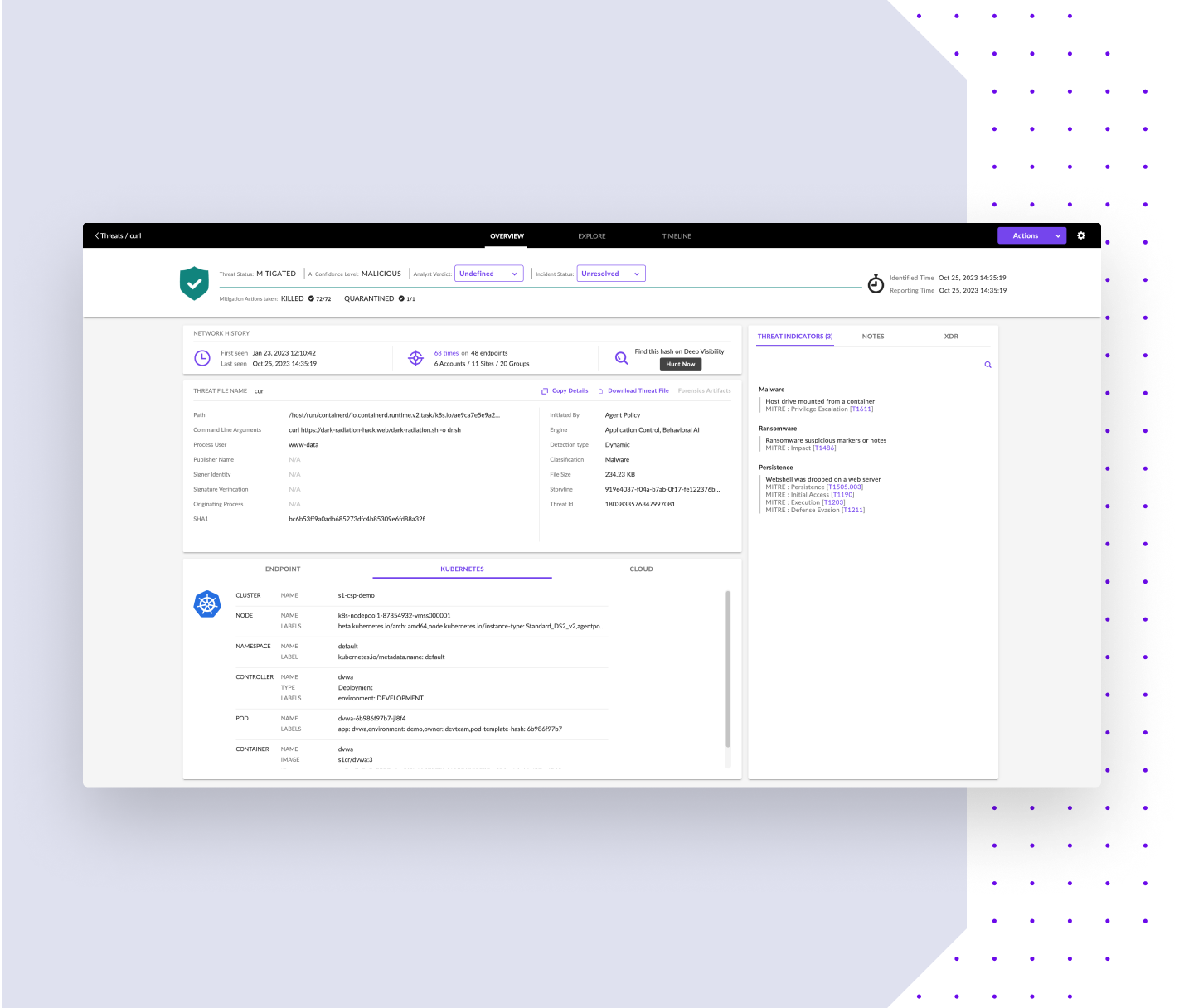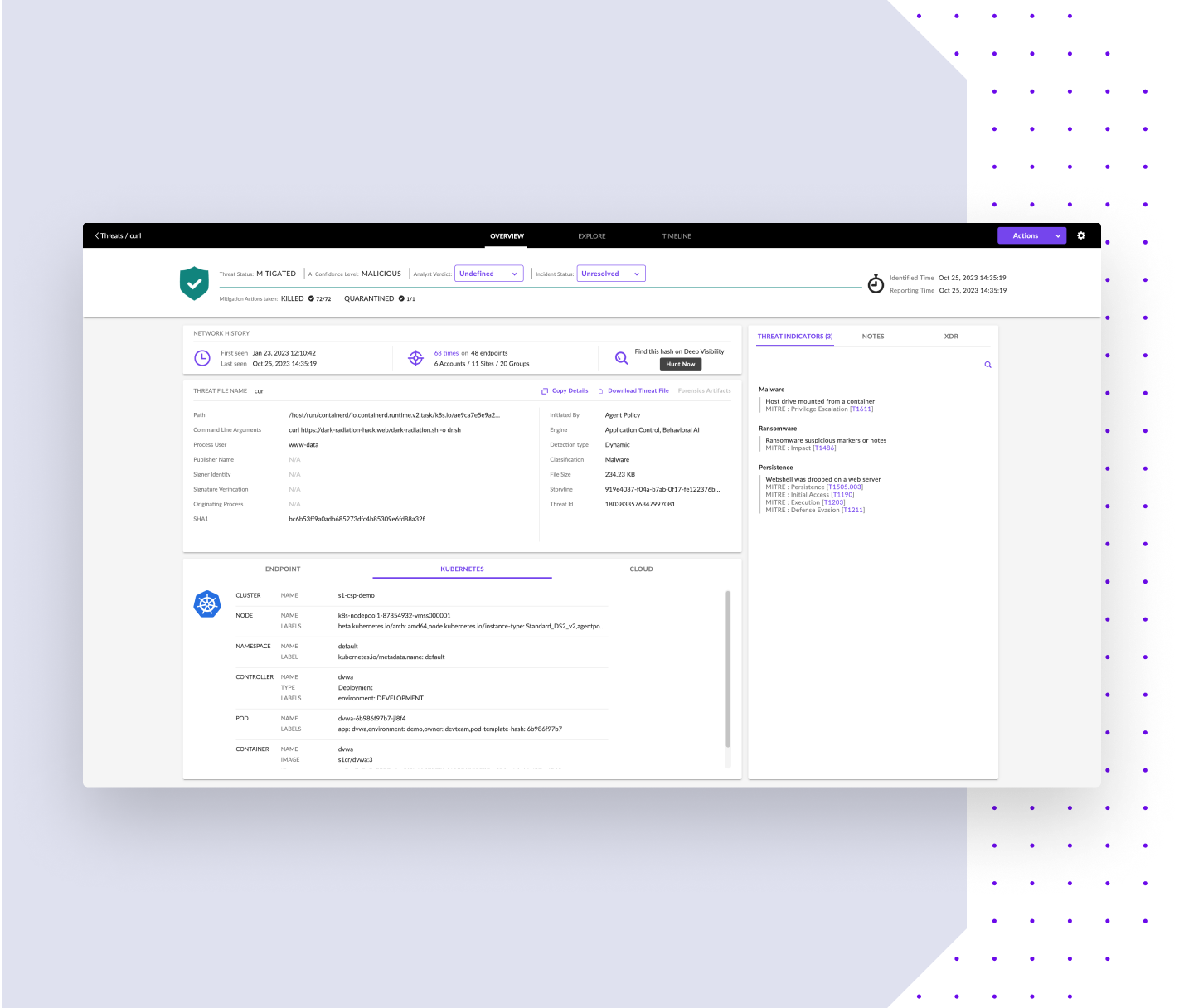 Comprehensive Forensic Visibility
OS process-level telemetry for incident response, triage, and threat hunting
Petabyte-scale Singularity Data Lake for efficient search, intuitive threat hunting, and streamlined investigation across every file, process, and network event
Automated Storyline™ attack visualization and mapping to MITRE ATT&CK TTPs
Simplify forensic artifact collection at scale and execute customizable response workflows with RemoteOps
Enrich runtime threat detections with build time context, cloud metadata, and more via Singularity Marketplace integrations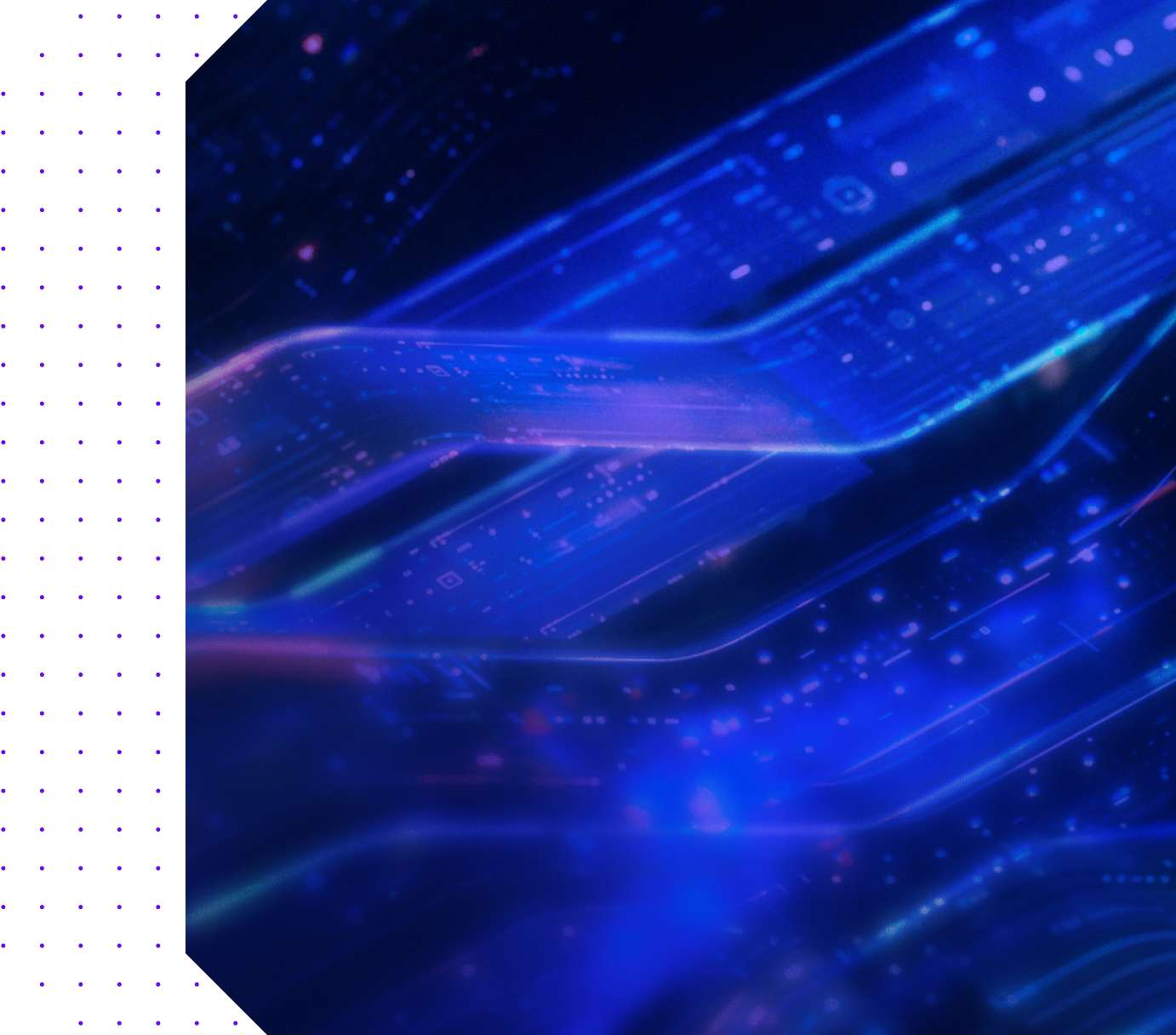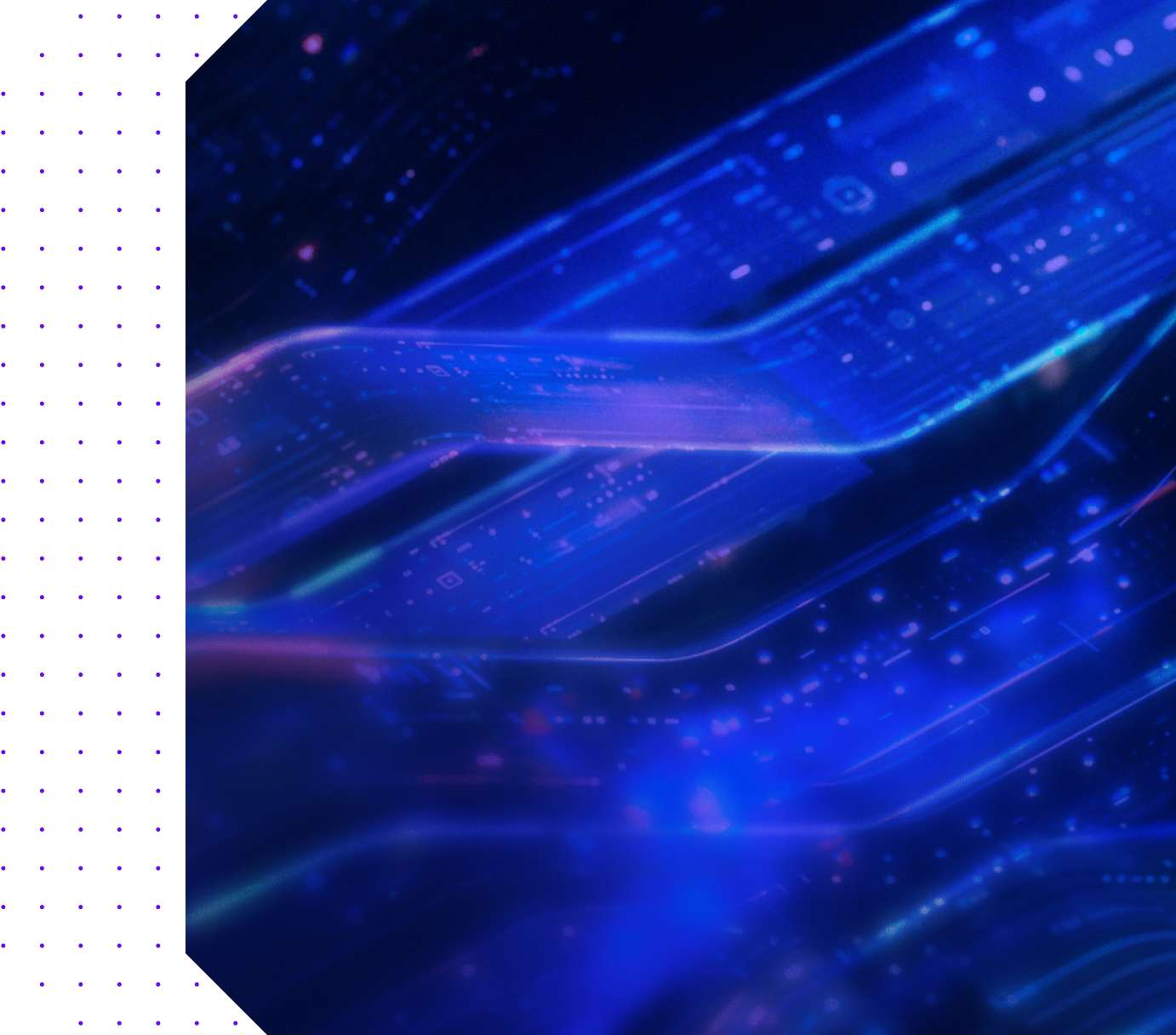 DevOps-Friendly
Automation, Scalability, Efficiency
No Linux kernel dependency hassles
IaC for DevOps provisioning
Auto-scaling CWPP for self-managed and managed K8s (EKS, AKS, GKE)
A single K8s CWPP agent per worker node protects the host OS, all its pods, all its containers
Auto-deploy CWPP agent to cloud compute instances in AWS, Azure, Google Cloud
Supports 14 Linux distros, 20 years of Windows Servers, and 3 container runtimes (Docker, containerd, cri-o)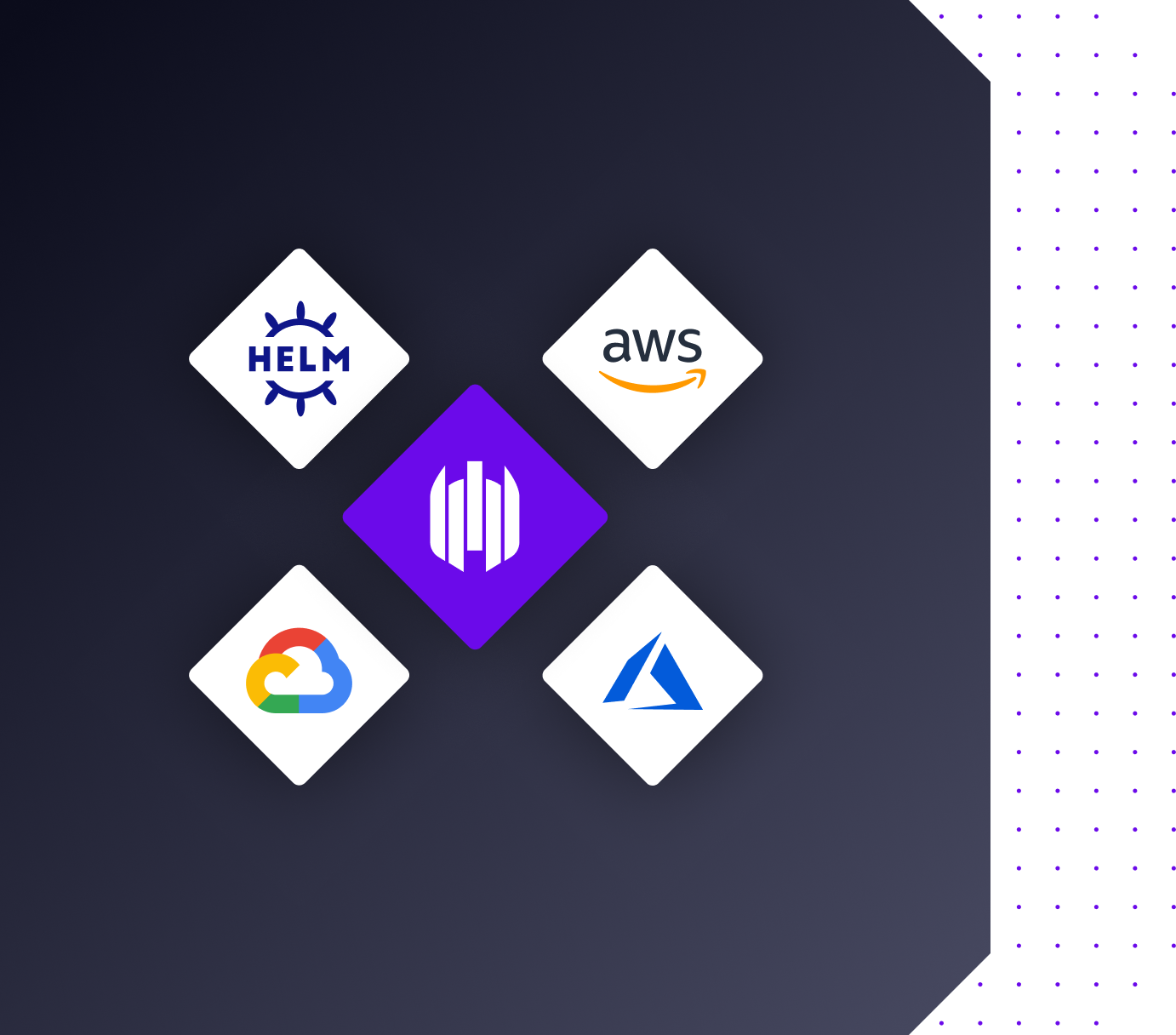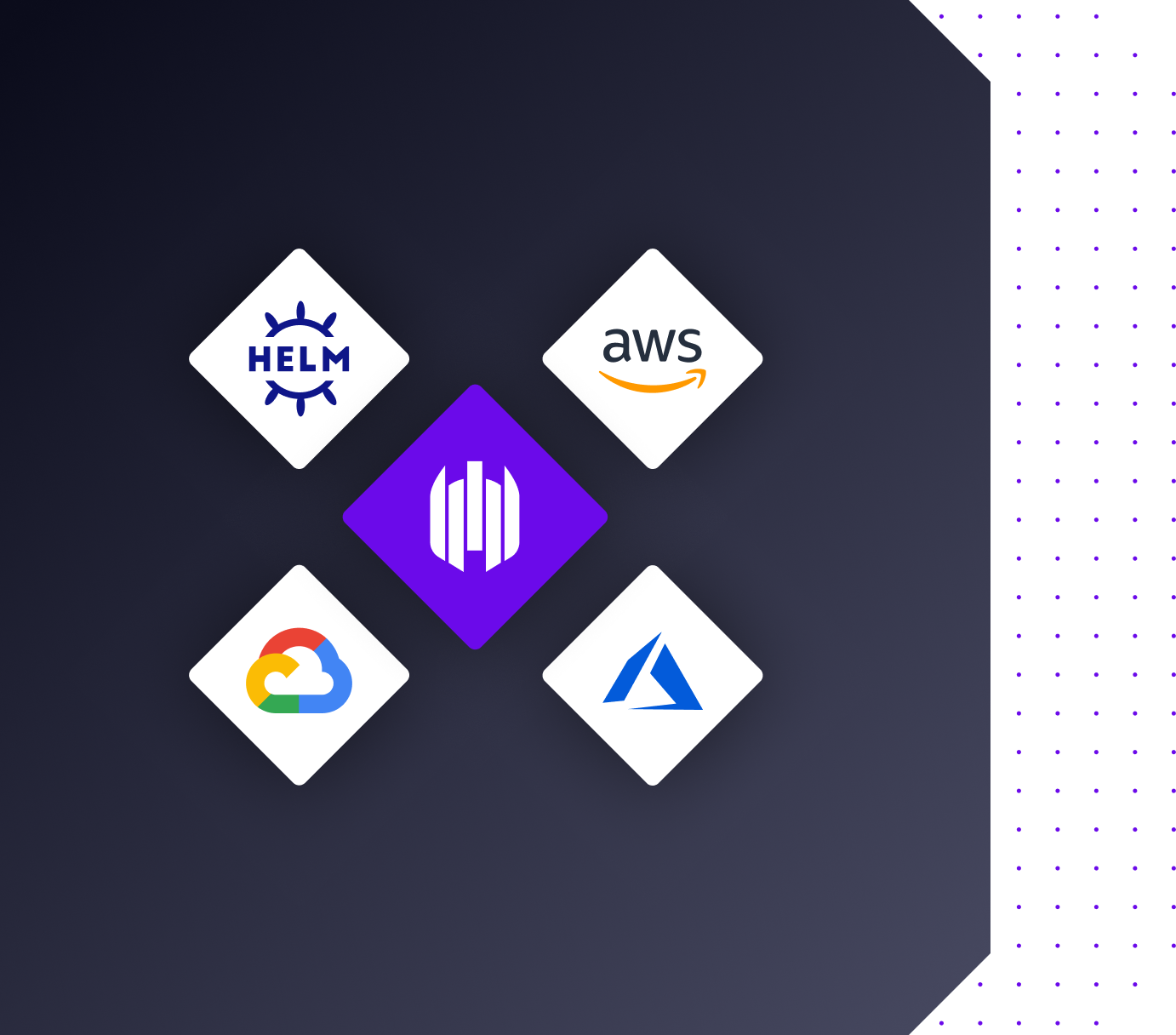 The World's Leading and Largest
Enterprises Trust SentinelOne
Including 4 of the Fortune 10 and hundreds of the global 2000
Backed by the Industry
Tried and Trusted by the Industry's Leading Authorities,
Analysts, and Associations.
Record Breaking ATT&CK Evaluation
No missed detections. 100% visibility.
Most Analytic Detections 2 yrs running.
Zero Delays. Zero Config Changes.
97% WOULD RECOMMEND FOR CWPP
4.8/5 Rating for Cloud Workload Protection Platforms
Endpoint Protection Platforms
A Leader in the 2022 Magic Quadrant for Endpoint Protection Platforms
Highest Ranked in all Critical Capabilities Report Use Cases