Cyber adversaries operate with a level of finesse and precision that can catch organizations off guard. In seconds, they can lure unsuspecting employees or partners with malicious files, exploit existing vulnerabilities to breach a network, and start moving laterally within a system to up their credentials.
The impact of ransomware attacks extends beyond mere disruption; they come with a hefty price tag. According to IBM "Cost of a Data Breach Report 2023," businesses are losing a staggering $4.45 million; a 15% increase over the past 3 years. The substantial challenge for organizations lies in their security infrastructure, which is often an assortment of disparate platforms and multiple isolated solutions. Having a disjointed setup leads to a fragmented view of the organization's unique risk and threat profiles.
This is where the concept of eXtended Detection and Response (XDR) emerges as a solution. XDR offers a novel approach to mitigating threats by gathering and harmonizing data across endpoints and diverse security solutions. This results in comprehensive visibility and enables automated responses, accelerating how organizations combat cyber threats.
In this post, we outline the essential ways XDR works and explore its transformative potential on the security strategies of modern enterprise businesses. Tailored to address the complex and interconnected nature of today's threat landscape, XDR presents an opportunity for security leaders to enhance their organization's security posture.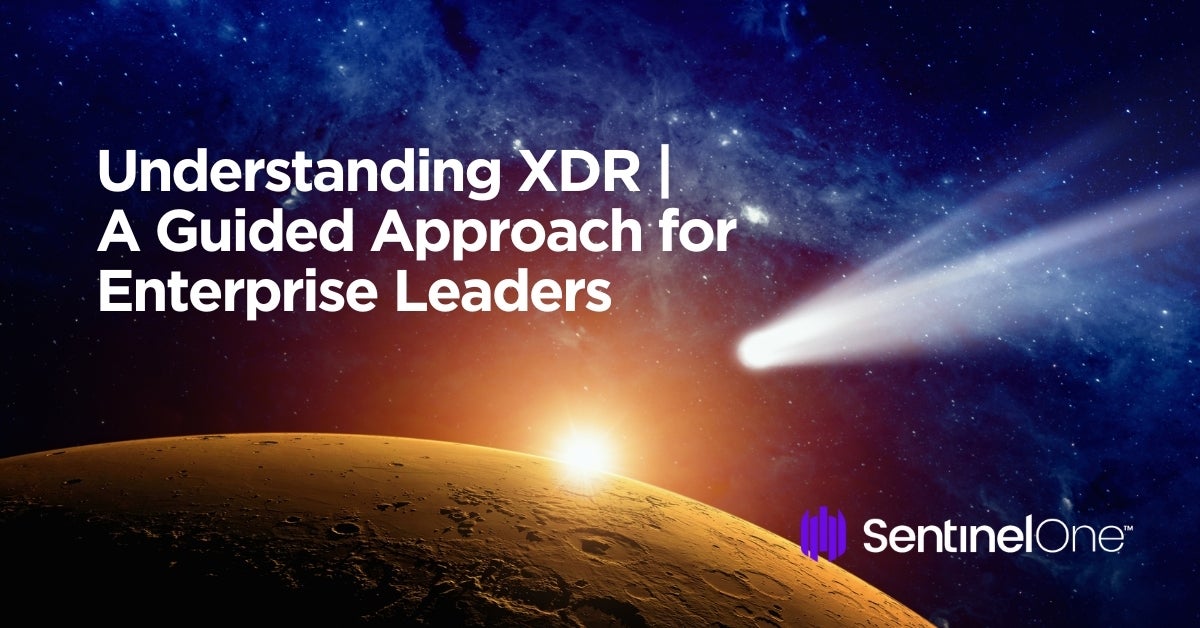 What Makes XDR Right For Modern Businesses?
Expanding on the foundations of traditional Endpoint Detection and Response (EDR) capabilities, eXtended Detection and Response (XDR) takes a progressive leap by automating and seamlessly integrating insights from an array of supplementary security tools. This fusion, which encompasses network and user analytics solutions, facilitates the correlation of threats across an organization's entire network. Data is amalgamated and fortified by robust security analytics, serving as the catalyst for triggering automated responses to potential threats. XDR also helps security teams automate root cause analysis, equipping teams with the agility needed to respond promptly and effectively – a key factor in stopping security events from being all-out catastrophes.
Amid the landscape of remote and hybrid work arrangements, which inadvertently expand the attack surface, the role of XDR has become pivotal. Since the COVID-19 pandemic, industries have seen a heightened vulnerability stemming from increased access points and the accelerated adoption of hybrid and cloud environments. Organizations find themselves in the crosshairs of relentless attacks, making it necessary to build robust, end-to-end security defenses.
Beyond strengthening security measures, XDR also plays a pivotal role in alleviating the growing cybersecurity skills shortage. This is achieved through amplified analyst productivity via streamlined automation and a unified workflow. Implementing XDR significantly reduces the manual effort required to track threats across multiple systems, replacing it with an intuitive central console, allowing teams to holistically manage threats across their entire spectrum of solutions.
XDR vs. The Cyber Kill Chain
In the cyber kill chain (aka cyber attack lifecycle), the intrusion and enumeration phases make up the critical juncture where proactive measures are pivotal. During these stages, the threat actors haven't yet moved deeply into the compromised network or blended in with normal network activities.
However, as the actors advance to the lateral movement phase, the task of detection becomes more challenging. At this point, threat actors often employ evasion tactics, ingraining themselves deeply within the network's architecture. This phase is often characterized by the use of living-off-the-land techniques, where threat actors harness existing legitimate processes and tools within the environment to solidify their foothold.
Over the years, threat actors have shortened the time between intrusion and lateral movement; a testament to their increasing sophistication and resourcefulness. For cyber defenders, this means that detecting the first signs of compromise during the enumeration and intrusion stages becomes the linchpin of effective defense strategy.
Reconnaissance & Enumeration
Before initiating the attack, malicious actors choose their target and search for exploitable vulnerabilities within their operations. This includes identifying unpatched vulnerabilities, misconfigurations, exposed administrative accounts, and other potential weaknesses.
What XDR Does:
Comprehensive Visibility

– XDR aggregates data from various sources, including endpoints, networks, cloud environments, and user behavior. By integrating insights from these diverse security solutions, XDR provides a comprehensive view of the entire IT landscape. This holistic perspective enables security teams to identify anomalous activities and potential reconnaissance attempts across multiple attack vectors.

Behavioral Analytics

– XDR leverages advanced behavioral analytics and machine learning algorithms to establish baseline patterns of normal behavior for users, applications, and systems. When threat actors attempt reconnaissance by deviating from these established patterns, XDR can quickly detect unusual or unauthorized activities. This ensures that any deviations indicative of reconnaissance activities are promptly flagged for investigation.

Real-Time Monitoring

– XDR continuously monitors network traffic, user interactions, and system behavior in real time. This proactive monitoring allows security teams to identify and respond to suspicious activities, including reconnaissance attempts, as they occur. Real-time alerts enable immediate action to be taken before threat actors can gather significant intelligence about the target environment.

Threat Intelligence Integration

– XDR integrates threat intelligence feeds and databases, enabling organizations to stay updated on the latest attack trends, tactics, and techniques. This integration enhances the detection of reconnaissance activities by correlating observed behaviors with known threat actor tactics, ensuring that potential threats are recognized and addressed promptly.

Automated Responses

– XDR's automation capabilities empower security teams to respond rapidly to detected threats. In the case of reconnaissance attempts, XDR can automatically trigger predefined response actions, such as isolating compromised endpoints, blocking suspicious IP addresses, or initiating deception techniques to divert attackers away from critical assets.

Threat Hunting

– XDR supports proactive threat hunting by allowing security analysts to query and investigate historical data. This capability enables the identification of subtle indicators of threat activities that might have been missed during real-time monitoring. Threat hunters can uncover patterns or anomalies that might signify ongoing or past reconnaissance attempts.
Initial Intrusion & Enumeration
Building on insights gathered during the preparation phase, threat actors tailor their intrusion techniques to capitalize on the specific weaknesses they've identified in their targets. Once inside the target system, threat actors move swiftly to establish their presence, gauge the extent of their current permissions, and gauge the level of privileges required for lateral movement. Time becomes a critical factor as actors strive to solidify their position and enhance their access rights.
What XDR Does:
Detection of Suspicious Activities

– XDR continuously monitors network traffic, endpoint behaviors, user activities, and other data sources in real time. It uses advanced behavioral analytics and machine learning algorithms to establish baseline patterns of normal behavior. Any deviations from these patterns, indicative of suspicious or unauthorized activities associated with the initial intrusion, are promptly identified and flagged for investigation.

Real-Time Alerts

– Upon detecting anomalous behaviors, XDR generates real-time alerts that notify security teams about potential intrusion attempts. These alerts provide crucial information about the nature of the threat, the affected systems, and the attack vector, enabling rapid response and mitigation.

Incident Prioritization

– XDR's threat detection capabilities allow it to prioritize alerts based on the severity and potential impact of the intrusion. This ensures that security teams focus their efforts on addressing the most critical threats first, minimizing the attacker's window of opportunity.

Correlation of Data

– XDR integrates data from various sources, such as endpoints, network logs, and cloud environments. By correlating information from multiple domains, XDR provides a comprehensive view of the attack, enabling security teams to understand the attacker's tactics, techniques, and potential objectives.

Automated Response Actions

– XDR's automation capabilities come into play during the initial intrusion phase. Upon detecting a potential intrusion, XDR can automatically initiate predefined response actions. These actions may include isolating compromised endpoints, blocking suspicious IP addresses, or triggering additional security measures to prevent lateral movement.
How Enterprise Businesses Can Get Started With XDR
Implementing XDR for enterprise businesses requires a well-structured approach to ensure its effectiveness. Here are key strategies to consider when adding XDR capabilities to an existing tech stack.
1 – Define Objectives and Use Cases
Start by clearly defining the organization's cybersecurity objectives and identifying specific use cases where XDR can provide the most value. Determine the critical assets and data that need protection and the potential threat scenarios to be addressed.
Tailor use cases to the organization's unique risk profile and industry challenges. This strategic foundation ensures that the chosen XDR solution aligns precisely with the organizational priorities and sets the stage for a focused and effective implementation that addresses the most pressing cybersecurity concerns.
2 – Assess Current Security Landscape
Conduct a comprehensive assessment of current security infrastructure, including existing tools, technologies, and processes. Identify gaps, redundancies, and look for areas for improvement where XDR can fill in or enhance defense mechanisms.
Evaluate where XDR can integrate with current security solutions to optimize data collection and correlation across endpoints, networks, and cloud environments. This assessment provides a clear understanding of the organization's strengths and weaknesses, enabling leaders to tailor the XDR implementation to fill critical security gaps that may have been overlooked.
3 – Plan for Deployment
Develop a comprehensive deployment plan that outlines the rollout strategy for XDR across different environments; endpoints, networks, and cloud, for example. Consider a phased approach to minimize disruptions and ensure smooth adoption. This means allocating resources for deployment, including personnel, time, and budget. Establish clear communication channels among IT, security teams, and stakeholders to ensure alignment and manage expectations.
4 – Configure, Customize & Perform Ongoing Optimization
Following the deployment of a new XDR solution, it is important to configure and customize the system to optimize its effectiveness. Begin by tailoring alert thresholds, correlation rules, and automated response actions to align with the organization's unique security policies and priorities.
Leverage the XDR solution's capabilities to create specific use-case scenarios and regularly review and refine configurations based on real-world insights and evolving threat landscapes. Collaboration between security analysts and IT teams ensures fine-tuning that maximizes threat detection accuracy and minimizes false positives.
Conclusion
Extended Detection and Response (XDR) has emerged as a leading solution in defending organizations against modern cyber attacks. As the cybersecurity landscape continues to shift and threat actors deploy increasingly sophisticated tactics to exploit vulnerabilities and breach defenses, a traditional, siloed approach to security is nowhere near enough. XDR's comprehensive and integrated approach ushers in a new approach to security where data across endpoints, networks, and clouds converge to provide a holistic vantage point. This is the key vantage point in detecting the very first indications of a cyber intrusion, before the attack can even begin to escalate.
With threat actors continually evolving their tactics, organizations must remain agile and adaptive. XDR's ability to integrate with existing security solutions and its scalability ensures that as new threats emerge, the organization can seamlessly incorporate new tools and threat intelligence feeds. By analyzing patterns and trends across diverse data sources, XDR enables organizations to fine-tune their security strategies, anticipate potential vulnerabilities, and strategically allocate resources to maximize protection.
SentinelOne offers Singularity XDR, a leading solution in the security space powered by autonomous response. Learn how Singularity leverages artificial intelligence and machine learning to respond across entire security ecosystems and protect each attack surface. Book a demo or contact us for more information.
SentinelOne Singularity XDR
Supercharge. Fortify. Automate. Extend protection with unfettered visibility, proven protection, and unparalleled response. Discover the power of autonomous with Singularity XDR.