SentinelOne has announced the global rollout of Singularity Marketplace. Singularity Marketplace is a one-stop-shop for SentinelOne customers to browse and deploy joint technology solutions and unlock new use cases on our Singularity platform. Available through the SentinelOne console, the Singularity Marketplace is our application ecosystem that unifies prevention, detection, and response data and actions across enterprise attack surfaces with a few simple clicks.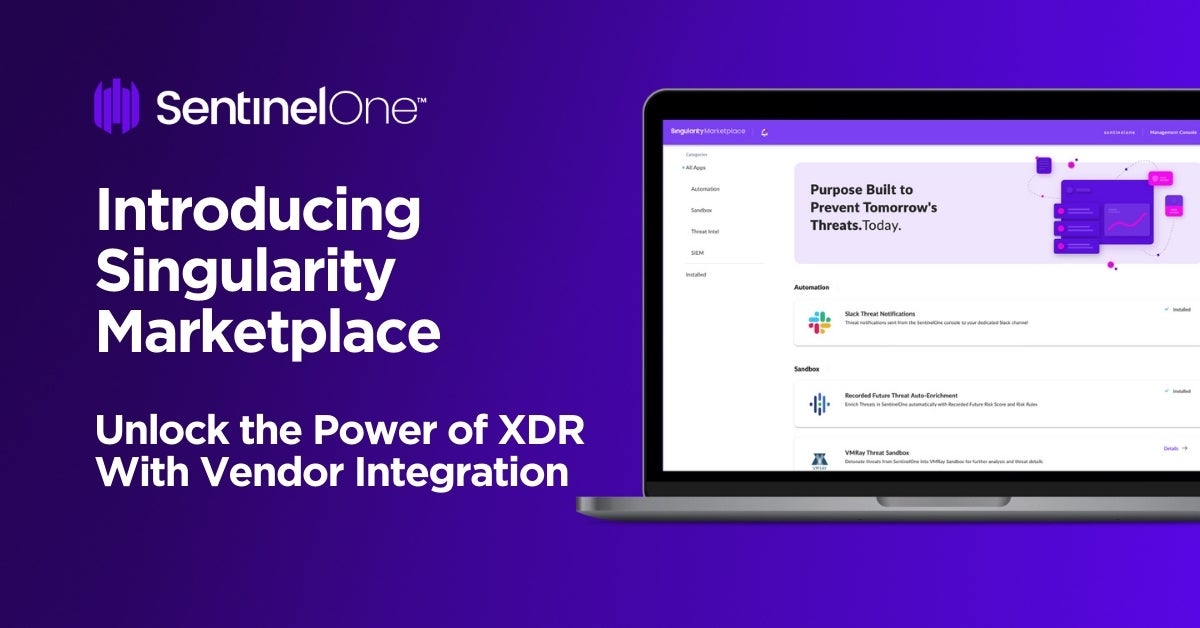 Singularity Marketplace
Singularity Marketplace is an API-driven ecosystem to help customers extend the SentinelOne Singularity XDR platform with bite-sized, one-click applications. Singularity Marketplace is a key component of Singularity XDR that brings the power of SentinelOne's AI-powered security platform to the entire security and IT stack. The result? An effective threat defense posture with layered security, collaborative processes, and integrated products.
Driven by years of acquiring multiple best-of-breed solutions, complexity is the number one factor in increasing data breach costs. With Singularity Marketplace, customers can reduce the complexity of managing multiple solutions with one-click integrations that eliminate the need for massive time investments in logic, coding, and configuration.
Singularity apps run on Nexus, our scalable function-as-a-service cloud which allows customers to deploy new integrations with no additional overhead. By connecting insights from across the stack, teams can converge on a single pane of glass for XDR workflows to minimize context switching and distractions during triage and incident response.
Auto-Ingest From Any Data Source
Teams struggle to make sense of an exponentially growing set of valuable information that lives in disparate security tooling and infrastructure. Marketplace data apps ingest and correlate telemetry from across a wide range of security and IT sources to help customers turn streams of security data into actionable insights.
Data can be consumed from any source – like CMDB, SIEM, IAM, network, SASE, or email security – and is stored in a unified cloud data lake for machine-speed detection analytics and threat hunting. Singularity Marketplace uses a single agent for all data collection, eliminating the need for different security applications to gather and store the same telemetry multiple times. With Marketplace data apps, customers get the visibility and context to detect threats that may otherwise slip through the cracks of siloed tools.
Featured Marketplace Partners: Netskope, IBM Security QRadar, Splunk
Auto-Triage Threats
Incident triage is a manual and time-consuming activity, requiring analysts to consult multiple sources of external intelligence to understand the threat. Marketplace intelligence apps streamline triage and investigation workflows by providing contextualized threat insights and sandbox verdicts within the Singularity platform. Indicators of compromise (IOCs) and suspicious files in Singularity are automatically submitted to partner solutions for dynamic analysis. The threat information and analysis results are displayed in the Singularity platform in real-time, saving valuable time when performing root cause analysis.
Featured Marketplace Partners: Recorded Future, Reversing Labs, VMRay, ThreatConnect, Joe Security
Automated, Real-time Response
Incident response necessitates speed and accuracy to quickly stop the bleeding before an attack progresses, however, IR often requires manual intervention or reliance on script-heavy SOAR solutions. Singularity Marketplace automation apps unlock SOAR-like functionality to orchestrate and automate response in SentinelOne and partner solutions.
Customers can take advantage of real-time response actions such as suspending a user, banning a device from a network, blocking a sending domain on an email gateway. Apps can also automate response workflows, like triggering incident escalation and notification in Slack. Teams can easily navigate the best course of action to remediate and defeat high-velocity threats by driving a unified, orchestrated response among security tools in different domains.
Featured Marketplace Partners: ServiceNow, Netskope, Attivo Networks, Vectra, Slack
"In the face of ever-evolving attacks, time is critical in remediating them. Singularity XDR Marketplace creates a powerful ecosystem that helps us quickly navigate the best course of action to remediate and defeat these threats by driving a unified, orchestrated response among security tools in different domains." – Alex Burinskiy, Manager of Security Engineering, Cengage.
Learn More About Singularity Marketplace
The launch of Singularity Marketplace is an exciting advancement of the Singularity XDR platform, which will continue to grow as the ecosystem expands with new partnerships and use cases.
For the complete announcement, please read our press release. To learn more about Singularity Marketplace and how to get started, visit s1.ai/marketplace.
Singularity Marketplace
Extend the power of the Singularity XDR platform
with 1-click applications for unified prevention,
detection, and response.