We are thrilled to share that our platform has been selected as the winner of the Overall Antivirus Solution Provider of the Year Award by CyberSecurity Breakthrough Awards.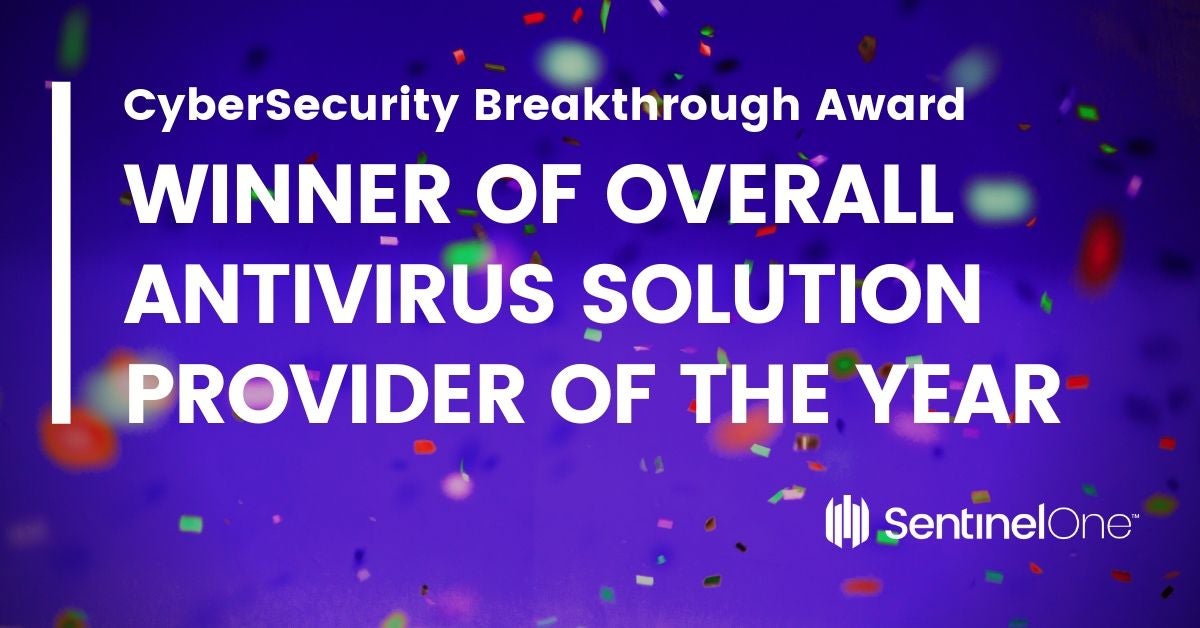 CyberSecurity Breakthrough Awards perform one of the deepest evaluations of the information security industry each year to select and highlight the "breakthrough" cybersecurity solutions and companies, and they had over 3,500 nominations this year from all over the world.
The program is extremely competitive, and the win highlights SentinelOne's ability to protect cloud workloads as well as other attack surfaces — servers, data centers, endpoints, and IoT devices — with autonomous, cloud-native technology powered by static and behavioral artificial intelligence models. Our solution, harnessing the scale and compute power of the cloud, is the fastest growing enterprise security product on the market today.  
The challenge? Endpoints are everywhere, from classic laptops and desktops, to workloads in the cloud and the datacenter, and all IoT devices – the network edge, including the cloud, is the real perimeter. Traditional on-premise signature database protection models are ineffective, reactive, and lack administrator visibility. With the constantly evolving threat landscape, enterprises too often fall prey to ransomware and fileless attacks which commonly run undetected in enterprises of all sizes. The tools of yesterday simply can't keep up with adversaries.
Converging threat prevention, detection, response, and hunting into a proprietary single platform architecture, SentinelOne is the first to take AI-based device protection from the cloud to the edge, covering IoT endpoints, and workloads in the cloud with a completely autonomous solution. Our platform has zero reliance on humans, services, or even cloud connectivity to deploy and operate the solution. We are the only cybersecurity platform that protects every endpoint in the enterprise regardless of its physical location, across any cloud environment (public, private or hybrid).
Our solution is the only one that autonomously defends every endpoint against every type of attack, at every stage in the threat lifecycle – truly a breakthrough in cybersecurity, and we now have the hardware to prove it.
Interested in learning more? Schedule your free demo today
---
Follow us on LinkedIn, Twitter, YouTube or Facebook to see the content we post.
Read more about Cyber Security