In the world of cyber security, it's no surprise that it's the researchers, bug hunters, red teamers, blue teamers and incident responders that often garner all the glory. It's their work you'll typically see grabbing the (social) media headlines, filling up repos on github and BitBucket and being widely circulated on platforms like Twitter and LinkedIn.
Integral to most security products' success, though, are a bunch of other people who, while rarely grabbing media attention, are still celebrated and acknowledged internally for the huge contribution they make: developers, Q&A teams, product managers, sales engineers and technical account managers, among others. And among these less celebrated but equally important groups of people are those who write our documentation. Often unsung heroes, our documentation team plays a vital role in the success of our product. In this blog post, we look at how our team of dedicated technical writers delivers tangible benefits to the SentinelOne experience.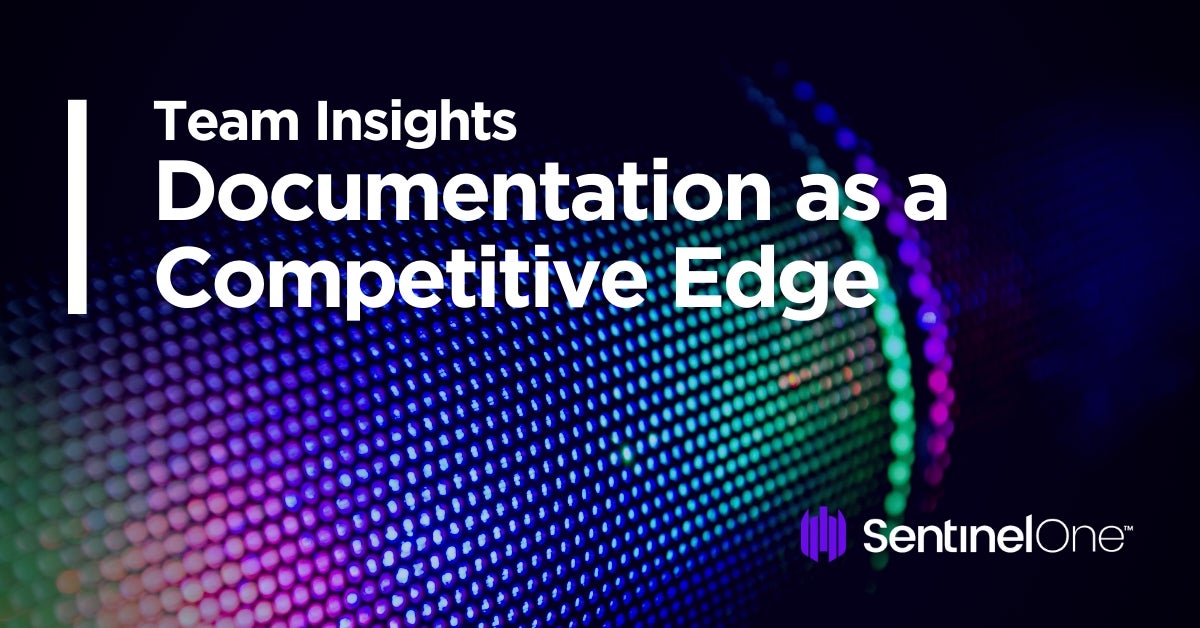 Never Underestimate the Importance of Great Documentation
If you've never really thought about it, let's just review precisely why documentation is an essential part of any product, not just ours. Effective documentation reduces costs and increases customer satisfaction. If your docs help your users find a quick, readily understandable solution to a question or problem they have without needing to contact a support representative, you've just saved that customer unwanted hassle and the company one less time-consuming, resource-sapping call.
If your documentation is accurate, functional and anticipates the customer's needs, you gain the double benefit of increasing both the customer's and your company's productivity. And for added bonus, you also gain the respect of your customers and enhance your brand reputation.
Indeed, great documentation should work so well that customers don't even notice how great it is because it just moves them through their task with ease. Like the proverbial well-oiled machine, we only notice documentation when it fails us, which is one of the reasons why great documentation teams tend to be unsung heroes.
Team Vision: Ensure User Success
Our technical writers chose our team vision statement to align with the principles of SentinelOne and with our offerings and services.
If It Ain't Easy, It Ain't Good
The SentinelOne Management console is all about wrapping power in a usable interface. We align our documentation with the principle of combining simplicity with power. We give you everything we can, wrapped in the SentinelOne version of simplified technical writing. We based our dictionary and rules on ASD-STE100 and revised that copyrighted standard to create our own vocabulary and grammar subset. Our goal is to create documents that are easy to read and that make sense if you use Google Translate to read them in your native language. Our goal is that the docs are so easy to use, you don't even feel the language.
Every Second Counts
On the security front-line, every second counts. We expect that when you go to the Knowledge Base (KB), you need a direct answer to the challenge of the moment. We keep that in mind when deciding how to structure the knowledge, to give you the answers with as few clicks as possible, without overloading articles with everything you need to succeed. We do not tell you all the different ways to open Endpoint details. We give you one way and continue quickly to the next step. We do not waste your time with why you should buy-in to a solution. We tell you how to get to where you need to be.
Be Relevant, Timely and Accessible
In 2017, we innovated our methodologies to deliver more accessible documentation. We moved away from manually made KB articles and PDF attachments to automatically pushed, stand-alone articles full of content. This lets you search through the guides on the KB native search engine. Have a question? Find the answer in the KB! At the same time, we deliver the same content through the in-product Help.
All this provides the structure you need to learn how to use all of SentinelOne's capabilities, whether that's the basics of installing agents and learning about Threat Management or quickly getting up to speed on advanced topics like SentinelOne Remote Shell, creating Insight Reports or hunting rogue IoT devices with Ranger, you'll find it all there in clear, easy-to-use steps with links to relevant, related content where applicable.
So, just how do you create great documentation and a great documentation team? Let's find out from some of the SentinelOne documentation team themselves!
No Fear | Rochelle Fisher, Team Leader
We received some feedback from a user who wanted improvements to the API Docs. My first response in the team meeting was, "The Docs team don't have direct access to this content. It is generated from the code." So the challenge was: what changes could we implement that would allow us to satisfy the customer's needs?
Being a Sentinel is all about being innovative, challenging yourself, and questioning the assumptions of what is possible.
I made appointments to speak with R&D leaders. I half-expected to be laughed down with this idea that a tech writer would touch their code. But they explained patiently how to use the system and what to touch to make the changes I wanted.
And the result? We're excited to say you'll be able to see the new API Docs content in the next version of the Management Console. We're not done implementing improvements, but we continue to improve our docs and our methods without the paralyzing fear of "well, we've never done that before".
Thinking On the Go | Ariel Freedman
We always need to keep one step ahead of the game, always think of new ways to improve our docs and make a difference to our customers. While working on the knowledge base, I ask myself: How can I improve this document? Is the procedure correct? Would a video help the customer?
As you might have seen, our sentinelctl docs keep on changing and being updated. One of the first big projects that I undertook was to document all of the missing Windows sentinelctl commands (all 270 of them!). At first, it seemed like an overwhelming task that would take a very long time to do, but as I started to work on it and get into the rhythm, it became a very enjoyable project.
Always keeping in mind how a project is going to help customers inspires me while working on documentation, and it still inspires me as we constantly make sure that the documentation is up to date.
Remain Responsive | Shira Rosenfeld
It was a typical day, working from my home office due to pandemic-who-shall-not-be-named. As usual, I started my workday by checking our organization's internal messaging system. When our Support Engineers or Solution Engineers ask a question, and the answer is not in our documentation, that often means a new task awaits: Clarify the information in the KB so that it will be readily available for the next person who seeks an answer to the same question. This time was no different. Three new tasks to add helpful information, one correction that needs to be made, and one configuration option that was not documented and should be.
The key to creating good documentation is understanding that it's a living artifact that needs to evolve and adapt in response to users' needs.
You can't ever assume you've written a "definitive" set-in-stone document. If it doesn't answer the customer's needs you need to be open to that and continually look to improve it.
Always Bringing You the Latest Protection…and Documentation | Mordechai Helfand
The release cadence at SentinelOne is pretty fast. In order to keep up with emerging threats and evolving attacker TTPs, we iterate in a timely manner to ensure you have the latest and greatest endpoint protection.
As technical writers, this means always having our finger on the development pulse so that we can update and publish release notes quickly to inform customers of what has improved and what value it brings to their experience.
Although sometimes it is challenging to keep up, innovation never stops at SentinelOne.
Conclusion
Keeping our customers protected, informed and productive is the name of the game for everyone at SentinelOne and this extends to the Documentation team just as much as it does to all our other teams. As you can see, the Docs team have to be responsive, up-to-date and on their toes. It's a demanding job where success not only helps drive SentinelOne's substantial competitive edge but also saves our customers time, effort and money. Their hard work might not be the first thing you hear about in an #infosec social media feed, but we hope that in this post we've helped elucidate the value that a great team of tech writers can bring!
If you are interested in joining SentinelOne, check out our open positions here.