After an incredible year of growth for SentinelOne EMEA, seeing net new business more than double and average deal size up 80%, we're prouder than ever of our focused team of partners. To celebrate the years' success and to thank partners for their contributions we wanted to hold a special event.
OneFuture, the SentinelOne EMEA Partner Summit (held on October 8th) was the perfect opportunity for us to recognize six partners who share our vision for cybersecurity, deliver terrific results, and make us proud to be 100% channel focused.
In front of more than 250 attendees from our focused partners and distributors,  from across the EMEA theater, we awarded six designations: Momentum Award, and New Star Award, Champion Award, as well as Technical Award and awards for Distributor of the Year and Partner of the Year.
Besides giving out our own awards, we shared news of some of the incredible accolades we have received from third parties; 100% in all categories of the SE Labs Breach Response Test, lowest number of missed detections in MITRE ATT&CK 2020, top scores for 8/9 criteria in KuppingerCole EDPR Market Compass, and in the Gartner Peer Reviews, 97% would recommend SentinelOne. Our EMEA channel chief, Roland Stritt also shared his strategy to ensure the year ahead continues to build on these fantastic results.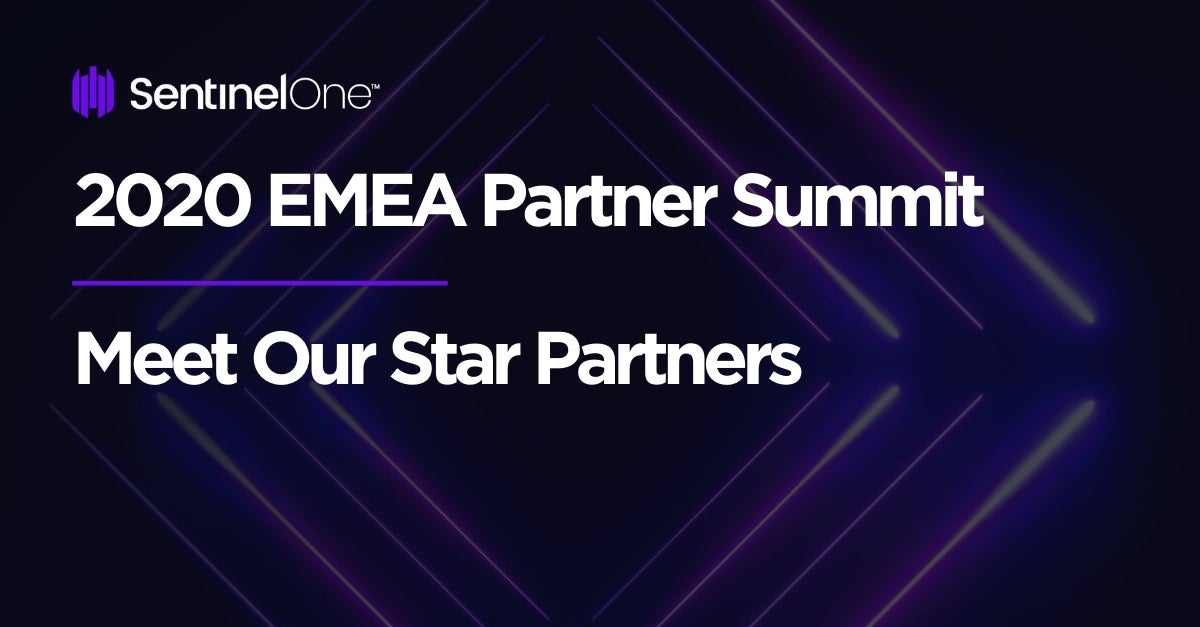 2020 EMEA Technical Award – QGroup
Running end-to-end technical campaigns with outstanding skills, QGroup have introduced new customers to SentinelOne through their Incident Response service offering.
The extensive consultancy services offered by the QGroup team are based on a sophisticated, yet simple, service concept: it offers support, where necessary, to existing IT departments or, upon request, takes over the entire IT operations all the way to supporting end users.
Thanks for your outstanding technical knowledge and support of us!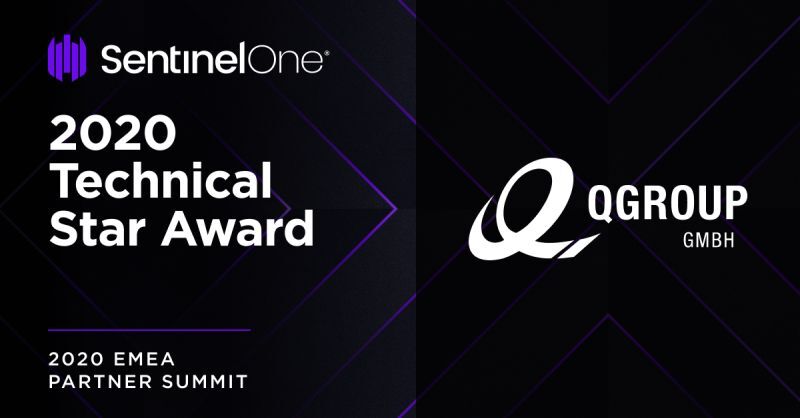 2020 EMEA Momentum Award – Easi
Constantly driving demand generation campaigns pays off for Easi as last year they initiated the most new deal registrations in EMEA, also winning the most new logos.
EASI is a Belgian IT company founded in 1999, offering state-of-the-art solutions to the mid-market, in the domains of software development, mobile app development as well as IT infrastructure, cloud and IT security. EASI also spends a lot of attention to the well-being of its 280 collaborators. EASI has been nominated Belgium's Best Workplace in 2015, 2016, 2017, 2018, 2019 and 2020.
Thanks for creating an unbelievable momentum every quarter!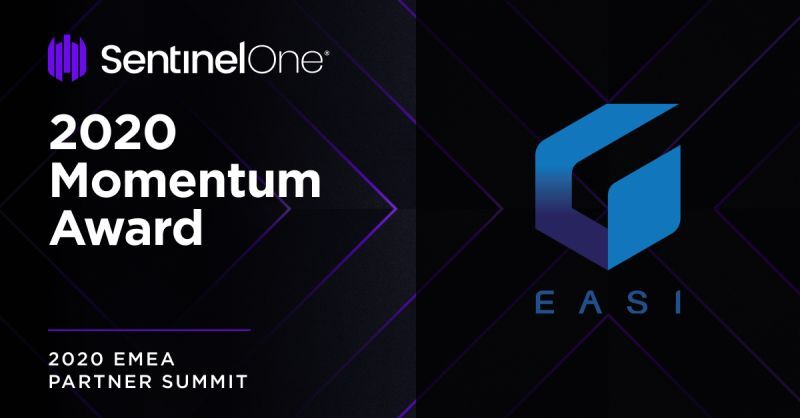 2020 EMEA New Star Award – Sec-1 | Part of Claranet Cyber Security
In the first few months of partnering with SentinelOne, Claranet has been a shining example of how to onboard a new vendor. Through running fantastic marketing campaigns and integrating us into their solution stack as their EDR vendor of choice, they are already one of our top partners for deal registrations.
In 2017 Claranet acquired Sec-1 to incorporate our deep cybersecurity experience in penetration testing, managed security, compliance, and training into their broader portfolio of managed IT services.
The future looks bright with our New Star!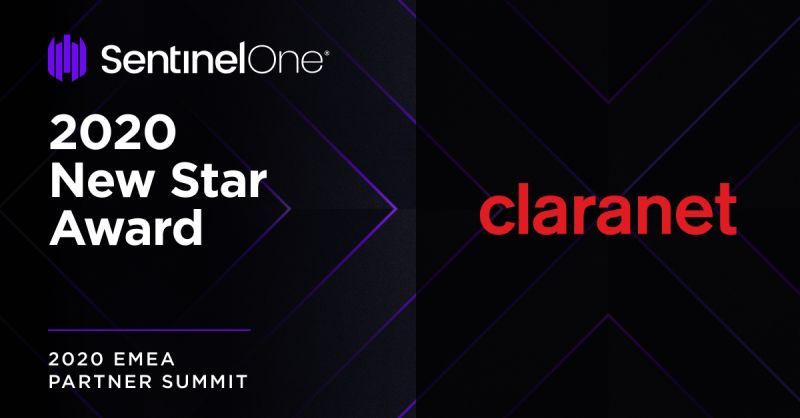 2020 EMEA Champion Award – Joep Kremer, ilionx
Joep has been with ilionx, one of our strategic partners in the Netherlands, for two and a half years. He knows the needs of our customers inside out and has a true passion for security. His knowledge and understanding of the day-to-day challenges of our customers make him a real asset.
Since its foundation in 2002, ilionx has supported its customers as a digital partner in areas such as artificial intelligence, management consultancy, business analytics, cloud, mobile, security and professional services. ilionx offers specialist knowledge, is agile and flexible and has the strength and scale for the successful implementation of large projects.
Thanks for being a true SentinelOne CHAMPION!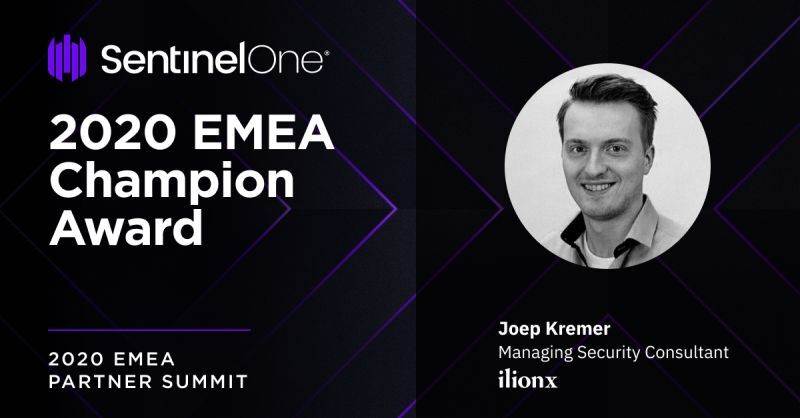 EMEA Distributor of the Year 2020 – Exclusive Networks Belgium and Luxembourg
Over the last year, Exclusive Networks in Belgium and Luxembourg has provided us with a blueprint for developing other regions. Their evangelism for SentinelOne has been incredible. They have been a paragon of sales and technical skills, helping us build a solid, channel driven business in these countries.
Exclusive Networks continually challenges traditional VAD models, redefining value and creating differentiation. They accelerate market entry and growth for innovative cybersecurity and cloud solutions.
Thanks for being a true VAD for us!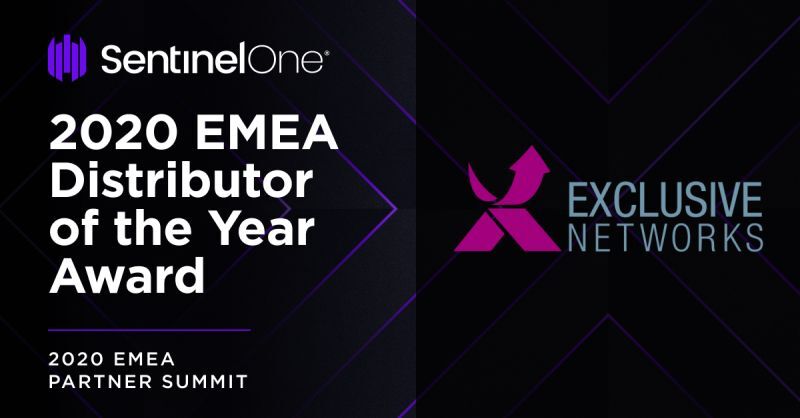 EMEA Partner of the Year 2020 – SVA
The last six months have been rocket-fuelled! SVA is able to run deals end to end, helps their customers in IR engagements together with SentinelOne, builds a highly qualified pipeline and, crucially, helps customers secure their environments. Their strong BU IT Security Team and highly skilled people have been key to our joint success.
The corporate objective of SVA GmbH is the combination of high-quality IT products of different vendors with the project knowledge and flexibility of SVA GmbH to achieve optimum solutions for customers. SVA GmbH core subjects are not only high availability and high scalability SAN archi­tectures but also data security and disaster recovery as well as virtualization technologies in the area of servers, desktop and storage.
We are immensely proud to be part of their portfolio. Thanks for being our partner of the year!