Hack Chat is a series of live conversations featuring real-life Red Team and Blue Team community leaders who are transforming the industry.
For the past four months, SentinelLabs has been working on a new interview series called Hack Chat, where we profile industry leaders from Red and Blue teams in cybersecurity and dive deep into what it takes to become great at their craft.
Below, Hack Chat host and Principal Threat Researcher at SentinelLabs Marco Figueroa explains the vision behind this innovative new series and gives a taste of what viewers are in store for.
More Than Just Another Podcast
"We know many technology and cybersecurity podcasts already exist in the market, but we wanted to bring something unique to our audience. Rather than having the traditional guest come on for an interview, we wanted to have technical practitioners from the offensive and defensive sides come on and provide insight into their expertise."
With Some Extraordinary Guests
And the list of guests is a stellar line up of cybersecurity pros who are all leaders in their fields.
"To kick Season One off, I reached out to people that I've gotten to know personally over the years at conferences; people that have taught me a lot through conversations and the projects they've worked on or created. Over the years, I've gotten to know each guest from Season One very well, and I knew that if they had time during their busy schedules to join me for an in-depth conversation about various topics in their field of expertise, it would be a fantastic season."
Get Ready for Hack Chat Season One!
It all kicks off today with the launch of Hack Chat Season One. We plan to release each Season with six guests: three red teamers and three blue teamers. According to Marco, Hack Chat was created to help cybersecurity professionals explore what it takes to become a cybersecurity expert.
Together with some of the leading practitioners who have inspired the industry in various ways, Marco and guests dive into their research and many other related topics: starting companies, building threat intelligence programs, APT Hunting, tool development, mindfulness, and transformative collaborations that have shifted the industry. The Hack Chat series explores the ins and outs of Red and Blue teaming and discusses the theory and practice that has propelled each of the guests to where they are today.
SentinelLabs is deeply invested in how to bring about knowledge to the cybersecurity community, and we see the Hack Chat series as a medium to help practitioners grow by hearing from leaders who find ways to make remarkable breakthroughs.
Here's the guest list for Season 1 along with a taste of what you can expect.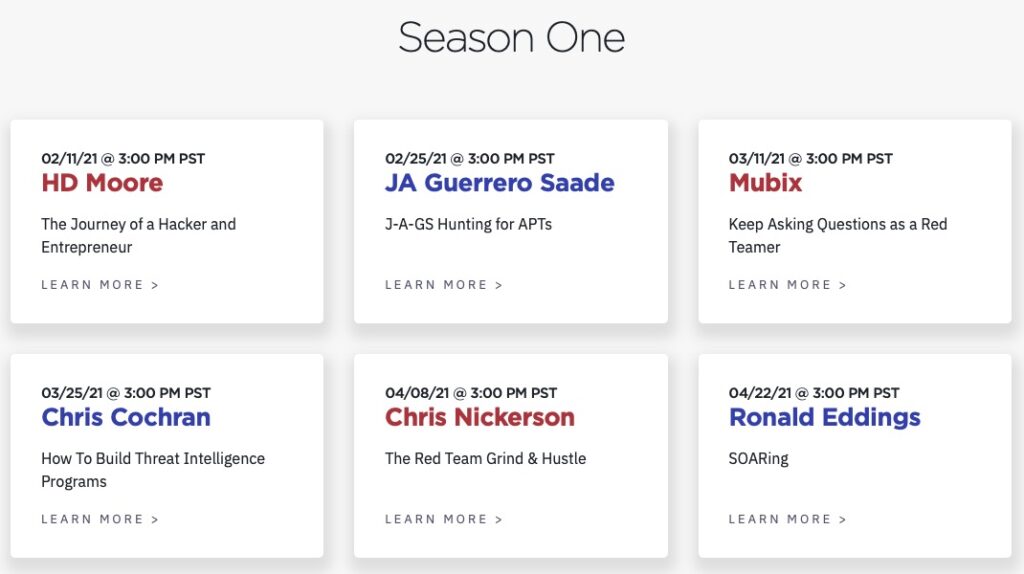 HD Moore: The Journey of a Hacker and Entrepreneur
H.D. is a network security expert, open source programmer, and hacker. He is a developer of the Metasploit Framework, a penetration testing software suite, and the founder of the Metasploit Project. He has been referred to as "the industry's most famous white hat hacker", as well as an overall good dude.
In this episode of Hack Chat, we discuss what it takes to become good at hacking, and delve into his newest business venture—Rumble.
"You really need to know some programming language, it really doesn't matter the language: Ruby, Java, Javascript, Python, Go be comfortable writing code because there is so many things to do today if you can't automate it or script it you really can't understand it well." – HD Moore, Hack Chat Season 1, Episode 1
JA Guerrero Saade: JAGS Hunting for APTs
Juan is a Cyber Paleontologist who has published game changing reports like Moonlight Maze which has been featured in the Washington D.C spy museum. He is formerly of GReAT, Google, Chronicle, and is the co-founder of Stairwell. Anyone who has seen Juan give a talk will agree he is a master of storytelling and always provides great value.
In this episode of Hack Chat, we discuss all things APT, reports that Juan has published in the past, and what it takes to hone your craft so you can find threat actors.
"Your response is about competence, you want to understand what they came for, understand what it is they got, what potential disruptive power that has to your organization." – JAAGS, Hack Chat Season 1, Episode 2
Mubix: Keep Asking Questions as a Red Teamer
Mubix is a Red Teamer who is always looking for challenges and willing to learn anything to overcome it. Mubix continues to push the limits of his skills and is one of the most motivating people on Twitter, discussing everything Red Teaming.
In this episode of Hack Chat, we move into the mindset of learning new tools of the trade and how Mubix continues to elevate his skills.
"I learn by doing myself, I ask everyone questions, any blog posts that I see I test and if it doesn't work I ask why does the things don't do what it's supposed to." – Mubix, Hack Chat Season 1, Episode 3
Chris Cochran: How to Build Threat Intelligence Platforms
Chris Cochran is a cybersecurity professional, leader, and content creator. Chris has extensive experience building and running strong cybersecurity programs and has a deep history and passion for security operations, engineering, and leadership.
In this episode, we dig deep into Threat Intelligence and what it takes to provide value to your stake holders.
"Sit down with every stakeholder that can consume intelligence and figure out what it is they need to get their job done." – Chris Cochran, Hack Chat Season 1, Episode 4
Chris Nickerson: The Red Team Grind & Hustle
Chris Nickerson is an Information Security industry veteran whose main area of expertise is focused on Red Teaming and Adversarial Modeling. In order to help companies better defend and protect their critical data and key information systems, he has created a blended methodology to assess, implement, and manage information security realistically and effectively.
In this episode of Hack Chat, we go into deep conversations about a Red Teamer's work ethic and dedication to their craft. We also discuss the Sunburst supply chain attack, and Chris gives his insights on how bad this hack was to Solarwinds and the CyberSecurity industry.
"I had great mentors; I've done everything that I could to contribute to the community, through a hard work ethic, speaking engagements, helped elevate people" – Chris Nickerson, Hack Chat Season 1, Episode 5
Ronald Eddings: SOARing
Ronald Eddings is an expert in scaling assets and applications on premises and in the cloud. Today's network architecture creates a degree of complexity that often leads to misconfigurations and vulnerabilities. As a leader in security architecture, Ronald assists organizations scale security controls while reducing complexities that analysts and engineers face.
In this episode of Hack Chat, we go into the importance of Devops automation and how corporate networks need to begin investing in SOAR.
"Really understanding what is your use case, why are you attempting to secure something, what does that mean to you, will help you build a strategy and select the right tools, the right automation for the right strategy and implementation." – Ronald Eddings, Hack Chat Season 1, Episode 6
So How Do You Get Hack Chat?
We're sure you'll agree that a line up like that is going to make for a fantastic season of Hack Chat that you just won't want to miss!
You can tune in to all the interviews and get notified when each new Hack Chat is out right here.