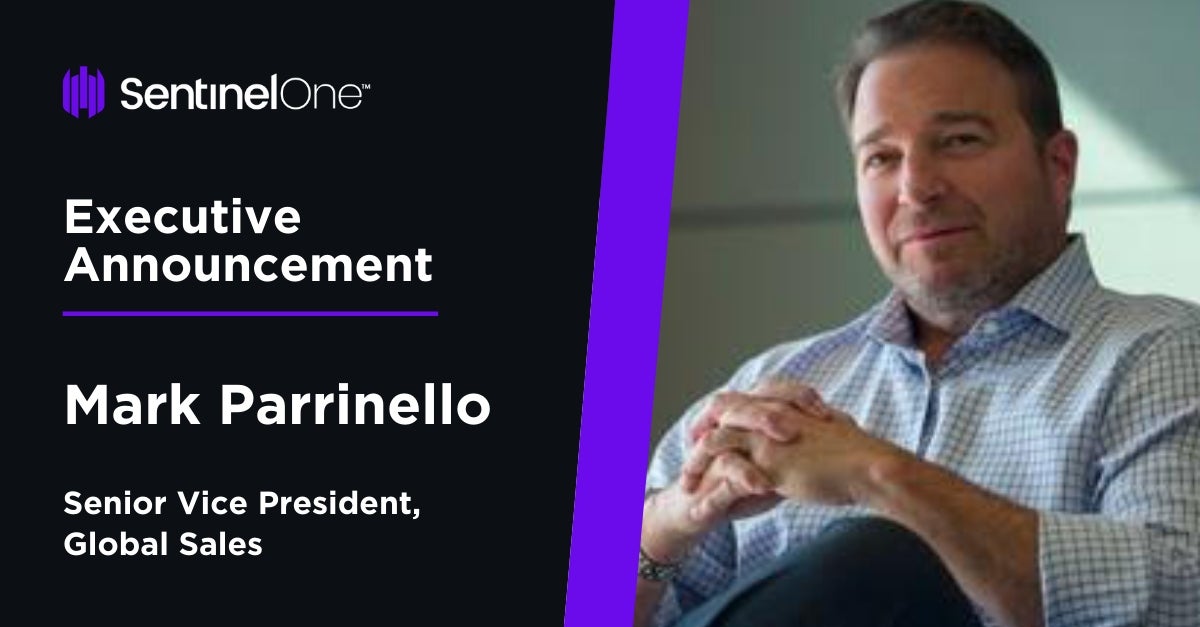 Mark Parrinello, recently with Cohesity, joins SentinelOne as Senior Vice President of Worldwide Sales 
After decades in the enterprise market, specifically in storage, I joined SentinelOne to lead global sales. Many have asked, why? The connection might seem unintuitive at first, but the reality is that we have witnessed an increasing overlap of these two sectors: in today's enterprise, storage and security are fundamentally intertwined. 
The enterprise is concerned with two main challenges relating to data, its greatest asset. Namely,
Where should we store our data?

How can we secure our data?
As the cyberthreat landscape evolved over the last decade, the frequency of these two dialogues intertwining has reached an all time high. In selling storage, Cohesity's buyers were interested in security, which was a realization point for me. 
The Intertwined Tale of Storage and Security
The question of where we should store our data has never been more complex. The range of solutions is not only vast and ever-changing, but it's likely that in any modern enterprise a variety of solutions will be in play. From on-premise hardware to cloud storage and hybrid cloud networks, to containers, buckets and silos and the transfer of our prized asset to remote, intangible data centers, mirrored on servers and repositories worldwide to ensure accessibility no matter where we or our customers are physically located, the question of 'where' can never be isolated from today's new security challenges. 
Such data fragmentation creates complex security challenges, and visibility into what is happening with our data, both at rest and in transit, is enough to keep a CISO awake at night. We live in an age where data incurs unprecedented business risk, from industrial espionage, APTs and cybercriminals intent on extortion and theft to the penalties of failed data protection with regulation like GDPR and CCPA. These and more are challenges that turn the question of where to store our data into a question of how we shall secure it.
CISOs face these challenges knowing that the matter is both urgent and pressing. We rarely have the luxury to build infrastructure from scratch, with security "built-in" at the design stage, and even as organizations increasingly adopt the SecOps and DevOps paradigms moving forward, the amount of legacy infrastructure most large enterprises already have in play will remain a security problem for years, if not decades, to come.
And so inevitably, the question of where to store our business-critical data led me to the question of how we can store it securely; in the past, the present, and the future. Enterprise needs a cybersecurity solution that can provide unparalleled protection and visibility in an autonomous way across the entirety of the technology environment – from device to datacenter to cloud to container.
So Why SentinelOne?
When I left Cohesity I knew that I wanted three things in my next company.
First, I wanted to go into security. This is a market where the opportunity to deliver exceptional products that meet a critical business need is huge. Delivering security products that protect the enterprise from the continuing escalation of cyber threats is one of the most exciting areas to be involved in both now and for the foreseeable future. 
Secondly, I wanted to work in a subscription-based business (SaaS). SaaS consumption is where customers are trending, and it offers both customers and vendors the ability to be more predictable and aligned in outcomes.  SentinelOne was recently recognized as the fastest growing company in Silicon Valley and was widely recommended as one of the most innovative SaaS companies by my channel partners and other friends in the field.  
Thirdly, as culture has always been my passion, I picked a company with a culture that represents my passions and beliefs. To me, a great culture is one that is maniacally focused on customers success. Passionate. Intense and accountable. While interviewing with SentinelOne, I realized that it was a strong cultural fit for me.  As we scale the business with rapid expansion in every function, I look forward to contributing and incorporating a "greater good" mentality into our approach.  This will be our greatest asset when it comes to delighting our customers and winning their loyalty.  
I believe SentinelOne meets and exceeds all three of my criteria.
SentinelOne was first to converge the protection and visibility spaces with a single solution, leading the market for AV replacements with a converged EPP and EDR solution; it's a platform that extends to datacenters, IoT, and cloud workloads to secure the enterprise of today and tomorrow.
SentinelOne solves the critical problem facing all enterprises that I've been talking about: no matter where data lives, it needs to be secure. Security needs to be frictionless, flexible, autonomous, and easy to manage. Sadly, legacy technologies leave security teams chasing problems instead of solving them. With an AI-powered platform, SentineOne prevents and protects against tomorrow's threats today.
Due to the costs, disruption, and implications of a data breach, cybersecurity is no longer hidden within the IT organization; it is no longer a problem for this team or that team, but for every team across the entire business. To store our data securely, cybersecurity must be at the center of technology strategy.  It is my belief that SentinelOne is best-placed to provide the solution upon which that strategy can be built for any enterprise.
Our team is excited to showcase what the future of cybersecurity looks like in your enterprise – join us for a demo and POC today!