Singularity Mobile SecuresChrome OS Devices
Phishing attacks and malicious websites pose risk to Chromebook
Effective &
Efficient
AI-powered protection
No cloud required
Easy on batteries
Chromebook
Visibility
Vital device visibility
Vulnerabilities identification
Privacy by
Design
Balances data privacy
with security
MDM
Optional
Works with leading MDMs
Works without an MDM
Easy to
Manage
Zero Touch Deployment
Maximum Protection
Autonomous AI Protection & Visibility
AI-powered full-device protection 24/7. No reliance on cloud connectivity.
Powerful behavioral models detect and protect against known and zero-day malware and phishing attacks
Eliminates risks from jailbroken and rooted devices
Protection from MITM attacks including rogue wireless and secure communications tampering
Continually learns to tackle tomorrow's threats
Why Chromebooks Need Better Security?
Chrome OS offers basic protection against commodity malware but lacks advanced protection:
While Chromebooks update automatically, patching does not protect against unknown exploits.
While websites and apps are sandboxed, sandboxes can be escaped.
While verified boot clears tampering, advanced attacks can persist across reboots.
Singularity Mobile protects each of these scenarios and more.
Threat Defense For Wherever Work Happens
Mobile technology brings new options, new capabilities, and new attack surfaces to remote work. Singularity Mobile, part of the Singularity XDR Platform, is a critical component to protecting corporate assets whenever and wherever opportunity demands such as:
Remote work
Education
Critical infrastructure
Manufacturing
Oil & gas
Healthcare
MTD That Builds on Your MDM
Singularity Mobile works with or without an MDM. Already own an MDM? Bring mobile security to the next level with easy integration to these MDM products:
Intune / Microsoft Endpoint Manager
VMWare WorkspaceOne
Ivanti
Jamf
Citrix XenMobile
Blackberry MDM
SOTI MobiControl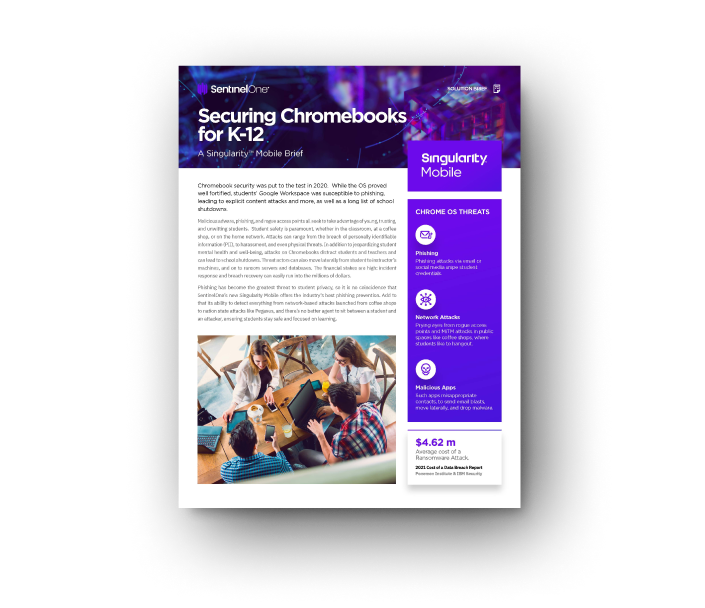 Learn how Singularity Mobile protects kids from phishing, network attacks, and malicious apps targeted at Chrome OS.
Read the Solution Brief
Ready to Take a Look?
Experience cybersecurity that prevents threats at faster speed, greater scale, and higher accuracy.
Explore Singularity Mobile
The World's Leading and Largest Enterprises Trust SentinelOne
Including 3 of the Fortune 10 and hundreds of the global 2000
Backed by the Industry
Tried and Trusted by the Industry's Leading Authorities, Analysts, and Associations.
Explore the Full Power of Singularity