I am in awe and have immense gratitude for the dedication and commitment displayed by the SentinelOne team in navigating one of the most turbulent years in recent history. The relentlessness, the drive, and the integrity our team demonstrates each and every day inspire and lift us. As a younger company in the security space, I truly believe that at the core of our success are our values. They continue to serve as the north star for our culture that unites and propels us forward – and for that, I am thankful.
Hypergrowth and hiring are not easy at any stage of a company's lifecycle; in fact, they are quite the opposite. Even in regular times, hypergrowth can bring on challenges that can derail an organization's culture if one is not purposeful. Much less with the challenges brought on by the overnight shifts redefining the future of work with the onset of a global pandemic!
Reflecting back, the path that SentinelOne has taken towards achieving our hypergrowth has been different in how intentional our team has been about our culture and our mission from day one. It is easy to get "caught up" in an upwards growth spiral and lose track of your mission and ethos. We have cared about strengthening our culture and thrived while taking on opportunities to give back to communities around us. We have improved our talent retention rates by double digits and nearly doubled our company size worldwide by attracting and retaining some of the best talent in the industry. Simply put, we cared.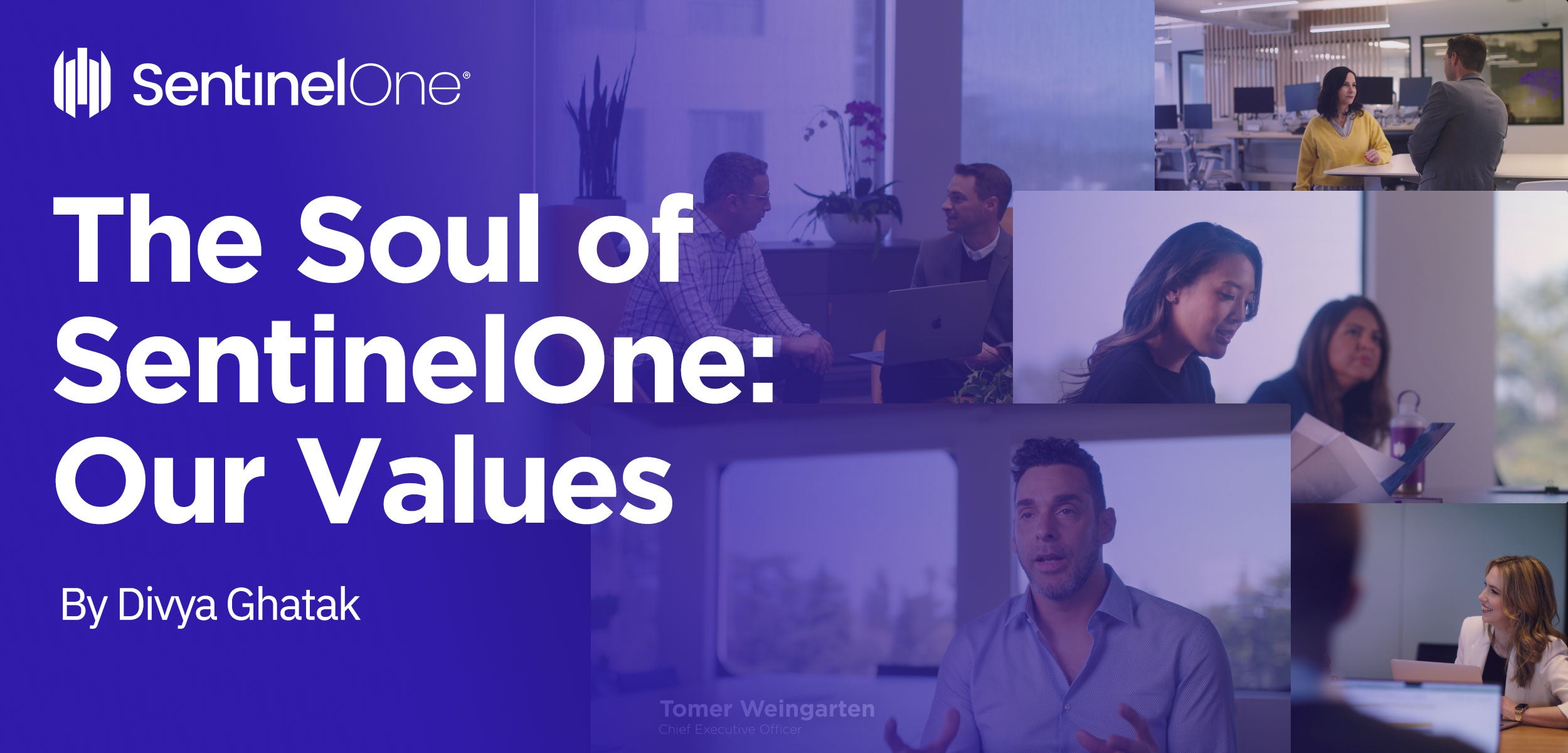 Building this intentional culture has been achieved by clearly communicating and integrating our core values in all our talent processes from hiring, to developing, to promoting, rewarding and retaining. Here is what these core values mean to us:
Trust means being dependable. Conducting yourself with highest integrity at all times. Working as a team requires trust among peers, with customers and prospects and with the cybersecurity industry as a whole. We live trust; our product is based on trust, and without it, we can't grow.
Accountability means being reliable in all your actions and words. Putting customers first. To be the owner! As we grow, adding more members to the SentinelOne family, we learn how to take ownership and strive for excellence – Without Accountability, people may try their best. Still, the results needed to operate on our scale, serving customers who do not compromise their security, make us all accountable to keeping them safe.
OneSentinel means being passionate about driving team success and collaboration across SentinelOne. This core tenet binds us strongly together and makes us run that much faster knowing that we all are strongly vested in each others' success and are rooting for others always! We are not just talented individuals who share the same line of work. We work together, as we know the whole is bigger than the sum of its parts.
Relentlessness means acting with unwavering purpose and determination in everything we do. Hackers and bad cybersecurity actors are relentless; therefore, we, as defenders, must be even more so. Constant determination and focus on our mission, ensuring we always keep the bar high enough, and putting our customers first is what makes us SentinelOne.
Ingenuity means encouraging innovative approaches to problem-solving and  market leadership. Embracing diverse perspectives. We hustle, we keep challenging one another; we are sincere about our mistakes and learn from them. This constantly keeps us on our toes and stretching to be better every single day!
Community means being kind to one another. Thinking about how your actions will affect others both within and outside SentinelOne. Together as a team we come together again and again on causes that give back to our communities and make them stronger.
Integrating our talent processes with our company values has made us who we are today. Managing hypergrowth, especially during such challenging times, was not easy. While we may have some members of our family we have yet to meet in person, we still live under one motto: to enjoy what we do. As one sales leader recently shared:
"We are ONE TEAM. We work hard – but also always have time in meetings to smile and get excited. Even in the crazy home office year – I felt like I was working with close friends, some of them I have not met so far – but still feel very close to them. This is special and shows the great culture."
Throughout it all, we've continued to be recognized as a Best Place To Work across the globe by organizations including, Comparably, Silicon Valley Business Journal and Inc. We were proud to be awarded Best Sales Team, Best Engineering team and Best Product & Design team by Comparably. Our employees have spoken, making us one of the best cybersecurity companies to work for based on employee reviews on Glassdoor. As one Engineer put it "SentinelOne feels more like a big family rather than a big company, people here have personal connections with others and care about them". And, we couldn't agree more.
We have thrived in an unpredictable year, all by remaining true to our roots and by relying on our core values. We brought together a team of Sentinels that are relentless, accountable, trusted — who value integrity and autonomy, are passionate about team success, and choose to win every day!
Take a look and see for yourself what these values mean to us.