Hello, Las Vegas! We're so excited to be in town again for the 25th annual Black Hat USA event! The main conference, spanning August 10 and 11, is a hybrid event this year, offering both virtual and in-person activities for its attendees. Black Hat invites hackers, researchers, security gurus, and anyone interested in cybersecurity to two full days of leading-edge briefings, exclusive demos from developers, and business halls encouraging you to bump shoulders with fellow defenders and experts from the InfoSec community.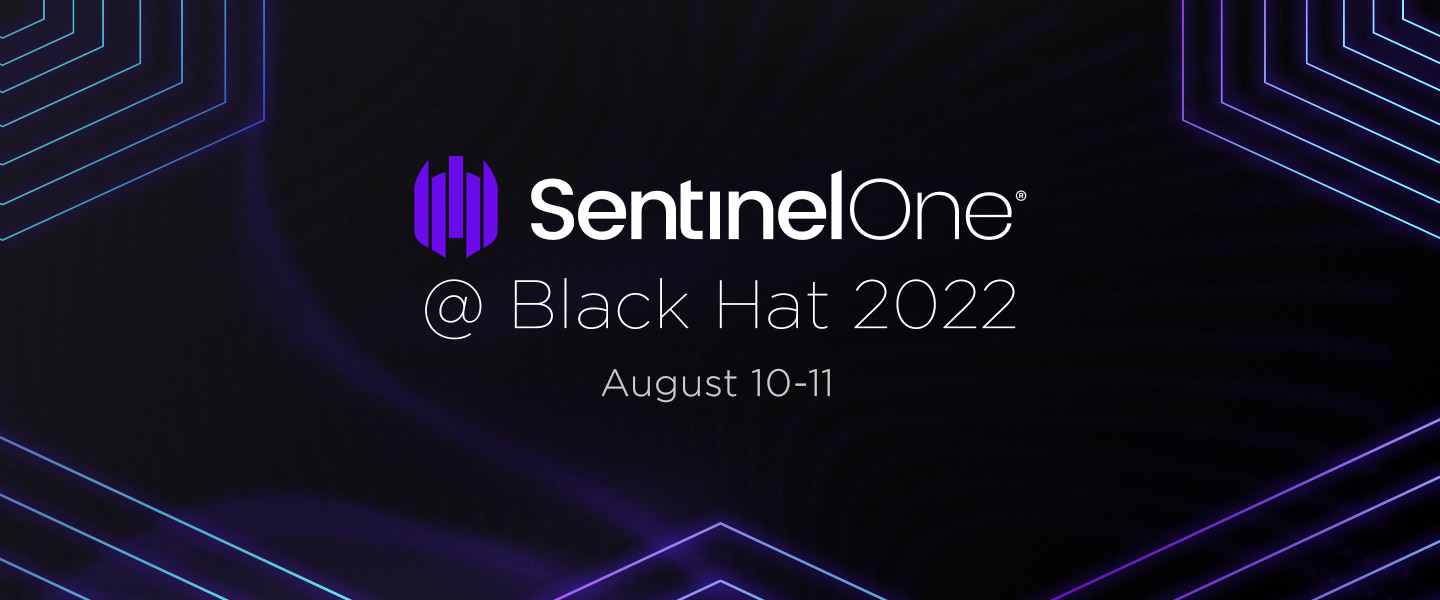 Like years before, Black Hat 2022 is sure to be packed with the latest in cyber training, trends, research, development, and thought leadership. Here's our guide to make sure that you're up to date with the event agenda so you don't miss out on anything essential.
Event Announcements
SentinelOne Partners with Armis for Unparalleled Asset Intelligence
The SentinelOne team is pleased to announce our new partnership with Armis, a leading platform specializing in providing unified asset intelligence. In this collaboration, our organizations aim to protect businesses from modern threats and ensure unmatched visibility and risk reduction across endpoints, cloud, mobile, IoT, OT devices, and more.
When it comes to security operations, context, visibility, and coverage are absolutely vital in reducing your attack surface, even as networks become more complex. We're proud to say that this partnership will help mitigate the unique challenges of asset visibility and control, particularly in the healthcare, manufacturing, and critical infrastructure verticals.
For more information on our partnership with Armis, check out www.s1.ai/marketplace and www.armis.com/sentinelone/.
SentinelOne Unveils XDR Ingest to Transform Data-Defined Cybersecurity
Today, SentinelOne proudly unveils XDR Ingest, a disruptive step in the journey to democratizing XDR. XDR Ingest provides our customers with a limitless data platform to ingest, retain, correlate, search, and action all enterprise security data from any source, in both real-time and historical search.
Together with Singularity XDR, XDR Ingest offsets the cost of log storage and eliminates unnecessary data duplication. As organizations continue to bolster their XDR strategies, XDR Ingest helps organizations overcome the costs and limitations of traditional SIEM and log management products.
Learn more about our launch of XDR Ingest at Black Hat by visiting the SentinelOne booth (#1120) or by requesting a demo at https://www.sentinelone.com/.
Event Highlights
Gift cards are king. We're giving away $25 gift cards all week for this event! Claim yours in three easy steps:
Take a selfie with any SentinelOne branding you see outside of the Expo Hall.
Post it on your socials with the hashtags #S1BlackHat22 and #BHUSA.
Visit booth #1120 and get your badge stamped.
The first 200 attendees who show us their posts will walk away with one gift card just for them. We'll be waiting!
🛡️ Arriving to #BHUSA? Join the chatter on social media by posting a selfie wearing @SentinelOne in front of the many advertisements at/around the conference.

🎁 The first 200 end user participants who visit our booth will receive a $25 gift card. #BlackHat #cybersecurity pic.twitter.com/WaVtNrkbM1

— Juan Carlos Vázquez (@jc_vazquez) August 8, 2022
Come visit or tune into our industry-leading threat research sessions.
"Scaling SOC and IR Teams to Defend Kubernetes Based Workloads"
SentinelOne Speakers: Lance Knittig, Chris Boehm
Where: Mandalay Bay 1
When: Wednesday, August 10, 11:30am-12:20pm
"Real 'Cyber War': Espionage, DDoS, Leaks, & Wipers in the Russian Invasion of Ukraine"
SentinelOne Speakers: Juan Andres Guerrero-Saade, Tom Hegel
Where: Islander EI (Level 1)
When: Wednesday, August 10, 3:20pm-4:00pm
"Charged by an Elephant – An APT Fabricating Evidence to Throw You in Jail"
SentinelOne Speakers: Juan Andres Guerrero-Saade, Tom Hegel
Where: South Pacific F (Level 1)
When: Thursday, August 11, 3:20pm-4:00pm
Work hard, play hard. Team SentinelOne is bringing the party to you!
Hazel Lounge Takeover with Armis & Torq
Where: Hazel Lounge (Mandalay Bay by the main elevators)
When: Wednesday, August 10, 4:00pm-9:00pm
Register here
Level Up Premiere After Party with ZeroFox and more!
Where: Skyfall Lounge, Delano Hotel
When: Wednesday, August 10, 8:00pm to midnight
Register here
Let's Meet at Black Hat
There's something for everyone at Black Hat USA. Whether you're going to learn about cutting-edge research and trends, looking for thought leadership and expert advice on circulating cyber issues, or trying to build up your InfoSec social network, we're excited to meet you there.
Swing by booth #1120 and chat with the SentinelOne team about all things security and how you're ready to get the only answer to the latest threats in the cyber landscape. With autonomous endpoint protection, start preventing the threats you're learning about this week. Schedule a meeting with our executives and R&D squad to meet us at Black Hat!