It's RSAC 2020, and as you would expect from a company that puts innovation and customer experience at the heart of everything we do, we are here with a stunning booth that is delighting our visitors.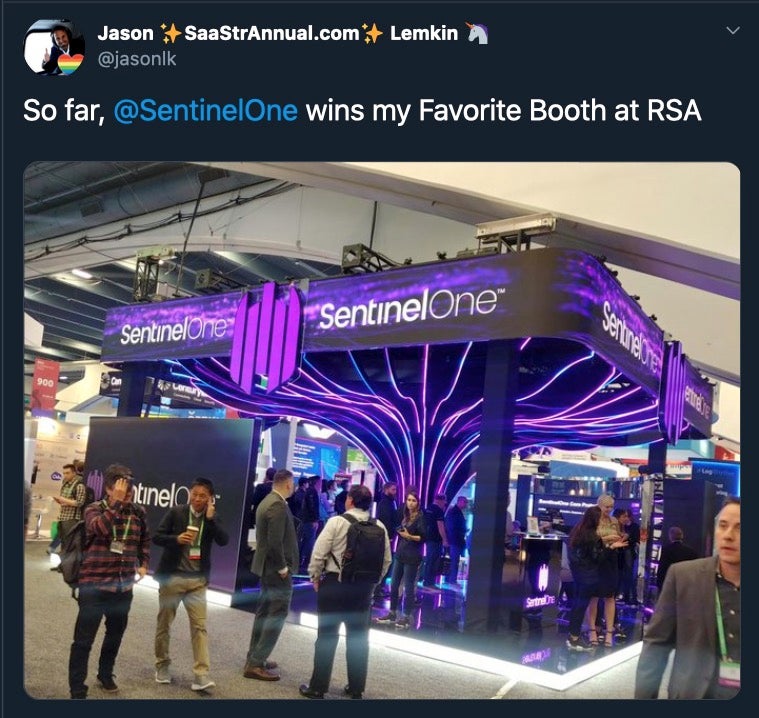 The booth at #727 South has a completely digital floor and ceiling, each portraying data entering and leaving our platform; it's dynamic and changing all the time. In the center, there's a tree-like structure which symbolizes not only the consolidation of a variety of cybersecurity spaces (EPP, EDR, IoT, CWPP) but also movement of data to and from other solutions into one platform. 
Announcing the Singularity Platform
Did someone mention one platform? Yes, we did! We kicked off the day and the conference with a demonstration of our Singularity platform, an industry-first data lake that seamlessly fuses together the data, access, control and integration planes of EPP, EDR, IoT and CWPP (Cloud Workload Protection) into a singular platform. What this means for our enterprise customers is integrated coverage of every attack surface, offering protection and visibility along with contextualized data right across the enterprise. Our Singularity platform – with one codebase, one deployment model –  provides autonomous protection, automation and threat intelligence from endpoint to cloud.
There's One Virus That Isn't Here
With so many AV specialists around, it's no wonder that the conference is in full-swing, and fears of that other kind of virus, Covid-19, aka the novel Coronavirus, don't seem to have dampened the enthusiasm of attendees to explore the many fascinating aspects on offer or to explore the offerings from different areas of the world. Among others, Germany, the UK and Israel all hosted national "pavilions" to showcase the capabilities and cyber security solutions of vendors from their regions. 
Sadly, three major vendors including AT&T and IBM did withdraw from the event out of health concerns, but aside from a somewhat quiet China booth, it seems like business as usual for everyone else. 
The Human Element
This year's conference theme puts the spotlight on 'the Human Element' in cybersecurity. With a well-publicised shortage of talent in the industry, it's more important than ever to recognize the role that good people, not just great technology, play in defending organizations against other people: the bad actors intent on stealing our data, money and intellectual property. 
SentinelOne helps individuals at all levels to grow into and succeed in their role. From giving CISOs peace-of-mind and sparing SOC analysts the evils of alert fatigue, to helping IT staff succeed in defending their networks with a product that does not require complex training or certifications to master, SentinelOne's easy-to-use console with deep visibility and rapid threat hunting platform is here to help. 

Conclusion
With 500 sessions, and over 700 exhibitor booths at RSAC 2020, it's practically impossible to take in everything that the RSA Conference has to offer. But if there's one booth that you are going to want to experience first-hand (the pictures just don't do it justice), it's the SentinelOne Singularity booth at #727 South. Come along and say "hi", snap a selfie under our digital "tree" and learn about what other surprises we've got in store for the rest of the week. See you there!