I am thrilled to be joining the SentinelOne team as SVP, Corporate Development. The last 18 months have been unprecedented on many levels starting with the Covid pandemic, which has impacted so many lives, businesses and overall perspective on the future. This same time period has also seen a tremendous increase in the amount of cyberattacks as a result of the overnight shift to remote work, the rise of cybercrime organizations, and the increased offensive activity of nation states. The devastating impact of all this plays out in IT and security departments of organizations of all sizes on a daily basis.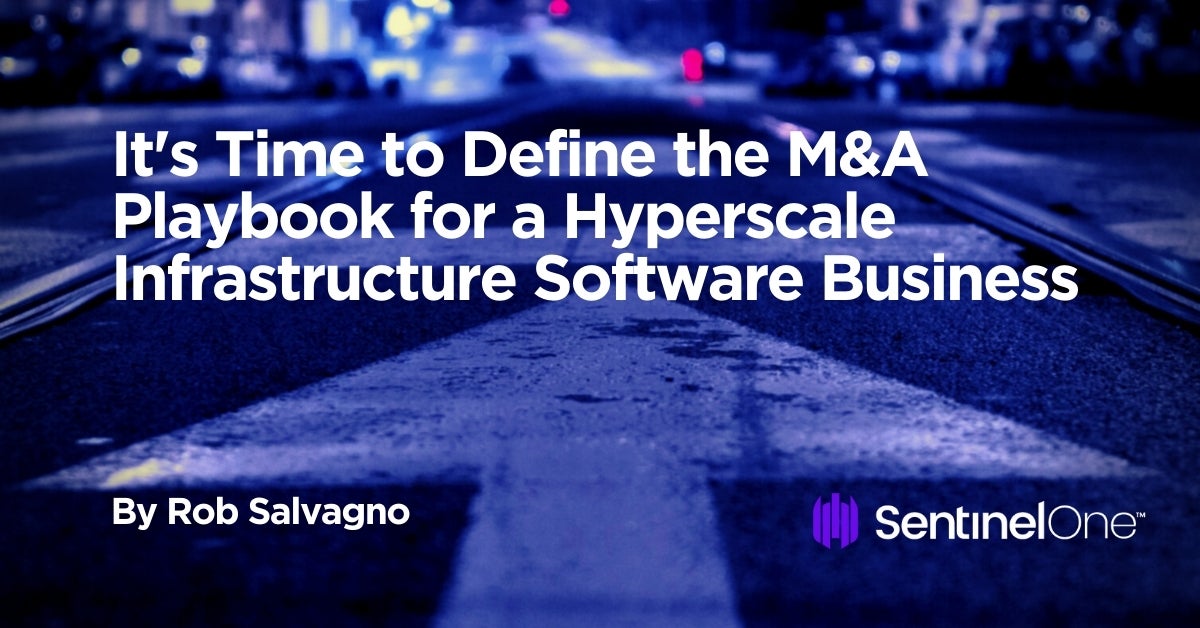 The past 18 months also made me realize just how much I missed being part of a company as it scales and enters new markets, building a team for the next phase of growth, and massively impacting the strategy and opportunity of a company through capabilities such as mergers and acquisitions (M&A). I am grateful to have witnessed the transformative power of M&A early in my career, having learned and then led this function during a long run at Cisco. I also want to thank KKR, where it has been a privilege to work for a firm that has been successful across many asset classes and industries – from real estate to technology, from private equity to growth.
The chance to join SentinelOne was a special opportunity for me. The company has a passionate and visionary founder that has become an amazing CEO and cultural leader, a massive market that is predominantly occupied by legacy players, and a differentiated technology that represents the intersection of four massive trends – cloud, security, data and AI.
One outcome of all this is that SentinelOne is one of the fastest growing public software companies in the world. It is exhilarating to imagine what this company can become five years from today.
Many companies in the hyper growth phase don't think of M&A as a core part of their strategy, or when they do, they often relegate it to acqui-hire types of deals. This is where SentinelOne can be different, and it has already demonstrated this early on with acquisitions such as Scalyr. While there have been some legendary companies that have leveraged M&A (often in very different ways) – Broadcom, Cisco, Facebook, Google, Oracle and Salesforce to name a few – the M&A playbook for a hyperscale, infrastructure software business has yet to be written. The opportunity to define that playbook, in collaboration with the amazing team at SentinelOne, and what this can mean for our customers and investors, was simply too good to pass up.
There are many parallels between being a successful multi-stage/multi-asset class investor and growing a company. In growing a company you have limited "investment" capabilities – capital, resources, time – but an unlimited spectrum of opportunities to apply those to: low risk/low reward, high risk/high reward, and so much more. The best and most enduring companies have found a way to do this across many "asset classes" and spectrums of risk. And now there is the opportunity to bring all of this together: the best learnings from the investment world with the best of the M&A world, and apply it to hypergrowth.
At SentinelOne the journey is just beginning. The intersection of data, security, cloud and AI will open up more possibilities than we can imagine or build ourselves. Many of these opportunities will be closely aligned to the SentinelOne platform while others will become the seeds for category-defining companies in the future.
In addition to being the leading platform at the intersection of these massive trends, SentinelOne's vision is to encourage, invest and partner with a future generation of entrepreneurs and companies that share this passion.
Cybersecurity is something we should all care about: it is critical in protecting the digital world we all live and work in. Our promise is to be a force for good. I am excited to be joining a team at the forefront of this battle and am humbled by the work which remains to be done here.
If you would like to learn more about SentinelOne's industry-leading cybersecurity platform and how it can protect your organization, contact us or request a free demo.