Denise Schlesinger is senior director of R&D at SentinelOne. In this interview, Denise gives us an inside look at her work and how big data presents new challenges for enterprises in general and cybersecurity in particular. Denise discusses how she meets and defeats these challenges in her work and shares what it takes to build a great data team that can respond to the problems and opportunities created by collecting data at scale.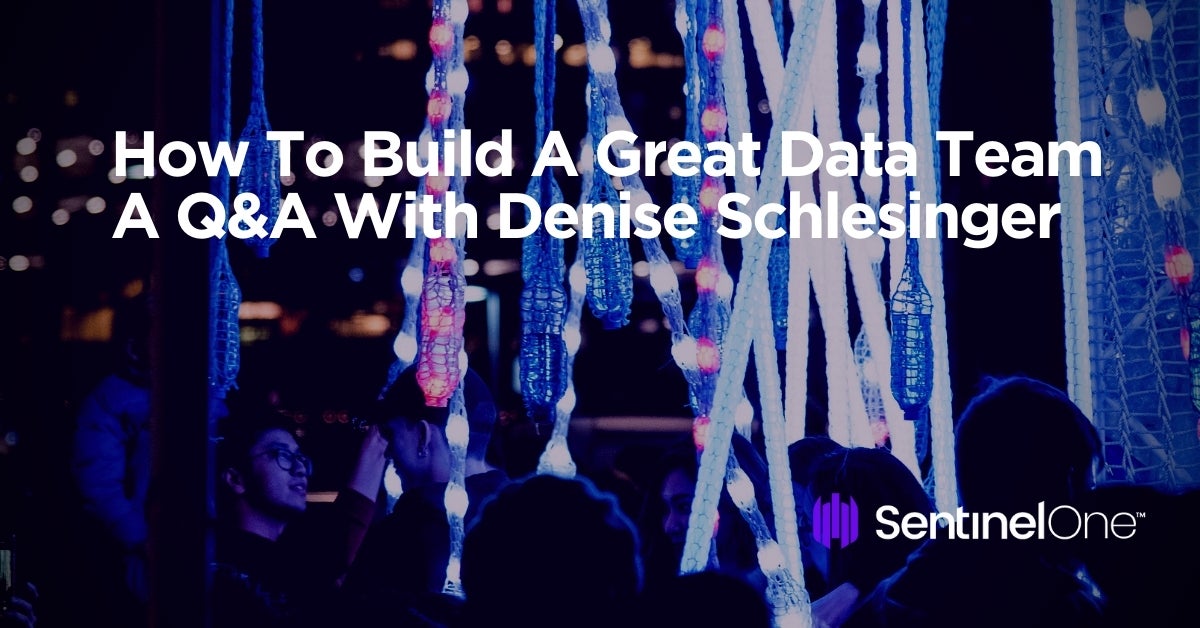 Tell Us About Your Journey So Far.
I grew up in Argentina and came to Israel at the age of 18 to study Computer Science. I started working in software companies at the age of 24 as a software engineer, mostly developing web applications. I was promoted to team leader and then R&D director by the age of 30 and was managing teams of software engineers.
Over the years, I worked as an architect and a VP of R&D at several startups in different industries: Agrotech, Adtech and Cybersecurity. My roles involved supporting big infrastructure and re-architecting products to support large-scale building and scaling tech teams. I was part of teams where I oversaw designing the complete architecture, from the ground up, of many cloud-based SaaS products and defining technical strategy and roadmap for Distributed applications, ensuring high availability and scalability.
To keep myself up to date, I read many blogs on subjects such as big data, high scale and productionizing of Machine Learning Models such as engineering blogs from Uber, Netflix, Lyft and Wix.
What Does Your Typical Day Look Like at SentinelOne?
Before SentinelOne, I was VP R&D at Novarize, where we developed AI-based tools to provide insights for marketers. I joined SentinelOne remotely during the pandemic, which was certainly a big challenge. It was incredible to see how generous people are with their time and knowledge. Thanks to their support and understanding, my transition has been a fun and positive experience.
Currently, I am a Senior Director of Engineering at SentinelOne. I lead AI and Big Data teams. My group is in charge of the data pipelines, the services that do pre-processing, aggregation and detection for all the data collected. We ingest hundreds of millions of events per minute, we run on the cloud. Our production infrastructure is huge.
On my day to day, I am involved in all aspects of architecture, software and product development, delivery schedules for high scale applications. I review my group's development projects to ensure reliability, effectiveness and ROI.
Give Us a Glimpse Into Your Toolkit.
We run Presto, Spark, Kafka, ElasticSearch and all of our services on top of Kubernetes. We leverage Databricks, AWS Sagemaker and Spark for machine learning. We use AI to solve the hardest problems that are part of leading with such huge amounts of data. I am hands-on and love trying new technologies and frameworks.
What Does It Take to Build a Great Data Team?
I manage and mentor my teams and the managers I lead. I lead by example, I love understanding the small details that make the big picture. I like the challenge of simplifying complex systems. Enabling my teams to grow by granting autonomy, I create a safe environment with permission to fail. I truly care for them, I understand the strengths of each person and do my best to enable him/her to thrive.
I work closely with different business stakeholders in the organization to create awesome products. Building relationships, motivating, coaching and enabling each team member to be at their top game. On top of the really interesting technical challenges that come with working with big data and AI, one great thing about working is the impact you can create. Also big data means big scale and this means big problems, which are usually fun and challenging to solve. We invest a lot in building our Data Infrastructure to provide Scalability, Reliability, and Efficiency. I strongly believe in the saying: "culture eats strategy for breakfast". This is highly important when creating a data-driven culture to breathe data and require for every decision to be data-driven.
What Do You Look for in Your Team Members When Hiring?
When hiring people I look for critical thinking, accountability, and innovation. I appreciate the ability to look at things from a bird's eye view and at the same time dive into the details to get the whole picture. I value curiosity and find that great engineers want to work on difficult problems alongside peers. I hire good team players that believe in the mission and who value a culture of collaboration and exploration.
What Are Your Views on the Current AI and Cybersecurity Landscape?
Nowadays, hackers launch hundreds of millions of attacks worldwide. Unknown threats can cause massive damage affecting a company's business if they go undetected. Human beings cannot possibly identify all the threats.
Organisations face the challenge of analysing and tracking cloud, network and workstation activities. There's a lot of data that has to be scanned to allow protection from malicious people and software. AI is able to analyse billions of events and identify different types of threats: from malware exploiting zero-day vulnerabilities to identifying risky behavior that might lead to a phishing attack or download of malicious code.
AI allows the automated detection needed to skim through massive amounts of data and traffic; it can be trained to generate alerts for threats, identify new types of malware and protect sensitive data for organisations. Leveraging machine learning and deep learning to learn the network's behavior over time can help recognize patterns, detect anomalies and respond to them.
We'd like to thank Denise for taking the time to talk with us about her role and the fascinating work of AI and Big Data. If you're interested in working with Denise or any of our other teams at SentinelOne, check out our open positions here.