SentinelOne has been named a Best Workplace in Technology on Fortune's US Ranking for 2022. Over 150K employees working in the tech industry were surveyed on the quality and consistency of the employee experience on attributes including trust, respect, credibility, fairness, pride, and camaraderie.
We spoke to a few teammates to learn more about what makes our organization a top workplace. Tremendous pride in our leading-edge deep tech, transformative professional and personal opportunities and the equitable culture at SentinelOne were at the top of the list.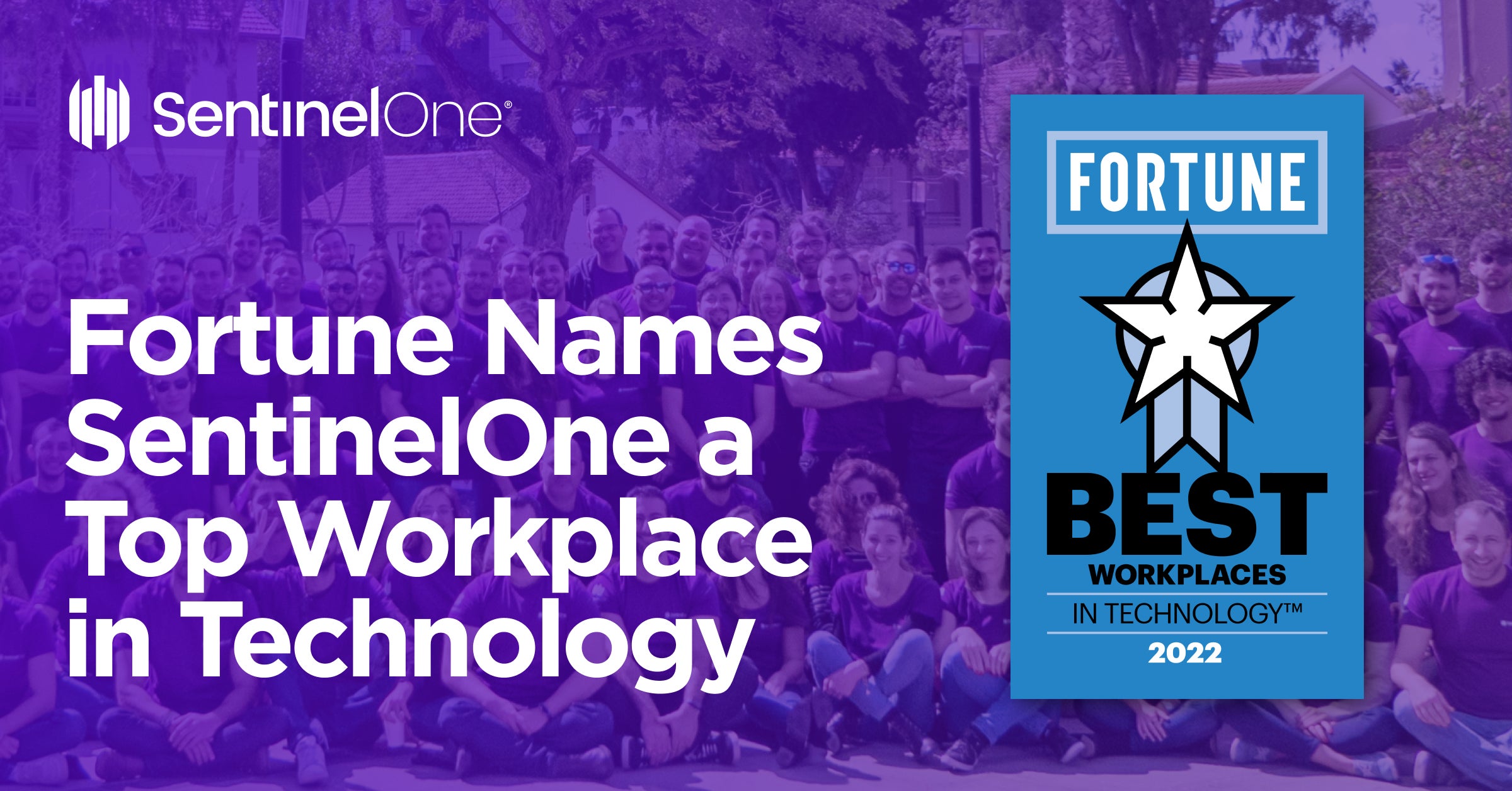 David Jung, Staff Software Engineer
David is building his career at SentinelOne and loving his fully-remote New York City lifestyle. He started at SentinelOne a little over three years ago as an intern while studying at the University of British Columbia.
"Working at SentinelOne while I was studying Computer Engineering was life-changing," said David, who was also a Sentinel during the record-breaking IPO. "There was so much energy in the room the day we went public. There was an intense air of celebration, and then equally as intense – we were ready to get back to work!"
David has enjoyed significant career growth since starting at SentinelOne as an intern. He recently received his third promotion, going from Engineer, to Senior Engineer to now Staff Engineer.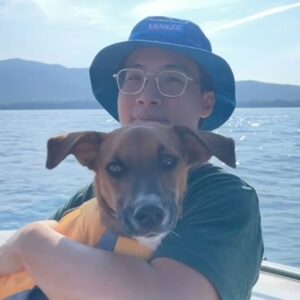 "I have progressed very quickly by working on amazing tech with amazing people. They are all extremely smart, and at the same time, very humble. That's a great combination."
David works on the event database team, migrating customers into our systems and querying endpoint detection and response events. This includes developing new features, as well as making our system more scalable and efficient.
"Our goal is to ingest and query as much data as fast as we possibly can," said David. "The amount that we are dealing with solves a lot of interesting engineering problems and that's what I like about my job.
When David is not working, he enjoys biking, running and spending time with his dog Spitzer, a Beagle Terrier mix. He recently picked up a new hobby that allows him to express his creativity.
"I love writing code, but I can't physically touch it," said David. "I recently took a 12-week pottery class where I learned how to make bowls, vases and pots. It's great to make something I can hold onto."
David's remote team stays connected on Zoom and Slack. His team recently had an offsite, where they were grateful to connect in person. He also enjoys spending time at the local WeWork.
"My place isn't that big living in New York City," said David. "It's great having the perk to be able to enjoy really cool office space."
Elena Militsyna, Senior Software Engineer
Writing code is Elena's favorite part of her job. She's been working at SentinelOne on the Cloud Security Team for just four months and is proud to be part of such a talented team.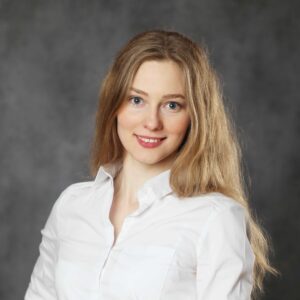 "It's so cool building something from scratch to help so many customers," said Elena. "The tech itself is an amazing  instrument, but it's our people who make it all work so well."
Elena describes our deep technology as the best on the market.
"There's not many companies that can offer the opportunity to work on state-of-the-art technology," said Elena. "We are offering solutions that provide direct value to customers by keeping all of their data safe in one autonomous platform. And we just keep getting better!"
Elena said she is also grateful for the focus on wellness and career growth in our workplace culture. Prior to working here, she worked as Java developer for several companies, including a large corporation and a smaller machine learning startup, and had a chance to compare working environments of a different style. She believes SentinelOne is combining the advantages of a corporation with established processes and the innovative vibe and ability to change quickly of a startup.
"Here we have great work-life balance," said Elena. "We have a very fast pace when we innovate. There can be stress at times, but it's always balanced. Our team is growing, and the company is giving us the resources we need to grow ourselves and do our best work."
Elena works in the newly-opened Prague Office in the Czech Republic in Missouri Park with a view of Prague Castle. Built with sustainability in mind, the location has Leed Platinum Status, the highest level of certification for green buildings.
"We love going into the office, it's so fun to work there," said Elena. "People go in when they can, they want to be together."
Elena immigrated to the Czech Republic four years ago, from a small town in Russia. She studied complex protection of information systems at Orenburg State University.
"My father encouraged me to study technical things," Elena said. "Even before I started working in cybersecurity, I studied it for five years. It's fascinating to me."
Noa Frankel, Senior Product Manager
Noa is part of a cross-functional global team working on the Singularity XDR Platform, providing customers with a limitless data platform to ingest, retain, correlate, search and action all enterprise security data – real time and historical, from any source.
Noa has been at SentinelOne for two years and has recently relocated to London. Her teammates are located in the US, Israel and Czech Republic.
"Working with people all across the globe provides diverse perspectives," said Noa. "That diversity allows us to better serve our customers – and each other."
Noa describes the Sentinel team culture as one of relentless innovation.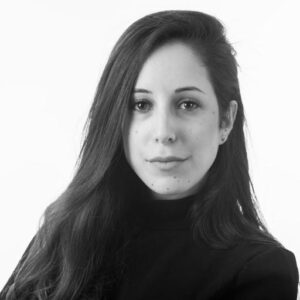 "Working with people who are excited about our product is the foundation of our culture," said Noa. "We are working on a vision and executing as a team. The commitment to innovation is something I feel on a daily basis."
Noa works in product management in partnership with development, marketing and sales to create product roadmaps and execute our mission.
"Data is the key in the world of XDR," said Noa. "It is difficult for organizations to make sense of such massive amounts of data and this is what we are here to solve. I am proud to collaborate with other leaders in our space to create a vendor-agnostic taxonomy to help all security teams realize better, faster data ingestion and analysis."
Noa is also excited about our approach to customers as the first priority of the business.
"I don't look at our customers as customers, I look at them as people," said Noa. "I strive to understand their pain points to deliver what answers their needs and deliver on their requests."
Prior to joining SentinelOne, Noa worked with two other security companies and for the Israel Defense Forces in the Joint Cyber Command. She is grateful for the transparency and equity she feels in her day-to-day interactions at all levels of the organization.
"The people at SentineOne are the best in the business," said Noa. "It doesn't matter what your level is at SentinelOne, you are always encouraged to suggest new things. All input is welcomed and encouraged."
Is SentinelOne a Good Place to Work?
In addition to this Fortune ranking, SentinelOne has received a number of other recent accolades highlighting our best-in-class culture, including:
INC. Best Workplaces 2022
Fortune Best Workplaces in the Bay Area 2022
Fortune Best Workplaces for Millennials 2022
Best Workplaces in the Netherlands 2022
Best Workplaces in the UK 2022
Best Workplaces for Wellbeing in the UK 2022
The Bay Area's Best Places To Work 2022
Comparably Best Company Outlook 2022
Comparably Best Company For Global Culture 2022
Comparably Best Company in the Bay Area 2022
Comparably Best Company for Career Growth 2022
Comparably Best CEOs for Women 2022
Comparably Best CEOs for Diversity 2022
Comparably Best Sales Team 2022
Comparably Best Engineering Team 2022
To learn more about our award-winning culture and job opportunities, visit our careers page.