SentinelOne has just announced the launch of a new office and innovation center in Prague, Czech Republic. The new location will house product development functions to augment current teams, which span the globe in the Americas, Europe, and Asia.
The new office is expected to add 100 new jobs over the next 12 months, leveraging the region's wealth of technical talent and creating local economic and career opportunities. Ric Smith, Chief Technology Office at SentinelOne, said the company was excited to set up shop in the Czech Republic and that the region boasted top engineering talent. In this post, we chat with Ric about the new location and other aspects of building a successful career at SentinelOne.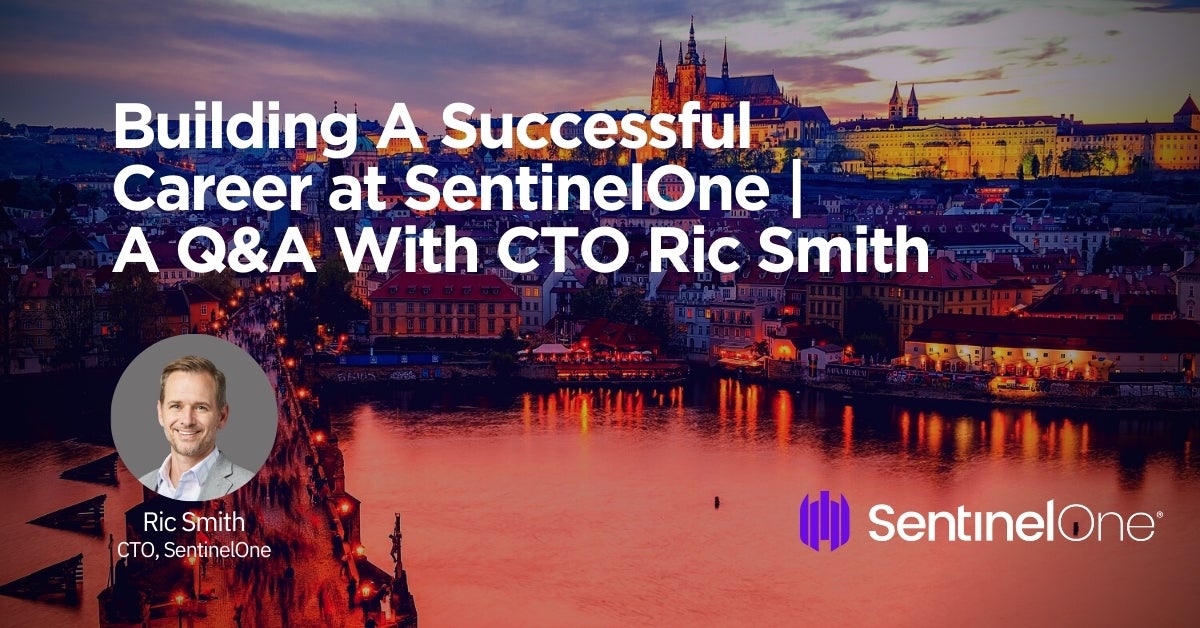 What Drew You to SentinelOne?
Two words. Culture and Opportunity. In terms of culture, upon meeting the SentinelOne team, I knew I was fortunate enough to stumble upon a cohort of leaders that are as equally driven by success as they are kindness towards others.
Regarding opportunity, it's clear that through the pandemic that there has been a monumental shift in what we define as the network perimeter of our organizations, given the ever growing posture towards remote work. That creates new risks in terms of broader attack surfaces which poses massive opportunities for security providers such as SentinelOne. We are obviously not alone in that thinking, just look at the success of our recent IPO.
What Kind Of Roles And Projects Have You Worked On?
Prior to leadership, I started my career working at Lockheed Martin as an engineer where I worked in the areas of satellite image processing and flight simulation. After Lockheed, I focused on special projects for defense and intelligence related customers as a principal engineer at Oracle.
Both opportunities shaped my perspective on how I view quality and precision in terms of software development.
How Do You Maintain A Great Culture In High Performing Teams Distributed Throughout The World?
People are people no matter their origins. If you want a great working environment, you have to start with a critical focus on who you are hiring. It's not just about skill sets, but about the personalities you bring into the workplace.
The goal is to hire people that are kind, active collaborators, accountable, and pride themselves on a sense of achievement. With those foundations you can start building teams that operate with a sense of autonomy and not only succeed, but span geographies and timezones.
Beyond those basics, you also want to build a diverse workforce that mirrors the diversity of the region. It's not only about representation, but it's also about being better decision makers. Diversity brings with it diversity of thought, which is the key to critical thinking.
How Do You Support Innovation?
First and foremost, you have to earn the right to innovate. That means taking off the basics that make it possible and gives us the space to pursue innovation. More specifically, you have to put a critical focus on quality and delivery.
If you don't put those things first, you will end-up with a level of debt that makes the pursuit of innovation near impossible. Once you have your house in order, you then have enough cycles to start exploring the art of the possible.
The key to unlocking this is to make sure the engineering team is well endowed with the knowledge of the customers and problems we serve and why. That wisdom is the seed of inspiration that is necessary to inspire someone to not only innovate, but deliver value to our customers. Few things are more defeating than to put effort into something that only finds its way to disuse.
Why Is SentinelOne Expanding Into Czechia?
This is my third time operating in Czechia. Czechia is a region that is rich with engineering talent, particularly in Prague and Brno.
Geographically, it is well situated to operate as SentinelOne's HQ for the rest of Eastern Europe as we expand and grow. And, it goes without saying, the beer is great too!
What Roles Are Coming Live in Czechia?
We will be hiring across all engineering disciplines at all levels; that includes kernel, frontend, backend, validation, and data engineering as well as data science and detection.
What Are Some Skills Needed To Be Successful At Sentinelone?
Honest-humility and Grit. Honest-humility is the great equalizer that deflates the most heated issues and humanizes the most continuous conflicts. Grit is the marriage between intelligence and resilience.
Raw intelligence may help you arrive at a solution to a problem, but it's resilience that enables you to drive forward, despite adversity, to implement a solution. Grit makes all the difference in controlling the arc of the success of both you and your team.
Interested in Joining SentinelOne?
Learn more about SentinelOne's Czech Republic-based career opportunities. Explore global career opportunities with SentinelOne here.