Listen to Mark Parrinello, Chief Sales Officer at SentinelOne, talk about how he prepared for SentinelOne's stunning 2021 IPO and the hypergrowth trajectory that the company is on in this edition of the Sales Bluebird podcast.
Mark stresses the importance of keeping a candid culture so that your team buys into company concepts, perseveres through constant changes, and keeps an entrepreneurial spirit as you continue to grow and stretch your team.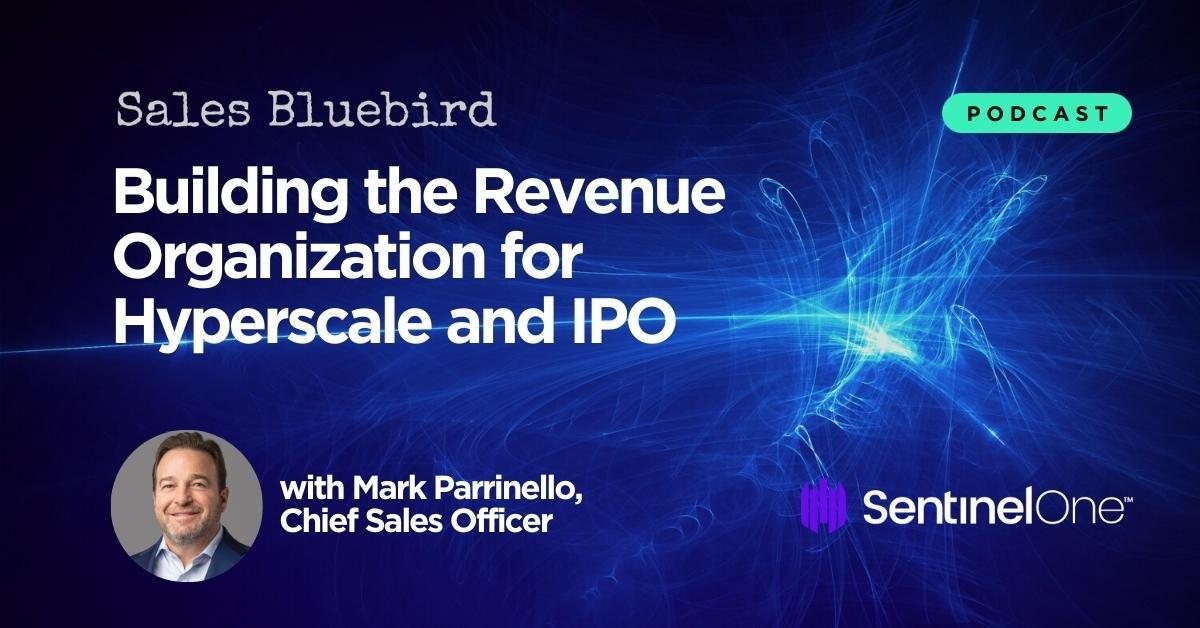 Mark discusses how to simplify the process of preparing for IPO and hypergrowth through creating a proper sales process and operations roadmap that has actionable goals with realistic timelines. Sometimes, we can be hasty and want things done as soon as possible but building those plans in bite-sized chunks is so much more effective.
When it comes to the IPO, Mark explains that it's important not only to focus on your strengths and weaknesses throughout but also to enjoy the process. Enjoy the learning opportunities and take a minute to step back and remember what you've accomplished and how far you've come.
Tune in to learn more about Mark's unique journey, his career learnings and insights for success.
Mark Parrinello, CSO at SentinelOne, building the revenue organization for hyperscale and IPO: this mp3 audio file was automatically transcribed by Sonix with the best speech-to-text algorithms. This transcript may contain errors.
Andrew Monaghan:
Welcome to Episode 115 of the Sales Bluebird podcast, which exists because at B2B startups it's hard to get go to market fit, grow revenue and scale the business and the sales team. Sales we were provides tips, tricks, experiences, examples, inspiration, and ideas from people who've been doing this for many years and at many different companies. I am your host, Andrew Monahan, and our guest today is Mark Parrinello, the CSO at SentinelOne. Mark, welcome to the podcast.
Mark Parrinello:
Thanks, Andrew. Good. Good to be here. Thanks for having me excited about the next 35 minutes or so.
Andrew Monaghan:
Yeah, you know, I'm looking forward to as well. I think there's a great story about what's been happening with SentinelOne and your leadership of this sales organization over there. So I'm looking forward to seeing where this goes. Before we get into it, I do want to ask the listeners for the first time, I'm now taking sponsors for the podcast. If you want to reach a bunch of sellers and sales leaders, mostly in the cybersecurity world, with whatever messages or sponsorship messages that you have, the trick to do is go to sales. Bloomberg.com and at the top menu, there's an option there for sponsors. Just let me know what you're looking for and we can have a conversation and figure out something that is right for you. I've got some special early adopter pricings. We're just kicking this off in terms of taking sponsors. So if that is attractive to you, I might want to go there soon and see if we can get you lined up early on. Mark, back to you. So I've got six questions to get to know the real mark. These are not up for debate. They're not either ors and maybes. And perhaps as in it depends. It's a simple pick one and let's get through it a few second maximum answers. Are you ready?
Mark Parrinello:
Yeah, I'm ready.
Andrew Monaghan:
First one dive bar or cocktail bar?
Mark Parrinello:
Dive bar.
Andrew Monaghan:
Suite of the Four Seasons or Cabin in the Woods.
Mark Parrinello:
Suite at the Four Seasons.
Andrew Monaghan:
Tricked out Jeep or German car with all the gadgets.
Mark Parrinello:
Both.
Andrew Monaghan:
Kind of both.
Mark Parrinello:
All right. I'll go with the German car. With the gadgets. Although the gadgets start to confuse me. If there's too many of them.
Andrew Monaghan:
Yeah, and they start failing. Feature mountains.
Mark Parrinello:
Beach.
Andrew Monaghan:
They say home is where the heart is. Where is home for you?
Mark Parrinello:
Los Gatos, California. And for those of you that may or may not know, Los Gatos is about it's right next to San Jose in the Bay Area and it's about 40 miles south of San Francisco.
Andrew Monaghan:
And how did you first make money as a kid?
Mark Parrinello:
My first job. I was in fifth grade and I sold newspapers. I did newspaper routes in the morning. I'd wake up at 430 and run across the street and bundle them all up, take them and deliver them, and then go collect throughout the day. That's a lost art now, but that's what I did. Back then, I was, I think, 11 years old.
Andrew Monaghan:
There's probably people listening to this going. People delivered newspapers.
Mark Parrinello:
Yeah, there are a lot of millennials who have no idea about that concept. Right.
Andrew Monaghan:
But so many people growing up, I remember I grew up in Scotland. My cousins did that, you know, up early. You have to get up super early, get to the store, get.
Mark Parrinello:
Very early.
Andrew Monaghan:
Get out there. Right. Rain or shine.
Mark Parrinello:
For 11 year old.
Andrew Monaghan:
Yeah. No kidding. No kidding. And Los Gatos, is that where you grew up or is that just where you've been for a while?
Mark Parrinello:
No, no. I was born in Detroit, and pretty much raised in Phoenix, Arizona. I made my way to the Bay Area and the early nineties and I've been here 25, 26 years now, something like that. So I'm a West Coaster.
Andrew Monaghan:
So it feels like home now, right?
Mark Parrinello:
Yeah.
Andrew Monaghan:
And you went from the cold and the I don't know what the right word is. Detroit, let's say stereotypical Detroit to Arizona, which is hot for most of the year.
Mark Parrinello:
Yeah, in the mid-seventies, which is when we moved from Detroit to Phoenix, a lot of people from Detroit, New York, New Jersey, Chicago were moving out of the cold and into either Florida, Houston or Phoenix. So so I got Midwestern roots. People that always meet me and know me, think I'm an East Coaster. That's probably because I got that little Detroit edge to me. But I am a West Coaster. I've been out in the West Coast other than the stint in Texas for most of my life now.
Andrew Monaghan:
And was your dad in the car industry?
Mark Parrinello:
No, no. He likes cars, but he wasn't in the car industry.
Andrew Monaghan:
It's usually the thing in Detroit. Area rates is such a.
Mark Parrinello:
It is. All right.
Andrew Monaghan:
Yeah. Yeah. Well, let's go to your LinkedIn history here, Mark, and let me see if I can just quickly pull out a few things from this to to run by you. So what I see is someone who has been in this world of enterprise sales since the mid-nineties, you start off, these are all big names, well-known names, blue-chip vendors to work for in my eyes. Good Dell Platinum see NetApp nimble cohesive T and then SentinelOne. There's a rich, rich vein of really successful companies in there. I'm wondering which ones perhaps were the most formative stays for you?
Mark Parrinello:
I'd say two one, which you didn't list on there because it's before the Dell, which, by the way, was the EMC, the EMC days, and that's Lanier. My first sales job was selling copiers, and that is the hardest job in the world. And it was the hardest thing I'd ever done. I learned raw selling skills and went door to door, literally door to door and cold, calling on phones, door to door in San Francisco. That was this formative is anything I'd ever done. And so it's not listed on what you just talked about. And then I think if I had to choose, I got into leadership some time at Platinum. But NetApp was a was a really amazing experience for me because I really, truly I was always a culture guy and I was always working hard at teams and collaboration and team building and promoting and career path team. But I think NetApp was an inflection point for me where I learned what cultures could look like long term. So I'd say that NetApp was big and I could go on about that. But NetApp was a big inflection point for me in my leadership days.
Andrew Monaghan:
And were you there when Tom Mendoza was there?
Mark Parrinello:
Yes. Yeah, yeah. I'm a great leader, a great motivator, a great speaker and a passionate leader.
Andrew Monaghan:
Yeah, I heard him on a podcast recently and I was very a very impressive person in all sorts.
Mark Parrinello:
He's great. He's a he's an impressive person. He's a great human being, is a mentor. He's a friend.
Andrew Monaghan:
Well, let me take you back, Mark. June 30th, 2021, a big day all around the day of the One IPO last year under the ticker symbol SE. Looking at the stats out there and you can correct me if I've got any of this wrong, but on the first day the stock closed up about 2020 1%. It gave the company a $10 billion valuation, which at the time and maybe still be the case, was the biggest cybersecurity IPO at the time. And I saw the pictures and you were on stage there helping to ring the bell, is that right?
Mark Parrinello:
I was, yeah. It was a great experience. You know, I'd I'd been a part of public companies and startups, but this was my first time in the New York Stock Exchange ringing a bell. So it was a fun experience, a good experience. But I think, you know, the larger discussions are around leading up to that, which we'll get into, obviously. And what does it look like after that? Those are kind of the more important pieces for sure.
Andrew Monaghan:
Yeah, it's good to have everything in light and have that experience, I guess, but it doesn't all happen by accident, right? When you joined SentinelOne in February 2020, interesting time to join a company, I would imagine.
Mark Parrinello:
Yes, I joined a company and I think at the time I had in my sales organization, which is sales ops, all things revenue, operations channels and all that, I think it was about 120 people when I joined and the pandemic, I went off to a kick-off in Tel Aviv and then the pandemic hit. So the first year I had to lead an organization and build relationships and make changes and tweaks and build for scale in my house like the rest of the world. But it was a little challenging and different because of the pandemic. I could go on about that for a long time. I think the main lessons learned were for me, I had to evolve as a leader because I'm a field guy. And so I. The way I lead and build relationships and inspect as I get into the business and I earn the right to inspect by being in the field. And I couldn't do that. And so I had to work on different skill sets, frankly, kind of like if you follow basketball, a player that comes the league who's really fast and agile and can jump over everyone over time has to develop post-up skills and different things as they start to slow down. So I had to develop all those skills, frankly, in other things I had to work on to build the relationships and do it differently than I'd ever done it before. It worked out. It happens that I joined a company that was growing and technology is great. And so we were they were doing well before I got here. And we really took off in this pandemic because work from home, work from anywhere that concept and protecting endpoints, laptops, desktops, I think accelerated more than ever in this pandemic world that we lived in. So it worked out fine. But it was it was an interesting time.
Andrew Monaghan:
One of the things I did and lead up to this interview, Mark, is I went out to some other of your peers, Cros and cybersecurity, and said, what questions do you have for Mark about the lead up to the IPO? Chris Smith The CRO at Aqua had a really interesting question. We know what it's like to take over an underperforming team, but that's not what it seems like. Mark had done a sensitive one. You know, Nick Warner was running a whole bunch part of the business and he kind of went up and brought someone in you to take over as a proper CRO. So the question was how do you get your design prints on a successful team knowing there are probably some things you want to make but you don't want to break the momentum or you don't want to do anything to screw things up as you improve things.
Mark Parrinello:
Yeah. It's a really interesting question because you're right, this business was doing very well when I got here. So it wasn't a rebuild. It's always a tweak. There are always things to work on. I think fundamentally if you were to ask Nick about this, there's kind of two things at play. There are so many other aspects of the business that he had to go work on, so he needed someone he could hand over the keys to the car, so to speak. And he did that. And I was I had some trepidation about that, frankly, because I know how I am as a sales leader. And I wasn't sure if Nick would be able to do that. He did it, and I thank him for it. It was an amazing turnover, frankly. And he trust in the business in me, and it's worked flawlessly. I think he would also say what he needed was someone to take it to another level in terms of building the process, the infrastructure for proper scale through hyper-growth mode, and into an IPO. And so that's presumably the next place you're going to go is one of the things you put in place for IPO. But I think Nick was a student enough to know he wanted to hire someone who knew what a post IPO sales organization need to look like, and he had other things he had to work on. So he went and found something like me to do that.
Andrew Monaghan:
So what were the things that you had to start working on to get the right foundations that might not be in place already?
Mark Parrinello:
Well, you know, first and foremost, I'm not sure I came here knowing we would go IPO or I think even thinking we'd go IPO. I mean, how many companies go IPO? Oh, really? What percentage is that? Tiny, right. I mean, everyone talks about IPO and that's always what you want to do. But how many do is a different discussion? I'm not sure I ever knew or thought we would. And the reason I point that out is. When I was at I pointed to a company you mentioned in the past called Nimble when I went there, I think when I got there to run the Americas, they were four or five, six months IPO. So I knew what that world looked like in a post world IPO sales organization A and B, Nimble was an operational machine. So I learned a lot about data dashboards, metrics, and process tools for scale. And so I think what I'm trying to articulate to you is I didn't put things in place for IPO. I put things in place to build a machine, a machine of a sales organization that could scale, whether it's the IPO or something else. Right. So when I say a machine, I mean that in the early days of a startup through the first couple of three years, whether you're getting to 10 million and then 50 million and 100 million, it's running and gunning and spraying and praying and just chaos.
Mark Parrinello:
And we were doing that. But at some point, you have to move from sporadic closing selling forecasting to building that machine that built-in velocity play with routes to market, a truly effective business model, a forecasting methodology with a framework, a framework in place that you can enable everyone on that framework. Therefore, you can have a repeatable sales process and sales cycles where the sum of 1000 deals can equal a reliable booking forecast. So I set out to build that machine. And that infrastructure sales approach is styles and methodologies that can be taught repeatable and well oiled. By the way, a well-oiled enablement program. Sales leaders like myself sometimes take the enablement programs for granted. I would argue one of the things we have to do early in the process is build out enablement, right, and make that a well-oiled machine. So enablement, revenue operations, sales structure and process tools for scale, these are all the things that I think that I was brought in to do and we did. And then because we built these things, we kept going through hyperscale mode. And when the IPO came, it wasn't like, Oh, what do we build for? Ipo is like, Oh yeah, we've built all this stuff. We're going now.
Andrew Monaghan:
What were some of those things starting to get in the way or or not having those things were getting in the way and it was pretty important to get them done quickly. Or was it just you got ahead of time to put the right structures in place and the right processes?
Mark Parrinello:
Yeah, I'll say it this way. I'm someone who wants everything done yesterday. I'm a bigger busy guy, as I'm sure most of the listeners would call themselves on this podcast. But five, seven, eight years ago I would have tried to do all of that stuff in my first six months. The Pandemic. Here's the interesting thing about the pandemic. It slowed me down. I got here and all of a sudden it's like, Hey, don't spend because we're not sure what the hell is going to happen. So what it allowed me to do is indirectly was slow down and sort of map out first quarter of some organizational shifts. Second quarter is enablement, third quarter is channel changes or tweaks or growth by fourth quarter is revenue, operations, functions and process and so forth. So does that make sense? So all of these things added up. We changed a lot in the sales organization, but I did it in bite sized chunks because the pandemic forced us to have to do it that way. It actually worked out to my advantage because I was the new person and I may have come in and try to do all that too much, too soon, and it might have been too much to throw at the field. But because I was doing it in bite sized chunks, I was bringing the sales force along with me, A and B, more importantly, building relationships with the customers and the partners and my organization along the way to build trust. So they understood and trust of what I was going to do was going to make us more successful.
Andrew Monaghan:
So it allowed you to build a proper roadmap as opposed to just saying everything's ASAP. All right.
Mark Parrinello:
That's right. And I'm just being very frank, I'm not sure I would have done it as properly in a succinct if there wasn't a pandemic. I might have just tried to do all of it in six, or seven months.
Andrew Monaghan:
Yeah. Yeah. So at what point then after you joined, did it become the obvious next step then to say, look, we're going to get ready for IPO, we're in that year and in three or four months, did it start becoming real?
Mark Parrinello:
You know, I think I've been here about seven or eight months. Clearly, we'd had a couple, three quarters under our belts where we were doing well. Despite the pandemic and the trepidation, everyone sort of adjusted to this new world. The market was hot, security was hot, and the CEO made a decision, we're going and we frankly weren't ready. I'm not saying that necessarily and sales weren't ready. I don't think as an organization we were ready. But the CEO had a vision of the market. Dynamics are such we better go now because you never know what the hell is going to happen. Right? Turned out to be proven true. So so I think seven months in and I was already putting the pieces in place for foundational for that scale. So I didn't have to change anything. I was doing the company, I had to make a lot of changes and it was a race to the finish. We pulled it off. The one thing I've learned through the process is I was really, really fearful the company was not ready for an IPO. But now that I went through it, I realized I'm not sure any company out there pick the most successful ones. I'm not sure any of them are ever quite ready. They do what they do, and it's the proverbial duck on a pond, right? The duck swims and looks smooth and underneath, you know, they're pedaling like crazy. I think that's probably 95% of the people that go IPO. That was us. And I think it's probably everyone else too.
Andrew Monaghan:
I think also as well, if you say let's take three years to get ready, you'll take three years to get ready. That's right. If someone says we've got three months to get ready, you'll be ready in three months. Right?
Mark Parrinello:
Andrew, It's a great point. And that's a CEO's job, a visionary to say, you know, I understand your trepidation, folks. I understand your concerns. We're going to go because the macroeconomics are such so let's do the best we can. And we did. And, you know, the one thing I learned through that process, too, is it's not like you build everything and then your IPO and you're done some stuff you're still not quite ready for when you're building after the fact, too. And we're still doing that always.
Andrew Monaghan:
Right. Yeah. Another question I got was from Bryant Gumbel, who's the crow at Arms and Arms are, I think, pretty public on the idea that they're marching towards an IPO at some point. Bryant's question was leading up to the IPO. How did you how did the company decide what growth rate you were going to tell the street that you would hit, knowing, of course, that if you didn't hit it, the stock would tank. So there's a balance there, right? You're going to be aggressive, but not too aggressive.
Mark Parrinello:
So I think, you know, the obvious statement is you always build in a strategy that allows you to beat and raise. And I think I'm stating the obvious there because I think everyone knows that. And frankly, the markets know it, too. If you didn't beat your raise two quarters in, you probably have a big problem with the stock, right? I will tell you, it's a great question. I will tell you that you're the people, the bankers and the investors that bring you out are well experienced in this. May I help you with that? They sit down, they go through the books with you, they understand the forecast, and then they help build a plan for you to. That's something that I was not aware of, how involved they are in the process, but they are. So they'll help to that process. I think the larger point that is a Crowe you need to solve is that forecast, that methodology, that repeatable process that I mentioned earlier better be in place, you know. So I think those are the things that the Crow needs to focus on, is how do you build that velocity play, what are your routes to market? Is that tightened up? Do you have the proper dashboards and metrics to manage against? Do you have a forecast methodology? Do you have? By the way, I'm a big believer in this and I've now used it three times in a row. I've got a product that I buy that is an AI tool that sits on top of Salesforce. I never look at Salesforce for forecasting. I've got a tool that sits on top. I'm a big believer. You go out and you buy a tool like that ahead of time. It's not the end all be all the tools. Not going to tell you what to forecast, but it's a barometer. It's another thing to measure science against your art. There's a little bit of science and art that we all know goes into forecasting. So these types of things you have to put in place, then the makers will help you with some of the other stuff.
Andrew Monaghan:
So they're coming back to you saying, well, let me. So growth is a thing, right? You know, profits are a distant second. It seems like growth is what gets valued.
Mark Parrinello:
And so it's not market change their mind and they want profits but yes. Yeah, right yeah yeah.
Andrew Monaghan:
Growth is what's valued until it's not any sense something no one was on a tear right. So it's not like you were thinking do we, do we go with 30% growth, right. Or 35 your s one looked like, you know, 100% year over year growth, things like that were in there. Right. So you weren't a great tier anyway. But then I.
Mark Parrinello:
Guess you on that point there, I want to hit on that point that and I'm remembering and reflecting back now that we were looking at what our peers have done around the rule of 40. When you go public, have you got the rule of 40? Then there market's going to love you and they're going to give you you know, they're going to buy in all those things. Right. Well, hold on 1/2.
Andrew Monaghan:
Rule 40, what does that mean?
Mark Parrinello:
It's pretty specific, but a rule four is a thumb about it's measuring your profitability and your growth and comparing them. And so all these other companies that had went out that we were comparing ourselves to and you could name the companies as well, we want to be put in that category. These companies that were had 150, $200 stocks, all of those folks, when they went out, they were somewhere around 70, 80 to 100% growth. So we decided that we needed to talk about 100% growth. So I will tell you that then we built a playbook was such for the following year that said, you know, what is the hiring we need? What's the plan? We need to sustain 100% growth year over year. And so that's part of what went into our methodology.
Andrew Monaghan:
That's where I was going with that, right? I mean, if you've got the foundation, you've got the model starting to crank, then the question is, well, how do we move the levers so that we hit the growth numbers that you want as opposed to sitting there going, I don't know, I guess we'll throw some bodies at it. Right, which I'm not saying people do. Yes, you know.
Mark Parrinello:
That can be.
Andrew Monaghan:
Correct. Yeah. So having the foundation is what allows you to then work with the bankers and with the CFO, CEO to get the right execution happening beforehand. Sounds like that's right.
Mark Parrinello:
And having the vision of what you want to look like, you've got all these if you've got six or seven companies that are like-minded and you've had they've had successful IPOs, then do you want to look similar? Well, how did they go out? What did they look like? What was their rule of 40? What was their growth? And then you build a plan around that.
Andrew Monaghan:
Another question from John Mahle. He's a CRO at cyber Greeks how do you maintain focus in the team? I mean, people within the company start knowing either officially or the here and see things and you can get I guess people get distracted, right? It's like excitement around it. How do you keep your interest on doing their job?
Mark Parrinello:
Yeah, that's as important of a question as any you could ask, especially if you're running a sales organization and there's no right or wrong way here. I can tell you some things that we did that I did, but every culture is different, but it's such an important piece, I will tell you that. I messaged a lot over and over and over because the world and I hit on this earlier, the world of a pre IPO is going to look so much different than the world of post IPO and the culture is going to shift a little, you know, the days of the sales rep calling up the controller and getting this deal approved a book because he bought her a bottle of wine two quarters ago. That doesn't work in a post IPO world. Right. So that spraying and praying and running gun that I'm mentioning ham calls sewn up I'm getting something done and winging it just does not work. And so the world feels different to the startup people, the sales reps who are running on I'm selling. Why are you trying to prohibit me? Why are you putting this process in place? Why do you need this from me? Right. So what I think to keep the culture is so important to do is message over and over and over.
Mark Parrinello:
And one of the things I would do in every all-hands is I talked about the what and the why and the when. Here's what we're doing. Here's what it means to you. Here's why we're doing it. Here's what it means in the change in the process. We're moving your cheese because of this, right when we're doing it. As best as I can tell you is this time frame, because ultimately in the IPO, it means this and the end result will mean this for all of us. Right? The what and the why and the when. And I messaged it and I gave examples over and over and over. And I'm telling you, every two months I talk about keeping the culture and persevering through these changes. And knock on wood, it worked for us so far. We've kept that entrepreneurial spirit in place. We haven't lost hardly any of our four and five and six-year veterans who were here when it was nothing. And they're still here and we're big now because they bought into the concepts. So I just it's a really, really important question and I'm not telling you what I did or I'm telling you about is what everyone should do. I'm just telling you why I did it and it works for us.
Andrew Monaghan:
So if I was a seller, would I be able to be in connecting my million dollar deal to saying, you know, this is the increase in value of the company or something. Here's why this is so important. Therefore, I can't be distracted. I can't be distracted. Would they get then to that level?
Mark Parrinello:
I think I think if you're a seller in Chicago and your territory is you're going from I used to have the Midwest, then I now have Chicago and you're putting three more reps in your segmenting out health care and sled. And I don't like it because you're shrinking my ability to sell. The discussion is around. If you're with a company where you're not carving up territories, you're the wrong company. That means they're not growing. So just socializing what that means to them and what it can mean to them monetarily and ultimately what it means is at 100% growth in a post IPO world, then we can be a $10 billion company and the stock will be 40 or 50 bucks. And what does that mean to your pocketbook sort of taking what's happening to them in the field? Right. And articulating what we need to do as a company and then what it means to the long term? That's what I'm referring to.
Andrew Monaghan:
No, I like that a lot, actually. It happens. It does happen. Right. I mean, if someone takes something away from you, supposedly there's an emotional reaction to it. Right. And you do.
Mark Parrinello:
Understand.
Andrew Monaghan:
This is good, right? It'd be really, really bad if we weren't taking stuff away from you.
Mark Parrinello:
That's why I call it moving my cheese, right? Saying I woke up and my cheese got moved again. You know, Aaron, my cheese keeps getting moved every year, but now as we've marched towards an IPO, mark you're moving my cheese every month. I've got a new operations person to talk to. We get this new process. It's like, yes, but here's why we're doing it. And you could expect more of this. You've got to adapt.
Andrew Monaghan:
I'm just interested how your CEO kept the focus of the big why, but what sensitive one is trying to achieve in cybersecurity as the big why versus the why being we're going to IPO in six months or a year, whatever and become very financial and things like that. Was that something that you talked about as an exec team?
Mark Parrinello:
We did. And I think I think the CEO's perspective was security was and is still so very hot that the macroeconomics were such that we go out. So we did talk about it. There was a lot of things that went into why we were going out and security was a part of that. But not the only reason. Part of it was macroeconomics.
Andrew Monaghan:
Question for again from John Mahle from Cyber Ex, how did customers respond?
Mark Parrinello:
You know, I think customers are really excited because they're part of the process. They take a leap of faith by buying you and they watch you grow up and they coach you along the way and tell you what you need to improve in. And they attend your customer advisory boards and they always give feedback and they feel a connection to you. And then they hear you going out and they're really excited for you. I think on a whole that's what our customer's feedback was. Now the flip side is just like I talked about messaging with internally who's moving my cheese and why you got to do it with the customers too, because the customers are concerned. They know full well in a post IPO world, you've got a different boss now and the boss is the markets and the shareholder value. And so they do worry about are you going to go try and buy other companies? Are you going to lose sight of the products that got you here? And so I think having a lot of conversations with them about that, getting their feedback, talking about what our plans are. And as I mentioned a minute ago, customer advisory boards to invite them in and hear them out is half the battle. Let them be heard. Let them talk to you about their concerns, address those concerns. But it was mostly excitement, but there was some trepidation from customers as well. You have to address that head on.
Andrew Monaghan:
Yeah. I would imagine, though, that an IPO is a pretty attractive thing compared to be acquired by a big company and then who knows what, right?
Mark Parrinello:
Yeah, I think that's a great point, Andrew, in that most companies, are most customers are more excited about your IPO because they know you're going to keep that culture intact that they like and buy into versus some big behemoth buying them. Now they're not sure what's going to happen.
Andrew Monaghan:
The roadmap yeah, roadmap is up in the air.
Mark Parrinello:
I think 95% positive from customers. Just a little trepidation around what will you become.
Andrew Monaghan:
When you think back about where you spent your time before the IPO and after the IPO? Was there any big change in there just because the nature of what was happening or is it just going down the same path, down on the same march?
Mark Parrinello:
It's it's probably not the answer you're looking for, but my job is not changed that much. And I think it's because going back to my earlier comments, I was obsessed with building the infrastructure, the foundation for a hypergrowth company. I think when I got here, the RR was 55 to 60 million and we just hit hit 300 ish. So I was fixated on building that either way, IPO or not. So nothing really changed. The pressures change. I'm going to state the obvious. Everyone, I liken it to going out in your front yard during the pandemic. We were all working at home and, you know, and walked around our front yard on the phone and so forth. I liken it to going out in your front yard, in your boxers, get the mail and everyone sees you. Now, everyone knows what my numbers were last quarter. They didn't know that in a pre-IPO world. So the pressures are mounted your buddies and your friends are texting and calling and way I saw you did this and that and what's with this purchase of this company? So there's some of that. But honestly, Andrew, my role, the things I focus on have not really changed in the past eight, nine months.
Andrew Monaghan:
Okay. Yeah, I can see that, especially if it is this march you're on, right? We're constantly getting better anyway. It's just not something going to change because we are different. That's right. Structure in the company.
Mark Parrinello:
It's still about execution.
Andrew Monaghan:
Yeah, yeah, for sure. One of the questions I got, Mark, was from Chris Smith again at Aqua and he was asking some questions about culture and that, but one of them was about trust. So to his question, trust is the cornerstone to any functioning team as we're working together and making these changes that are happening and we're on this march forward. How do you think about giving and gaining trust from the team and how do you instill it throughout everything that they do, either internally but also externally?
Mark Parrinello:
Well, I'll first say I'll talk about the staff for a moment before I get into Chris's specific questions about my ability, my trust with the team and all that. But I think an important element of a successful IPO is trust amongst your peers with the staff. Every company says they've got a candid culture and about ten, 15% actually do. I will tell you that. And it starts top down. If the CEO allows candid feedback in the staff meeting, then you're going to have it and it's going to permeate. You're going to have a great culture because of it. Our CEO does he he has no problem with you pushing back and us debating issues and strategies. And so we have this really candid staff. We debate one another. We get in fights just like anyone else does, but it's mutual respect. And that candidness then permeates down into the field. And that's ultimately what creates a great culture, which I'm telling you 100% when you talk to will say that no one has. So I start with that above the CHRO and at the staff level. You know, I think Chris question is, I can spend a lot of time on this, but I call I just hired America's person recently and he's out in the field and we agreed that he'd be in the field for the first six months.
Mark Parrinello:
Customers. Partners. Reps. S channel. Just meeting people. Build the relationship. I call it earning the right because sales leaders, we have to inspect the business. We have to lead. We have to give tough decisions at some point, tough messages. But I believe that you can't really start doing all that until you're in the field and earning the right. So I would start with that that it's and I'll tell you, there's it's a delicate balance because when you're CRO, you can't just be in the field all day long because you've got to go back to corporate and do the foundational stuff. So there is a balance there. I learned that the hard way too. I used to be the only field, so I would just share with you that I think that earning the right is a part of that process. And the only the last piece on that is it was harder to do in a post-pandemic world. So you know what I would do? I would just talk on the phone from 6:30 a.m. to 7 p.m. at night to everyone over and over and over and talk about their families and their friends and all kinds of things you hear. Then you go like, Oh no shit. Like we all do that I just over-rotate on that for literally six months because that's all I had to do.
Mark Parrinello:
I couldn't travel, so I couldn't earn the right the way I'd normally done it. So I just spent a lot of time and you know, the and the last piece, Andrew, I'll tell you, is all hands. I went from doing one all-hands a quarter. I was doing a monthly messaging. Here are the changes we're making. We're implementing this process. Here's why. Again, the what and the why. Remember, I talked about those other skills that I honed in. I started doing some things differently to earn that trust. The message more they saw me, the more they felt comfortable with me. I send off Saturday clips. I'd be on zoom and I would just do a top of mind. Hey, this week we did great. We had two great wins. Here's something I'm concerned about in the business. I might be changing this or we might be looking into this. Stay tuned. And it would literally be like a one and a half minute clip and I would send it off to the field and they would click on it on a Saturday. But then they got to know me and see me in my living room or I'm in the office right now. This is not prison behind me. It's just a brick wall in my office. So little things like that, I think, help build that trust.
Andrew Monaghan:
I like that so much because you're right, you know, if you're used to breaking bread with teams, you know, showing up in person to their meetings, to their customer dinners, to their various goods going on, and that's taken away. Then you lose that chance to really get to know each other. Right. And it seems like you've managed to overcome that with your over-indexing on talking. Yeah.
Mark Parrinello:
Yeah, there was so I could spend a lot of time, but lots of tricks that I learned and did. And you know, and a lot of people did it. We all had to adjust to this pandemic world. So I'm not special. The things I did, we all did them. I'm just sharing some things that I did, some little pieces to the puzzle.
Andrew Monaghan:
Sure. Last question about the journey that you were on at Central One. As you look back, you mentioned the roadmap and getting the chance with COVID to do a road map as opposed to doing it all. Now, what else did you look back on and say? You know, we were kind of lucky how that played out. I wasn't expecting that like that, but it all worked out pretty nicely.
Mark Parrinello:
You know, and reflecting back, hopefully, I'll get to this and if I don't ask a question again, because I was reflecting back on something that I would change frankly, and it might not be the answer you're looking for, but it's important. I wish I would have enjoyed the process and the event more because, you know, I'm a big believer. Your strengths become your weaknesses and a strength of mine. Probably like a lot of people that are in my position is a strength is to very quickly take a very successful quarter or a successful year and move on from it. What's assess what's not working the business, what needs to be fixed and move on to that execution. And so I quickly move and again, it's a strength, quickly move to what's not working and move on. And I'll never forget you brought this up earlier, Andrew, sitting in the New York Stock Exchange, which is one of the most famous. Flaws and all the world. And I was on that balcony that we've seen presidents and dignitaries on for 100 years. And there was 15 of us up there whenever it was 16 of us. And I was looking down and I was sweet, invited about 85 people from Central one to come and party and celebrate for a couple of days.
Mark Parrinello:
They were all on the floor looking up. We're on TV clapping. You know, the thing that all of us see and I got off the stage and someone said to me, like, Mark, you didn't look happy at all. And the reason why I don't look happy is that I was looking down at the 85 people and I was thinking, we've got to go sell. All these people are partying and taking the weekends and bringing their spouses in and celebrating and we got a lot of shit to sell. And I was already in execution mode and. It's not a bad place to be in and but it just I wish I would have appreciated enjoyed that moment more and then not just that event that I'm referring to, but all things leading up to that man. This is exciting. Let's really enjoy this. The learning process, the post IPO learning process, and I don't think I enjoyed it enough. I took it for granted. Like we always take things for granted and I just went right an execution mode. So that might not get to the heart of your question. But I think for me that's one of my lessons learned and takeaways that's enlightening.
Andrew Monaghan:
And, you know, it happens so much in sales, though, that we you know, when you're in the weeds and you feel the pressure about delivering all the time and incessant things going on, sometimes people struggle with taking a step back and just saying, you know, I'm in a great spot. Things are good. Life is.
Mark Parrinello:
Good. Yeah, it's the nature of hypergrowth. We had a great quarter, but next quarter we got to do this and we're not doing well here and we all do it. And and so for those out there that are eyeing an IPO or going to have the amazing experience of having it, I would say really enjoy that. The execution, the need to go sell some shit. As I say, that's always going to be there, but really enjoy that moment. And I just didn't. I took it for granted. Like we take a lot of things for granted, frankly.
Andrew Monaghan:
Well, however, I had Mark things clearly worked out well. I was looking at the latest release, earnings release that you had recently, and it showed to me what was 123% year over year R growth. Clearly, momentum is continuing and you're guiding really high as well into this fiscal year. So looking in from the outside and hearing stories from you and a few friends that I have over there, it seems like an incredible culture, incredible vehicle momentum is building over there. That must be fun to be part of. And I really appreciate you joining me on the on the chat on the podcast today.
Mark Parrinello:
Absolutely. It's been a great experience. As I say to everyone, we're only in chapter four over 12 book. We've got a lot of work to do, a lot of things to tweak, but we're having a good time. And thanks for having me on. I've enjoyed it. You know, I like these things because we can all learn from each other. And so if me spending some 35 to 40 minutes with you and people could take away a couple of anecdotes or a couple of things, a couple of notes to improve on what they're doing great because I surely I actually see the value on these things. So anyway, I enjoyed it. Thanks for having me on.
Andrew Monaghan:
Yeah. And I was looking for new opportunities at SentinelOne. I imagine your careers page is probably the place to go.
Mark Parrinello:
What I just hired in my organization. Yeah, the short answer is yes. I just I'm laughing because I've just hired about 165 people in four months. So we're always hiring.
Andrew Monaghan:
That's a great way. Well, Mark, I really enjoyed the conversation. Thanks for joining me.
Mark Parrinello:
Thank you.
Sonix has many features that you'd love including powerful integrations and APIs, automated translation, upload many different filetypes, automated subtitles, and easily transcribe your Zoom meetings. Try Sonix for free today.