In recent weeks there has been a noticeable increase in malicious search engine advertisements found in the wild– an attack method known as SEO Poisoning, which can be considered a type of malvertising (malicious advertising). Industry colleagues have also observed this activity, as noted by vx-underground this week. There is an increasing variety in the specifics of the malware delivery method, such as which searches produce the malicious advertisements and which malware being delivered.
In the vast majority of these cases, attackers aim to opportunistically infect unsuspecting users with commodity malware, as we will examine below. However it is important to note attackers have used this technique in a variety of ways for years. One noteworthy example is the early 2022 report of BATLOADER and Atera Agent being delivered in such ways. Ultimately, the attackers are most successful in these scenarios when they SEO poison the results of popular downloads associated with organizations that do not have extensive internal brand protection resources.
In this post, we will examine an ongoing SEO Poisoning campaign related to Blender 3D, the open-source 3D graphics software, as an example of how these attacks are used to infect users via web searches.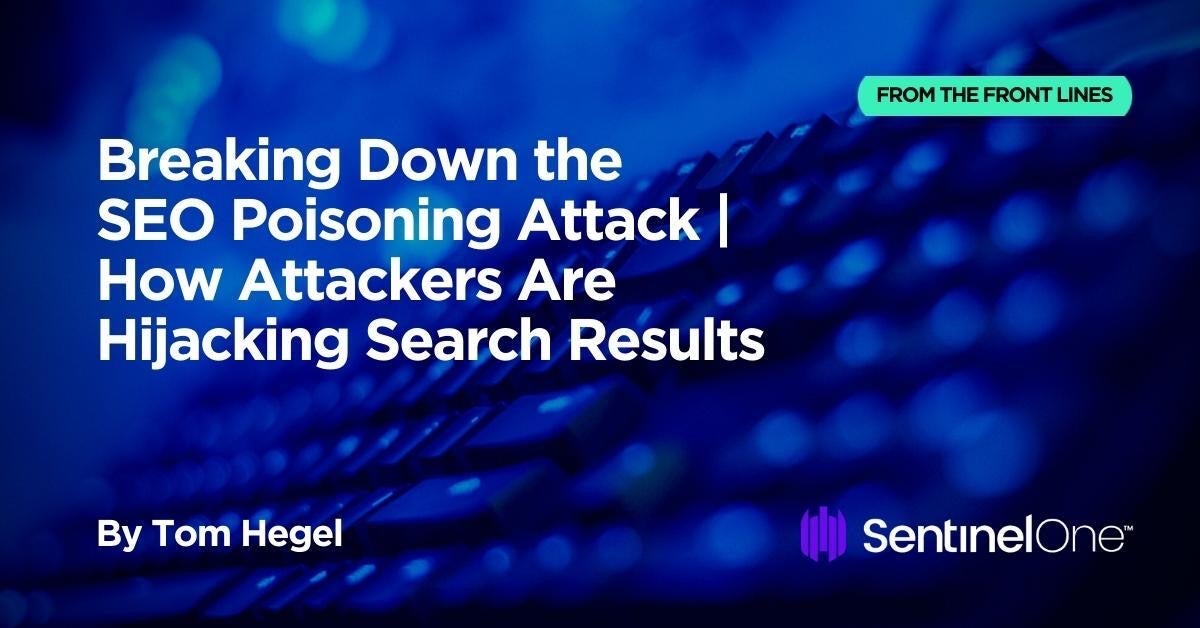 Blender 3D SEO Poisoning
Mimicking the actions of an unsuspecting user, we performed a routine Google search for "Blender 3D" and examined the Ad results presented at the top.
Notably, the malicious ads being delivered by this search quickly shift, highlighting how the attackers are likely automating these efforts at scale, including both the SEO poisoning and the creation of malicious domains where they lead. See screenshots others have collected for such examples of how these are not single malicious domains but rather a continuous flow of new activity after cleanup.
On January 18th we can see three malicious Blender 3D ads before the legitimate Blender.org domain is listed.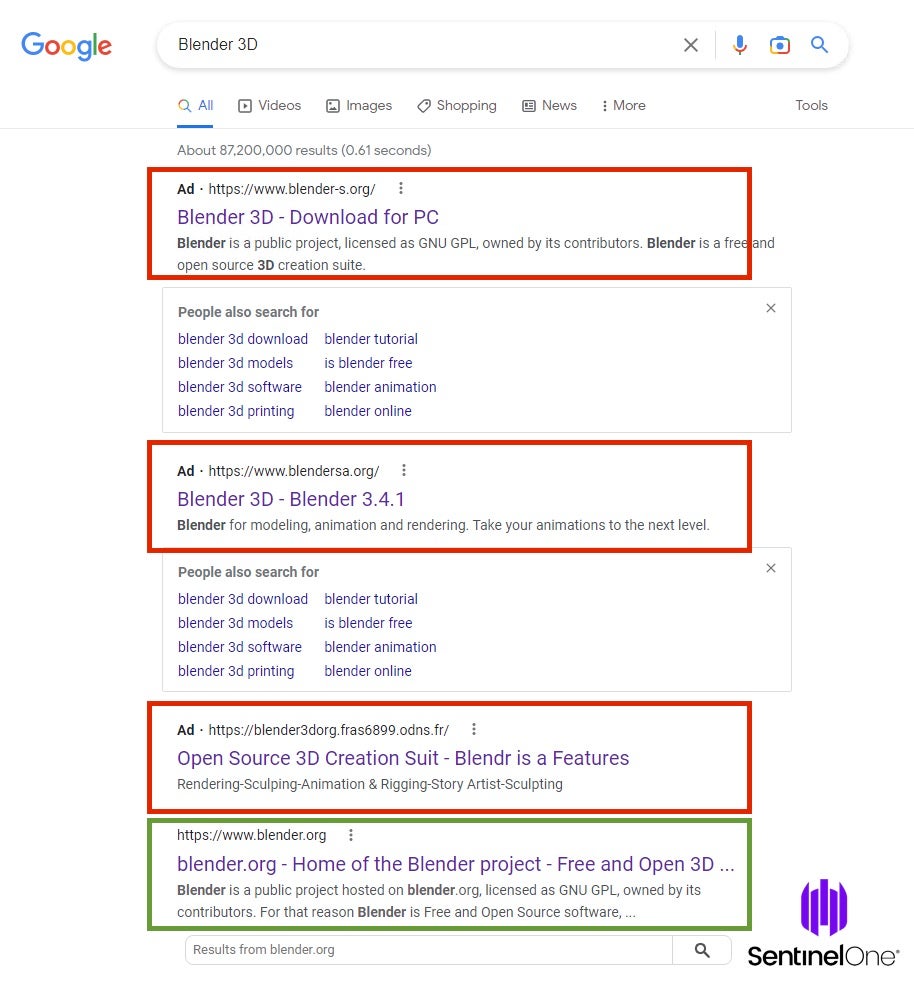 The above three malicious ads link to:
blender-s.org
blendersa.org
blender3dorg.fras6899.odns.fr
The top results, blender-s.org is a near exact copy of the legitimate Blender domain.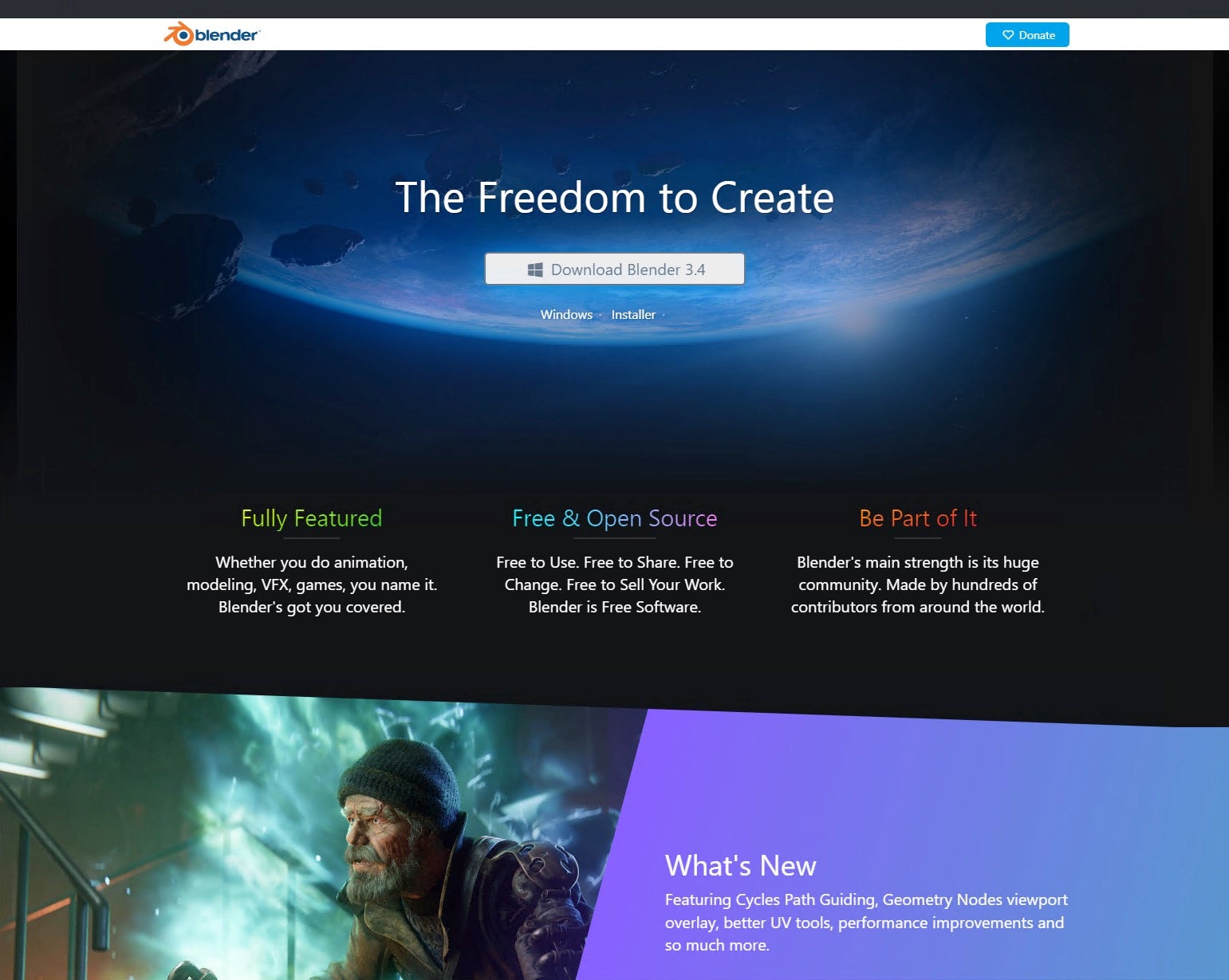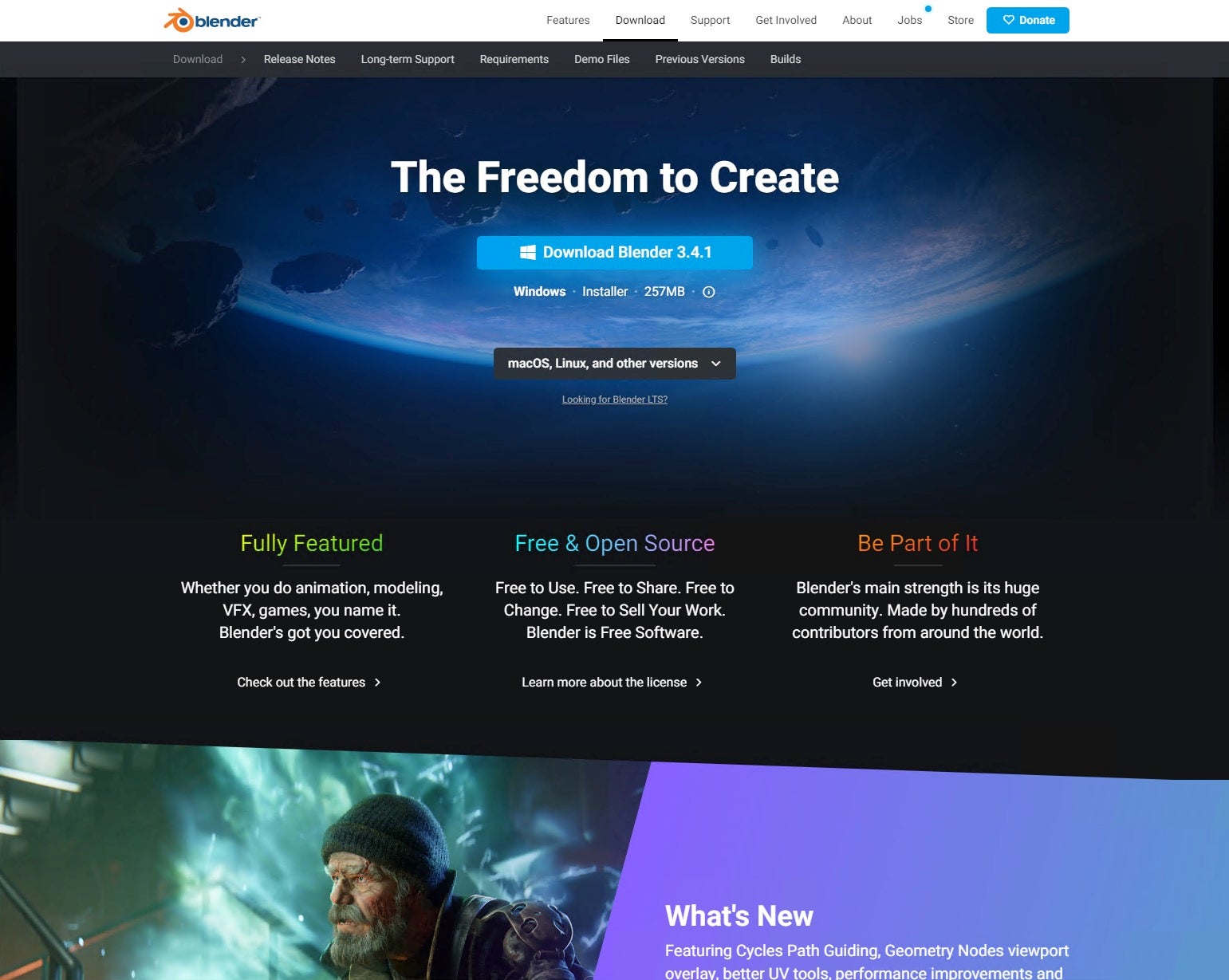 The malicious blender-s site contains a download link for "Blender 3.4"; however, the download is delivered through a Dropbox URL rather than blender.org, and delivers a blender.zip file.
https://www.dropbox[.]com/s/pndxrpk8zmwjp3w/blender.zip

Examining the Dropbox share details, we can see the following uploader properties:
Size: 1.91 MB
Modified: 1/16/2023, 5:00 AM
Type: Archive
Uploaded by: rays-who rays-who
Date uploaded: 1/16/2023, 5:00 AM
In this case, the ZIP file SHA1 hash is 43058fc2e4dfa2d8a9108da51186e35b7d49f0c6, which contains a blender.exe file (ffdc43c67773ba9d36a309074e414316667ef368).
The Blender.exe file is signed by an invalid certificate belonging to AVG Technologies USA, LLC. This same certificate has a long history of illicit crimeware use, including by Racoon Stealer.
Name: AVG Technologies USA, LLC
Thumbprint: 95AB6BCA9A015D877B443E71CB09C0ED0B5DE811
Serial Number: 0E 31 E4 8D 08 06 5B 09 8F 84 E7 C5 10 33 60 74
The delivered sample is recognized by multiple vendor engines, including the SentinelOne agent, as malware. We'll release additional details on this specific malware family at a later time.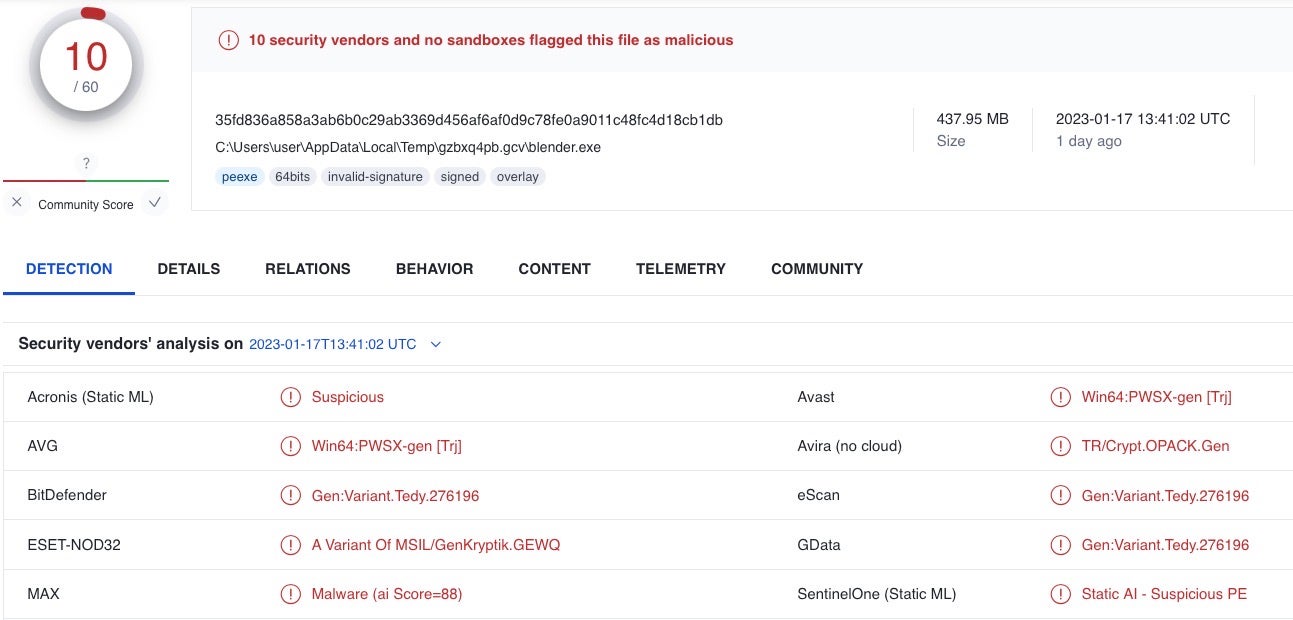 Examination of the malicious link to blendersa.org reveals that the site is nearly identical to the previous example, which also provides a download link to a Dropbox URL.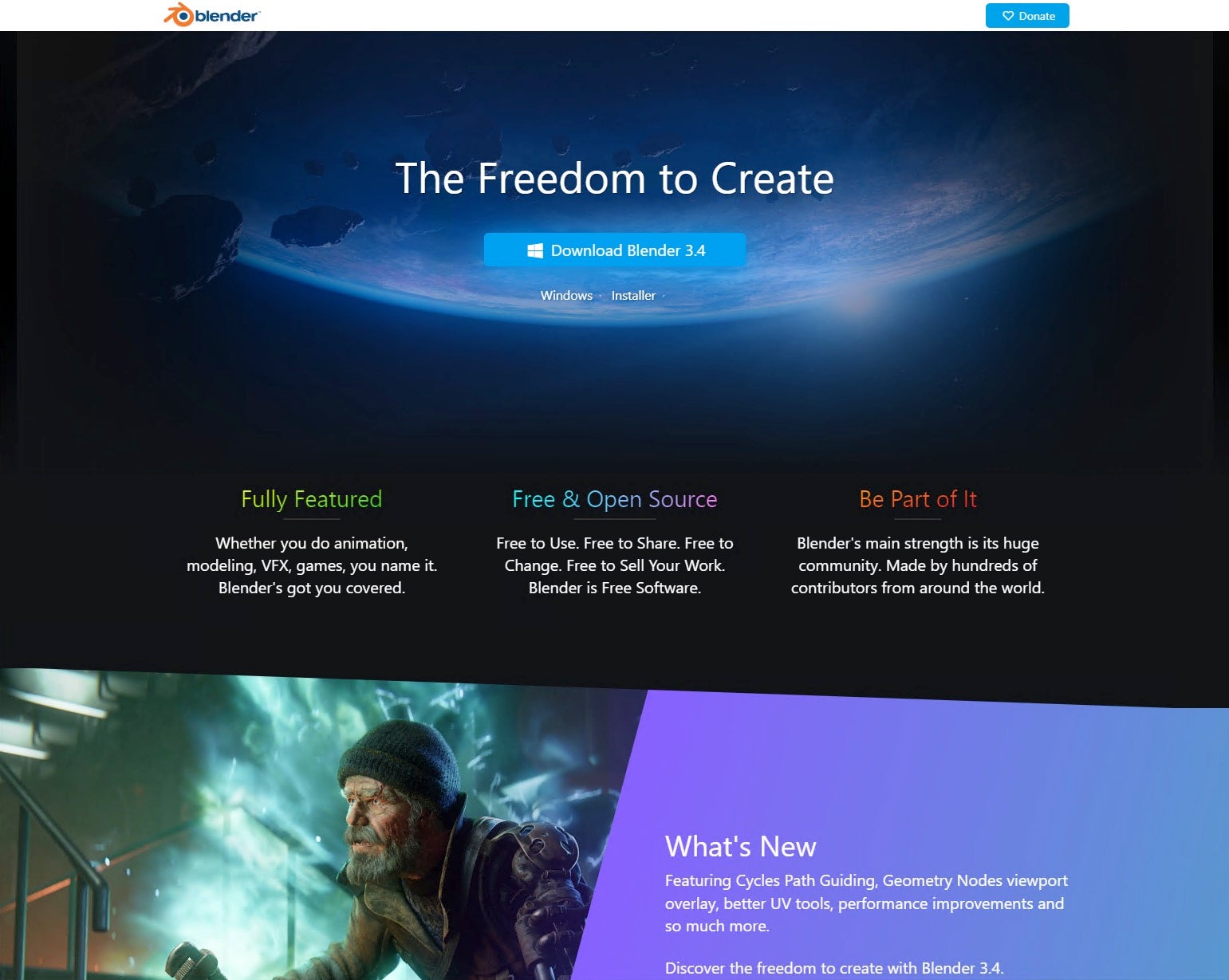 The Dropbox link in this case is
https://www.dropbox[.]com/s/fxcv1rp1fwla8b7/blender.zip

and the uploader properties follow a similar pattern to the blender-s example.
Size: 1.91 MB
Modified: 1/16/2023, 5:07 AM
Type: Archive
Uploaded by: support-duck support-duck
Date uploaded: 1/16/2023, 5:07 AM
The files associated with this version are:
Blender.zip – SHA1: f8caaca7c16a080bb2bb9b3d850d376d7979f0ec
Blender.exe – SHA1: 069588ff741cc1cbb50e98f66a4bf9b4c514b957
The actors behind these two sites are also responsible for dozens of others themed around popular software such as Photoshop, specific financial trading tools, and remote access software. The actor's own infrastructure was hidden behind CloudFlare, who thankfully were quick to confirm and respond by flagging the sites as malicious after we reported the service abuse. Any new visitors moving forward will receive the following warning: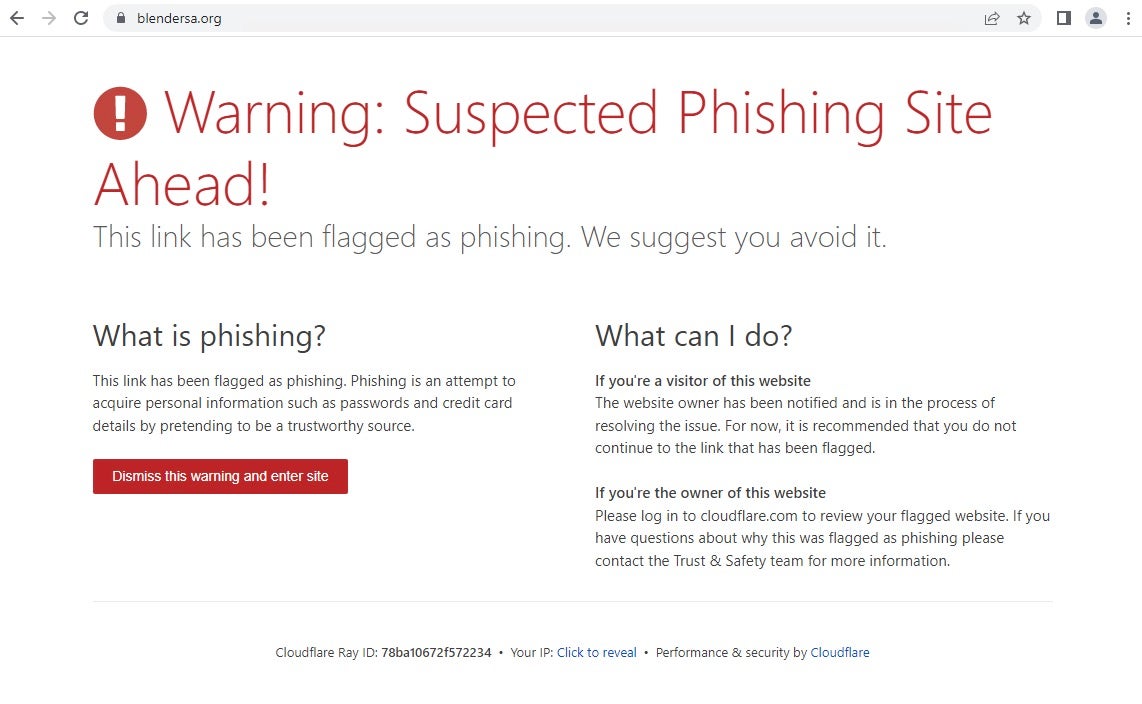 The final malicious Blender 3D ad is for blender3dorg.fras6899.odns.fr, which happens to use a variety of delivery methods. For example, the download link may use a Discord URL rather than Dropbox one.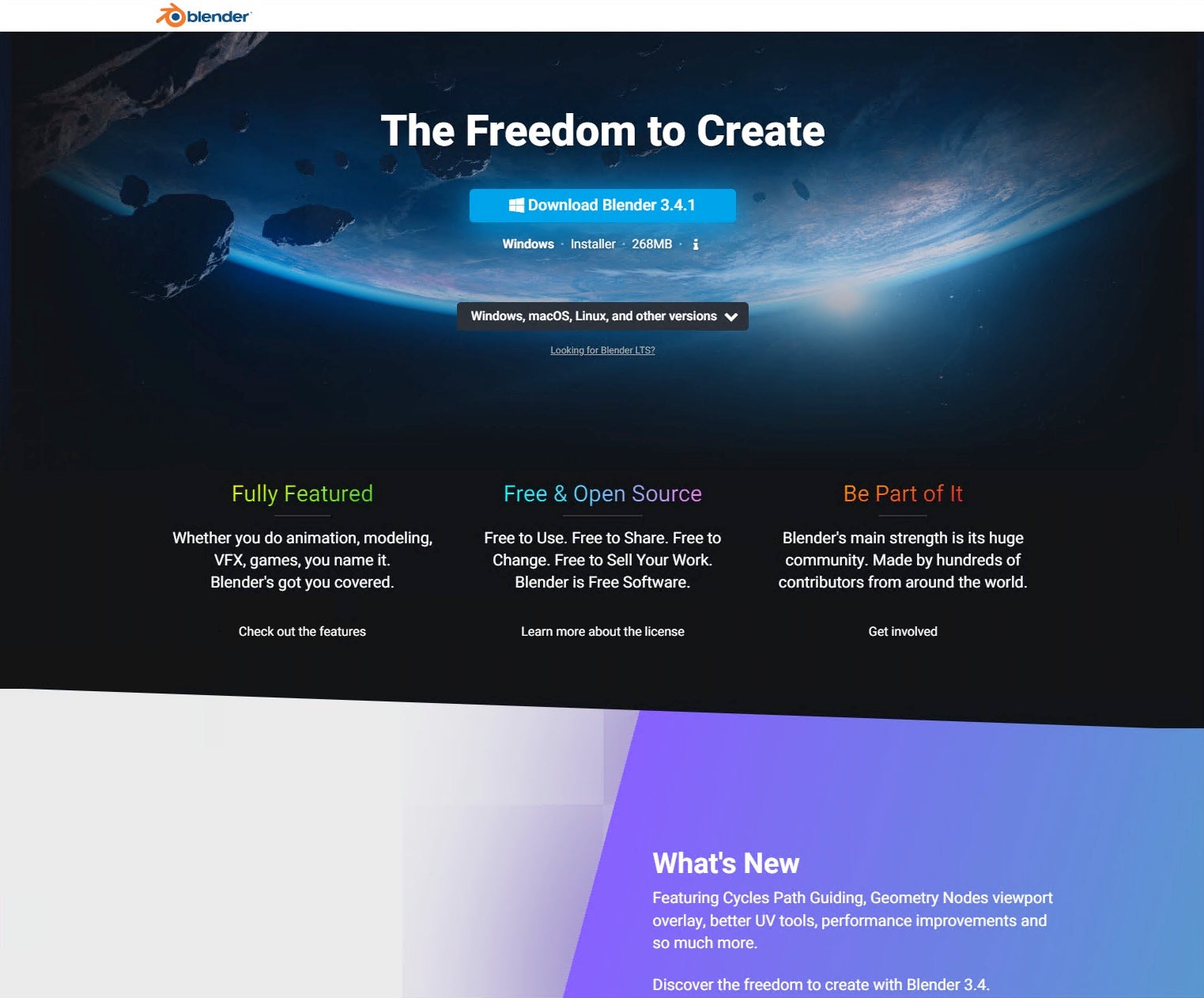 The specific Discord link for this example is
https://cdn.discordapp[.]com/attachments/1001563139575390241/1064932247175700581/blender-3.4.1-windows-x64.zip

This ultimately delivers blender-3.4.1-windows-x64.zip (f00c1ded3d8b42937665da3253bac17b8f5dc2d3), which is a directory containing a malicious ISO file.
The use of malicious ISO files is not new – as many have reported over the last year.
Blender-3.4.1-windows-x64.iso (53b7bbde90c22e2a7965cb548158f10ab2ffbb24) is roughly 800 MB in size, and contains a blender-3.4.1-windows-x64.exe and a large collection of suspicious XML files.
Conclusion
SEO poisoning leading to malicious advertisements are the rising star in today's crimeware malware delivery methods. The examples above are just a few of many that can easily be found by researchers or stumbled upon by users with common and legitimate search queries. Attackers are finding a large amount of success in such attack methods, and we can expect to see this method evolving to conceal effort even further.
Indicators of Compromise
Description
IOC
Malicious Domain
blender-s.org
Malware Download Location
www.dropbox[.]com/s/pndxrpk8zmwjp3w/blender.zip
blender.zip
43058fc2e4dfa2d8a9108da51186e35b7d49f0c6
Blender.exe
ffdc43c67773ba9d36a309074e414316667ef368
C2
74.119.194.167
Malicious Domain
blendersa.org
Malware Download Location
www.dropbox[.]com/s/fxcv1rp1fwla8b7/blender.zip
Blender.exe
069588ff741cc1cbb50e98f66a4bf9b4c514b957
blender.zip
f8caaca7c16a080bb2bb9b3d850d376d7979f0ec
Malicious Domain
blender3dorg.fras6899.odns.fr
Malware Download Location
cdn.discordapp[.]com/attachments/
1001563139575390241/1064932247175700581/
blender-3.4.1-windows-x64.zip
ZIP
f00c1ded3d8b42937665da3253bac17b8f5dc2d3
ISO
53b7bbde90c22e2a7965cb548158f10ab2ffbb24
SentinelOne Singularity™ provides protection for endpoint, identity and cloud. To learn more about how SentinelOne can protect your organization, contact us or request a free demo.