Extend the power of the Singularity XDR platform
with bite-sized, one-click applications for unified prevention,
detection, and response across your ecosystem.
Limitless Integrations with No-Code Automation
Collaborative
Ecosystem
Defense-in-Depth
Layer trusted solutions across your security stack for premium protection without the distractions of context switching—enabling time-sensitive triage and response.
Streamlined
Operations &
Workflows
Achieve single-pane visibility & analysis for siloed data streams with one agent. Simplify & connect processes without custom logic, custom code, or
manual configuration.
Unified
Cross-System
Response
Defeat high velocity threats in real time by automating security tasks across different domains and orchestrating unified response and
remediation workflows.
Singularity Marketplace Premier Partners
Premium Integrations, Supported and Validated by SentinelOne
Filter
No results found
We couldn't find any results.
Change selected filters or try later.
Singularity Marketplace Partners
No results found
We couldn't find any results.
Change selected filters or try later.
Eric Schou
AVP, Head of Security Marketing, Splunk
Data is the common currency for enterprises; our bidirectional integrations with SentinelOne for SIEM and SOAR capabilities are used by some of the largest enterprises in the world.
Craig Whetstone
VP Business Development, ReversingLabs
ReversingLabs' frictionless integration with SentinelOne empowers customers to rapidly understand and respond to file based threats. Combining ReversingLabs and SentinelOne's Singularity platform allows security operations to automatically reverse engineer files detected by SentinelOne to generate more detailed analysis and indicators, arming them with highly relevant, real-time intelligence for more effective and efficient decision making in response to threats.

Yuval Inchi
Director of Product Management, IntSights
IntSights and SentinelOne integration deliver actionable intelligence with automatic enrichment of threats, enabling security teams to stay ahead of emerging attacks.
Kevin Kennedy
VP of Product Management, Vectra
Vectra is a leader in network detection and response – from cloud and data center workloads to user and IoT devices. Combining the accounts and hosts involved in the threat together with SentinelOne's Singularity XDR platform allows enterprises to quickly and conclusively investigate and respond at scale to attacks anywhere they occur – across networks, endpoints, or clouds before they lead to breaches.
Billy Bond
VP of Business Development & Alliances, Netskope
Netskope's industry-leading SASE solutions, including CASB, DLP, Private Access, and Next-Gen SWG, are further enriched with bidirectional threat sharing and enforcement via the SentinelOne agent. Our mutual customers will realize immediate benefits from the smooth integration the SentinelOne XDR Marketplace provides.
Andy Pendergast
EVP of Product, ThreatConnect
The SentinelOne integration with ThreatConnect enriches endpoint data with threat intelligence enabling security teams to detect, investigate, stop, and remediate potential threats at the endpoint. SentinelOne Singularity Marketplace ensures that high-fidelity intelligence from the ThreatConnect Platform is easily available to inform investigations and drive response actions.
Gorka Sadowski
Chief Strategy Officer, Exabeam
Exabeam's strategy is to add analytics and automation to any security architecture. Our integration with SentinelOne and many of the other vendors in the Singularity XDR Marketplace, makes it easy for organizations to attain use case coverage as part of their XDR initiatives and repeatably deliver successful outcomes.
Stuart Solomon
President, Recorded Future
Recorded Future's security intelligence is now available in SentinelOne through a seamless integration on the Singularity XDR Marketplace. This integrated experience allows enterprises to achieve unprecedented levels of protection with SentinelOne's platform when enriched with the actionable context provided by Recorded Future.
What Customers Are Saying
Learn How SentinelOne is Helping Teams Maximize the Value of Their Security Stacks

Director, Global Infosec
10B-30B USD
Easy to deploy, great API integration with SOAR tools.

Security Expert
30B+ USD
Powerful tool with great vision…Integration is easy.

Director, Information Security
3B-10B USD
It has great integrations, and it's feature rich with a strong roadmap.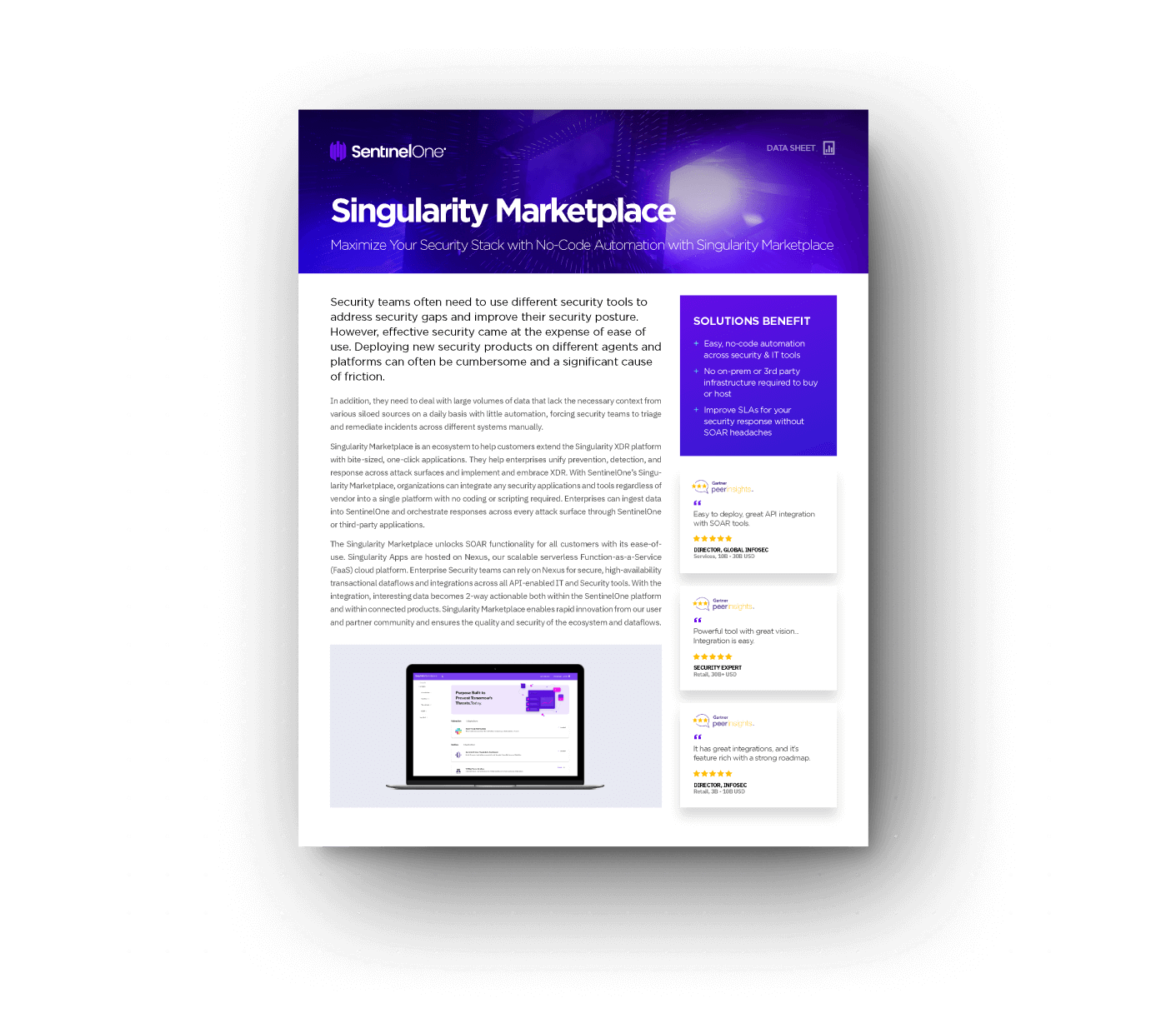 Learn More About Singularity Marketplace.
See What's Possible for Your XDR Program With Our Marketplace Applications.