Introduction
A rapidly growing field in cybersecurity, digital forensics and incident response (DFIR) provides organizations with a more dynamic approach to uncovering evidence and conducting investigations into cyberattacks.
Recovering from an incident is a priority when a cyberattack occurs. However, entirely eradicating threats and preventing future attacks is also critical.
By combining digital investigation and incident response capabilities, organizations can use DFIR to help manage the ever-growing complexity of cybersecurity incidents.
This article covers DFIR, its components and history, values and challenges, and how organizations can choose the right DFIR tool to meet their unique needs.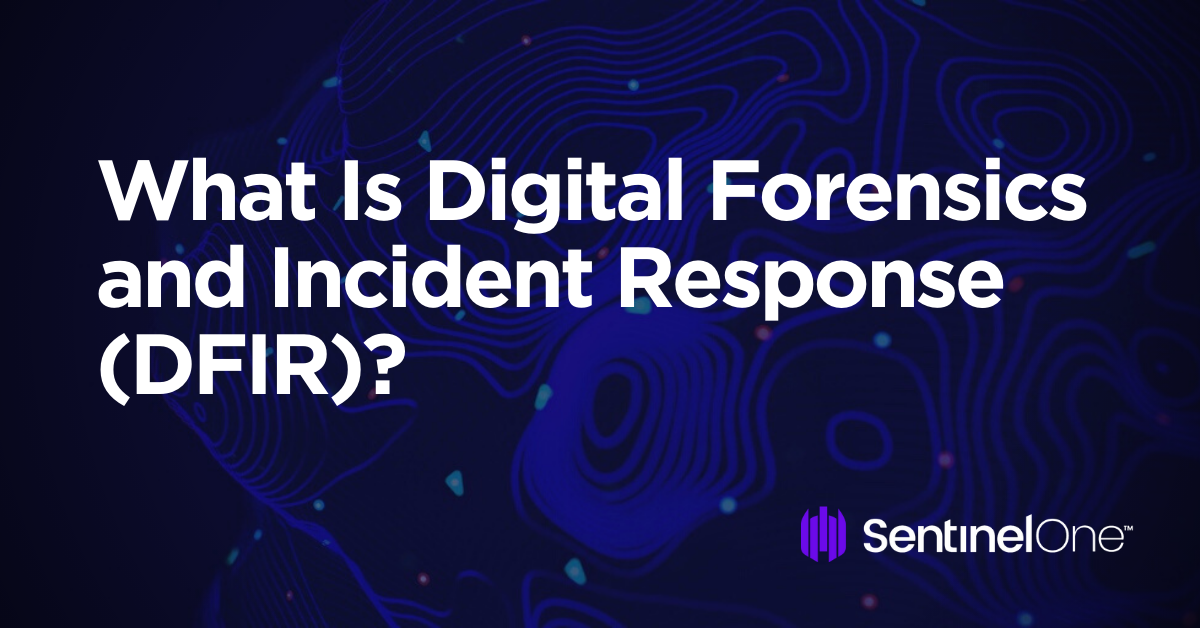 What Is Digital Forensics and Incident Response (DFIR)?
Although digital forensics and incident response are two distinct functions, they are closely related and sometimes interdependent. Due to their shared history and overlap in tools and processes, organizations often combine these two functions into one.
While digital forensics aims to determine what transpired during a security incident by collecting evidence, incident response includes investigating, containing, and recovering from a security incident.
Computer security incident response teams (CSIRTs) typically use digital forensics and incident response in the identification, investigation, containment, remediation, and, in some cases, testification concerning cyberattacks, litigations, or other digital investigations.
DFIR capabilities typically include the following:
Forensic collection: Gathering, examining, and analyzing data both on-premises and in the cloud (i.e., from networks, applications, data stores, and endpoints).
Triage and investigation: Determining whether the organization was the target of a breach and identifying the incident's root cause, scope and breadth, timeline, and impact.
Notification and reporting: Depending on the organization's compliance obligations, it may need to notify and report breaches to compliance bodies. Depending on the severity of the incident, organizations may need to inform authorities like the FBI and the Cybersecurity and Infrastructure Agency (CISA) in the U.S.
Incident follow-up: Depending on the nature of the incident, an organization may need to negotiate with attackers. Organizations may also need to communicate with stakeholders, customers, and the press or change systems and processes to address vulnerabilities.
DFIR experts may need to optimize each process and step further to ensure a quick recovery and the best chances of success in the future.
Digital Forensics
Digital forensics is an investigative branch of forensic science. It aims to uncover what occurred on endpoints (e.g., computer systems, network devices, phones, tablets, or other devices) during a cybersecurity incident. It includes collecting data from IT systems (hardware, operating systems, and file systems); analyzing it; and reconstructing it to use as evidence in the incident response process.
During the evidence-collection process, experienced analysts identify and secure infected devices and data, including latent or ambient data (i.e., data that is not easily accessible and requires an expert to uncover). This evidence then undergoes a detailed analysis to determine the root cause, the scope of the breach, and the data impacted by the incident.
Experts conducting evidence collection follow best practices to answer the following questions:
How did a cyberattack occur?
How can they prevent it from happening again?
Digital forensics is also valuable beyond CSIRT teams. Forensic investigation practices are practical for activities including the remote investigation of endpoints and proactive threat hunting.
Incident Response
Incident response is the second component of DFIR and consists of the actions taken immediately following a security compromise, cyberattack, or breach.
Similar to digital forensics, incident response investigates computer systems by collecting and analyzing data to respond to a security incident rather than simply uncovering the facts.
However, while an investigation is essential, other steps, such as containment and recovery, are equally important when responding to an incident. In addition to containing the cyberattack, incident responders attempt to preserve all relevant evidence for further examination.
Due to the complexity of these activities, this process requires a team of experienced professionals who understand how to respond to an incident while carefully preserving evidence. For instance, restoring or recovering information from a compromised computer or network might cause damage to files or systems if done sub-optimally.
Professional incident response teams should be able to handle the most complex breach events with precision and speed which can better position organizations when mitigating losses and maintaining operations.
Why Is DFIR Important in Cybersecurity?
Together, digital forensics and incident response can provide a deeper understanding of cybersecurity incidents through a comprehensive process. When cyberattacks occur, experts can use DFIR to gather and investigate massive amounts of data and fill in information gaps.
While some organizations use DFIR as an outsourced service, others build a DFIR capability in-house. In either case, the DFIR team is typically responsible for identifying cyberattacks, triaging them to determine their nature and extent, and gathering actionable information to assist with the response.
Typically, DFIR attempts to answer questions such as:
Who are the attackers?
How did they gain entry?
What are the exact steps they took to put systems at risk?
What data was lost?
What was the actual damage they caused?
The information collected by DFIR experts is helpful for filing lawsuits against attackers once identified. Law enforcement also often uses it as evidence in court proceedings against cyber criminals.
Due to the proliferation of endpoints and the escalation of cyberattacks, DFIR is a central capability in any organization's security strategy today. Additionally, the shift to the cloud and the acceleration of remote-based work has heightened the need for organizations to ensure protection from a broad spectrum of threat actors across connected devices.
Although DFIR is traditionally a reactive security function, sophisticated tooling and advanced technology such as machine learning (ML) and artificial intelligence (AI) have enabled some organizations to use DFIR in proactive preventative measures.
The Digital Forensics Process
The digital forensics function performs several critical steps in an incident response process. Digital forensics provides vital information and evidence the computer emergency response team (CERT) or CSIRT needs to respond to a security incident.
Identification
The first step in digital forensics is identifying evidence and understanding where and how it is stored. This often requires deep technical expertise and analysis of digital media.
Preservation
Once data has been identified, the next step is isolating, securing, and preserving all data until the investigation is over. This includes any regulatory or litigatory inquiries.
Analysis
Next, the data is reviewed and analyzed using the following methods:
File system forensics: Analyzing endpoint file systems for indicators of compromise (IoCs).
Memory forensics: Analyzing memory for IoCs that often do not appear in file systems.
Network forensics: Reviewing network activity (emails, messages, web browsing history) to identify an attack. This step also includes understanding the attacker's techniques and gauging the incident's scope.
Log analysis: Identifying anomalous events or suspicious activity by reviewing and interpreting activity records or logs.
Documentation
Teams can then use relevant evidence when recreating incidents or crimes for thorough investigations.
Reporting
At the end of the process, teams present all evidence and findings according to forensic protocols. This step typically includes providing the analysis methodology and procedures.
The Incident Response Process
Once digital forensics is complete, DFIR teams can begin the incident response process.
Scoping
The first goal is to assess an incident's severity, scope, and breadth and identify all indicators of compromise (IoCs).
Investigation
The search and investigation process can begin once the scope is determined. Advanced systems and threat intelligence can detect threats, collect evidence, and provide in-depth information.
Securing
Even with individual threats addressed, organizations still need to identify security gaps and conduct ongoing monitoring of cyber health. This stage often involves containing and eradicating active threats identified during the investigation and closing any identified security gaps.
Support and Reporting
Ideally, each security incident ends with a detailed plan for ongoing support and customized reporting. A DFIR service provider may also examine the organization and provide expert advice for the next steps.
Transformation
Finally, DFIR teams identify gaps, advise on effectively strengthening areas of weakness, and mitigate vulnerabilities to improve the organization's security posture.
The History of DFIR
Digital forensics and incident response share a history and many tools, processes, and procedures.
Early DFIR
While the goals of DFIR may have differed slightly in the early days, the tools, processes, methodologies, and technologies used were often similar or identical to those in place today.
Historically, data collection methods for DFIR often focused on collecting forensic images of a user's computer, company servers, and copies of log data.
Using investigative tools, these large sets of data were analyzed, converted, and interpreted on the computer system into information that computer experts could understand. Computer experts could then work to identify relevant information.
Modern-Day DFIR
Modern-day digital forensic matters follow the same process as in the early days due to the extensive scrutiny required to collect and analyze data for a regulatory body or court.
However, in modern-day incident response, the tools and approach evolved to better meet the differing goals of incident response by leveraging new technology.
DFIR Today
Today, endpoint detection and response (EDR) or extended detection and response (XDR) tools often perform DFIR. These tools can give responders visibility into data on computer systems across an enterprise environment.
EDR and XDR data is often immediately accessible and spans multiple endpoints. Real-time accessibility to useful investigative information means that during an incident, responders can start getting answers about what is happening, even if they do not know where in the environment they need to look.
EDR and XDR tools can also help remediate and recover incidents by automatically identifying, preventing, and removing tools used by a threat actor.
The Value of DFIR
Robust DFIR provides an agile response for organizations susceptible to threats. Knowing that expert teams can respond to attacks quickly and effectively gives enterprises peace of mind.
When done optimally, DFIR can provide several significant advantages, including the ability to:
Respond to incidents quickly and accurately.
Follow an efficient, consistent process for investigating incidents.
Minimize damage (i.e., data loss, damage to organizational systems, business disruption, compliance risks, and reputational damages).
Improve the organization's understanding of its threat landscape and attack surface.
Rapidly and fully recover from security incidents, identifying the root cause, and eradicating threats across all organizational systems.
Enable effective prosecution of attackers by law authorities and provide evidence for legal actions taken by the organization.
Challenges in DFIR
As computer systems have evolved, so have the challenges involved in DFIR. Many of these challenges may require DFIR experts to help support growing alerts, increasingly complex datasets, and a unique and flexible approach to threat hunting for ever-evolving systems.
Challenges in Digital Forensics
Disparate Evidence
Reconstructing digital evidence is independent of a single host because it's often disparate and dispersed among different locations. Therefore, Digital forensics usually requires more resources to gather evidence and investigate threats.
Rapid Developments in Technology
Digital technology is constantly evolving. At this pace, forensic experts must understand how to manage digital evidence in various application versions and formats.
Talent Shortages
Digital forensics demands specialized expertise that is in limited supply, leading many organizations to outsource this function.
Challenges in Incident Response
More Data, Less Support
Organizations face more security alerts than ever but have less support to address the volume. Many organizations put DFIR experts on retainer to bridge the skills gap and maintain threat support.
Increasing Attack Surfaces
The ever-increasing attack surface of today's computing and software systems makes it more challenging to obtain an accurate network view and increases the risk of misconfigurations and user errors.
DFIR Best Practices
DFIR best practices include:
Determining the root cause of all issues.
Correctly identifying and locating all available evidence and data.
Offering ongoing support to ensure an organization's security posture is stable for the future.
The success of DFIR depends on the rapid and thorough response. Digital forensics teams must have ample experience and the right DFIR tools and processes to provide a swift, practical response to any issue.
Choosing the Right DFIR Tools
Organizations with their own dedicated DFIR teams can be overwhelmed by false positives from their automated detection systems. Additionally, they may need more time to handle tasks to stay abreast of the latest threats.
Outsourcing DFIR tools and service providers can help organizations conduct efficient mitigation and response to reduce business downtime, reputational harm, and financial loss.
When evaluating DFIR service providers, consider the following:
Forensic capabilities: Understand the service provider's process when handling forensic evidence and using facilities and tools such as forensic laboratories, specialized storage systems, and eDiscovery tools.
DFIR experts: Evaluate the incident responders' or consultants' qualifications and experience.
Vertical and industry expertise: Ensure the service provider has a proven track record of serving similar companies with the same organizational structure and operating in the same industry.
Scope of service: DFIR services can be proactive or reactive. Proactive services typically include vulnerability testing, threat hunting, and security awareness education. Reactive services often include attack investigation and incident response.
Simplify Digital Forensics and Incident Response with SentinelOne
The most effective solution to DFIR needs is an XDR security platform that can ingest data at scale, centralize incident response, and connect IT and security platforms for autonomous response capabilities.
With SentinelOne, organizations can expect AI-powered prevention, detection, and response across endpoints, cloud workloads, and IoT devices to stop and prevent incidents before they cause irreparable damage. The platform can kill, quarantine, remediate, or roll back any potential effects from the threat.
SentinelOne's SingularityXDR provides prevention and detection of attacks across all major vectors, a rapid elimination of threats with fully automated, policy-driven response capabilities, and complete visibility into the endpoint environment with full-context and real-time forensics.
Learn more about SentinelOne's unique solution for DFIR and schedule a demo today.