Recent reports have estimated that Microsoft's security business now makes over $20 billion a year. The International Data Corporation (IDC) estimates that the tech giant has the highest market share of 18.9% in 2022 with an increase of 7.2%. Research firm Gartner estimates that Microsoft controlled about 8.5% of the entire security software market in 2021, a larger share than any.
While Microsoft's security business has accelerated faster than all other major parts of the company, the cybersecurity community has been vocal about Microsoft's problematic business model and failure to keep its products secure from threat actors. This makes the decision making process for modern business owners a sure challenge. Microsoft may have secured its dominance in the cybersecurity arena, making it a common choice for prospective customers, but its failures have heavily impacted both consumers and the greater industry alike.
This blog post considers the current cybersecurity landscape through the lens of Microsoft's dominance across the enterprise software stack, highlighting the challenges this creates for security leaders. By understanding these dynamics, businesses can make more informed decisions about how best to defend the enterprise.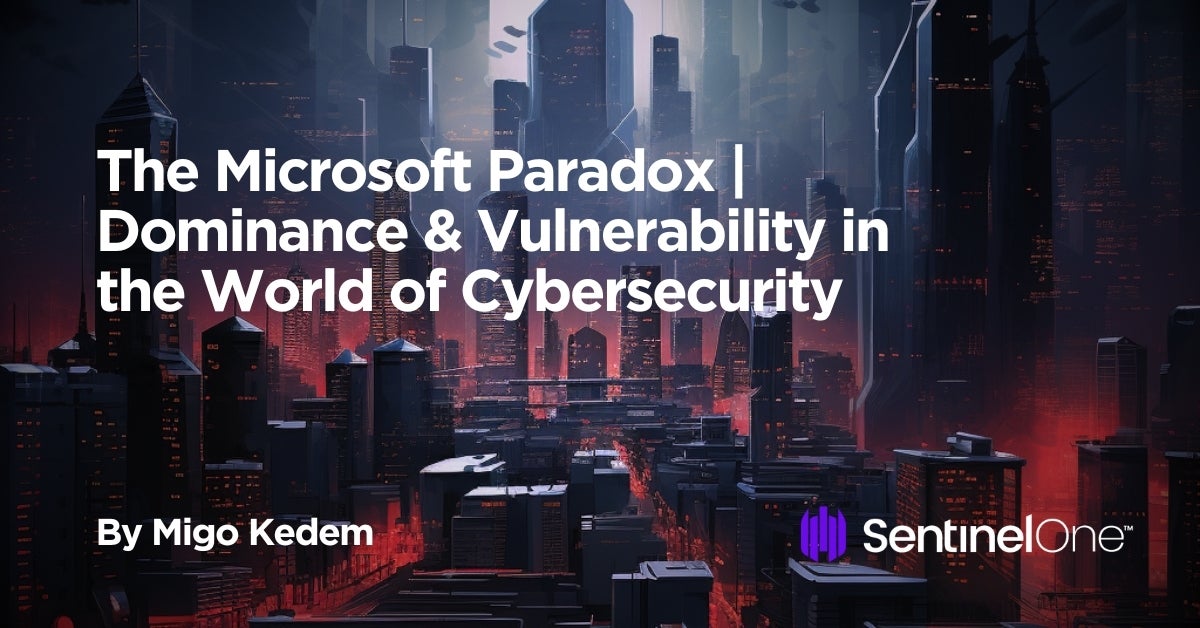 Understanding Microsoft's Journey In Cybersecurity
Microsoft's history of security failures and its subsequent efforts to fix them provide valuable insights into the broader landscape of digital security. These insights underscore the importance of vigilance, transparency, innovation, and strategic positioning in the face of ever-changing cyber threats.
2010 to 2015: The Rise of Cloud & Windows 10
2010: Introduction of Microsoft Azure, marking Microsoft's entry into cloud computing.
2013: Microsoft's Windows 8.1 is found vulnerable to a privilege escalation attack, allowing unauthorized access to sensitive data.
2015: Release of Windows 10, introduces novel security features as well as new vulnerabilities.
2016 to 2018: Security Challenges & Responses
2016: BadTunnel vulnerability affects all Windows versions, allowing attackers to hijack network traffic.
2017: WannaCry ransomware attack exploits Windows' SMB protocol, impacting over 200,000 computers worldwide.
2018: Announcement of Microsoft Secure Score, a security analytics tool to enhance organizational security posture.
2019 to 2020: Increasing Threats & Security Innovations
2021: A Year of High-Profile Vulnerabilities
Present Ongoing: Regulatory Scrutiny & Industry Response
Ongoing: Cyber Safety Review Board (CSRB) investigates major cyber events, including Microsoft's breaches, to drive improvements.
Ongoing: SentinelOne and other cybersecurity vendors in the space position themselves as secure alternatives, highlighting Microsoft's security challenges.
The Dangers of a "One Vendor To Rule Them All" Approach
Vulnerabilities found in Microsoft's suite of products and services have had a profound impact on both the industry and consumers. Most recently, the tech giant faced numerous breaches by Chinese-based threat actors and has since been criticized for its lack of attention to cybersecurity practices.
The cybersecurity community has not been shy about voicing its concern over Microsoft's historical security lapses, starting with criticism stemming from the Code Red and SQL Slammer outbreaks in the early 2000s. These high-profile incidents exposed vulnerabilities that have had cascading effects on the wider internet infrastructure and highlight the need for stronger security practices.
In an attempt to cut through the scarcity of candor these days, let's state some things plainly. Let's talk about Microsoft. With the upfront caveat that every security vendor has made mistakes and has skeletons in their respective closets that need addressing. None without sin.

— J. A. Guerrero-Saade (@juanandres_gs) July 23, 2023
Microsoft products have long been an attractive target for cybercriminals, and any security weakness in Microsoft software can have far-reaching consequences, impacting millions of users and organizations worldwide.
The historical ubiquity of Microsoft software across industries has led to a number of present day cybersecurity challenges.
Microsoft's response to software vulnerabilities and security breaches has been a mix of acknowledgment, remediation, and attempts to make strategic changes across its suite of products.
The company's "Patch Tuesday" offers regular security updates and patches to address known vulnerabilities in its software. However, there have been criticisms and concerns regarding the effectiveness and timeliness of these updates, leading to delays in patching critical vulnerabilities. Microsoft's once-a-month release of security updates has been criticized as cumbersome for IT teams and has led to delayed patching, leaving systems exposed to known vulnerabilities.
Microsoft's suite of products is also unique in its vastness, encompassing a diverse range of software, services, and applications. Lack of visibility across this range can leave organizations exposed to security risks that may go undetected until a breach occurs. Administrators must work around blind spots within the complete ecosystem, making it a challenge to configure and manage security effectively across all solutions.
How Competitors' Responses Stack Up to Microsoft's History of Security Issues
Constructive criticism and feedback within the cybersecurity community fosters healthy competition and continuous improvement. As Microsoft works to address its pain points, other security leaders in the industry have openly responded to the tech giants' history of vulnerabilities and security events.
Competitors like SentinelOne have challenged Microsoft to provide more comprehensive enterprise protection. They often highlight the need for more sophisticated threat detection, response, and automation capabilities. Outside of endpoint protection, competitors have also pointed out potential weaknesses in Microsoft's cloud security offerings. With the increasing adoption of cloud services, they argue that their own cloud-native security solutions are more adept at protecting organizations in cloud environments.
SentinelOne's Singularity XDR provides autonomous cybersecurity and has the following main features:
Conclusion
Looking at the current cybersecurity landscape, it is clear that there is no one-size-fits-all solution. For security leaders, an essential part of making informed decisions for their businesses lies in understanding the current threat landscape and how this interacts with the combined systems, services and software the enterprise deploys.
As organizations across the public and private sectors seek to lock out threat actors by reducing their dependence on vulnerable software and closing common routes of initial access, a key decision many are making is to reduce their reliance on a single vendor and to seek out the right solutions for the different challenges they face. By leveraging innovative solutions and specialized expertise, enterprises can better safeguard their digital assets.
Enterprises across all industries continue to place their trust in SentinelOne's unique approach to endpoint, cloud, and identity security. To learn more about how SentinelOne secures the entire ecosystem, contact us today or request a demo.