As one of the youngest next-generation endpoint security vendors, SentinelOne has well over 2,500 customers, 300% growth year-on-year, 217% YoY growth in ARR, 140% YoY growth in Fortune 500 bookings and 3 of the Fortune 10 sold and deployed over the past 12 months. But we won't stop there…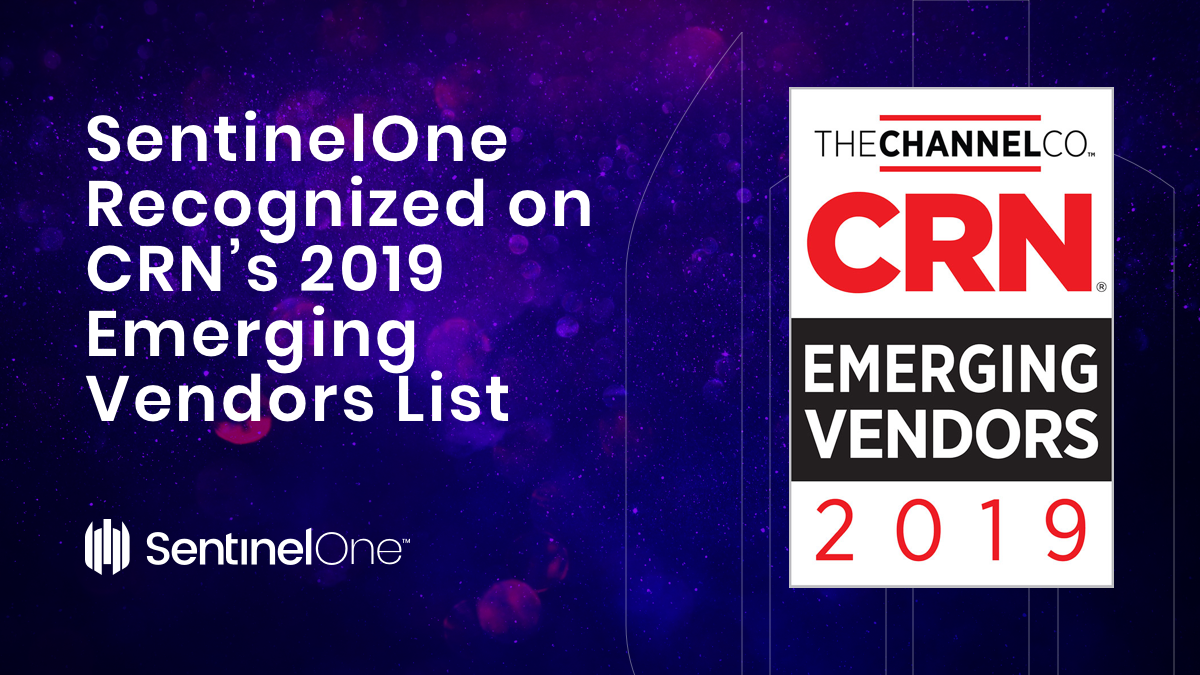 We are pleased to announce that CRN® has named SentinelOne to its 2019 Emerging Vendors list in the security category. CRN's 2019 Emerging Vendors list recognizes new, rapidly growing vendors that are making significant IT channel contributions. It honors groundbreaking vendors that provide sophisticated technology to drive channel growth — and remain committed to ongoing innovation to shape the channel for years to come. 
SentinelOne operates in a rapidly changing environment, where cybercriminals are constantly enhancing their capabilities and are still successfully compromising too many enterprises. To meet these challenges, more and more organizations are realizing traditional solutions cannot cope with such emerging risks. SentinelOne solves this problem for the enterprise by providing next-generation protection to all endpoint types (Windows, macOS, and Linux) and visibility across your assets, including IoT devices, cloud workloads, and servers, which represents a new and lucrative attack vector.
We are experiencing 70%+ proof of concept win rates across all next-gen and legacy AV vendors on a global scale. We also recently announced in June that we raised $120 million in Series D funding led by Insight Partners, with participation from Samsung Venture Investment Corporation, NextEquity, and previous investors, bringing our total funding to more than $230M.
We are continuing to actively defend enterprise attack surfaces using the cloud, allowing enterprises to gain unprecedented visibility across their network with data from each endpoint. The end result is our solution for today and tomorrow's attacks and rich data visibility that was never possible before – all thanks to the cloud.
This award underscores our overall strategy and focuses on innovation in cybersecurity product development, as well as a strong commitment to delivering disruptive endpoint security offering through a vibrant channel of solution providers. 
The Emerging Vendors list will be featured in the August 2019 issue of CRN Magazine and online at www.CRN.com/EmergingVendors.