At SentinelOne, our success starts with our people, who do amazing things everyday. Making our company a great place to work means ensuring all Sentinels are able to prioritise the amazing things they do outside of work, including caring for their growing families.
It's with great pride that we roll out a global gender-neutral parental leave policy, offering all eligible employees a minimum of 16 weeks of paid leave – regardless of birthing status, sexual orientation or caregiving role. We've also added 2 weeks of flexible working upon return to make the transition back to work a little easier.
Introducing this program is a key component to fostering a family-friendly business. At SentinelOne, we work to make the world a more secure place, we also are committed to making it more equitable and inclusive – both at work and at home. Allowing new parents to pause on the professional and focus on their family has a ripple effect of good outcomes. Here's just a few reasons we decided to expand our parental leave.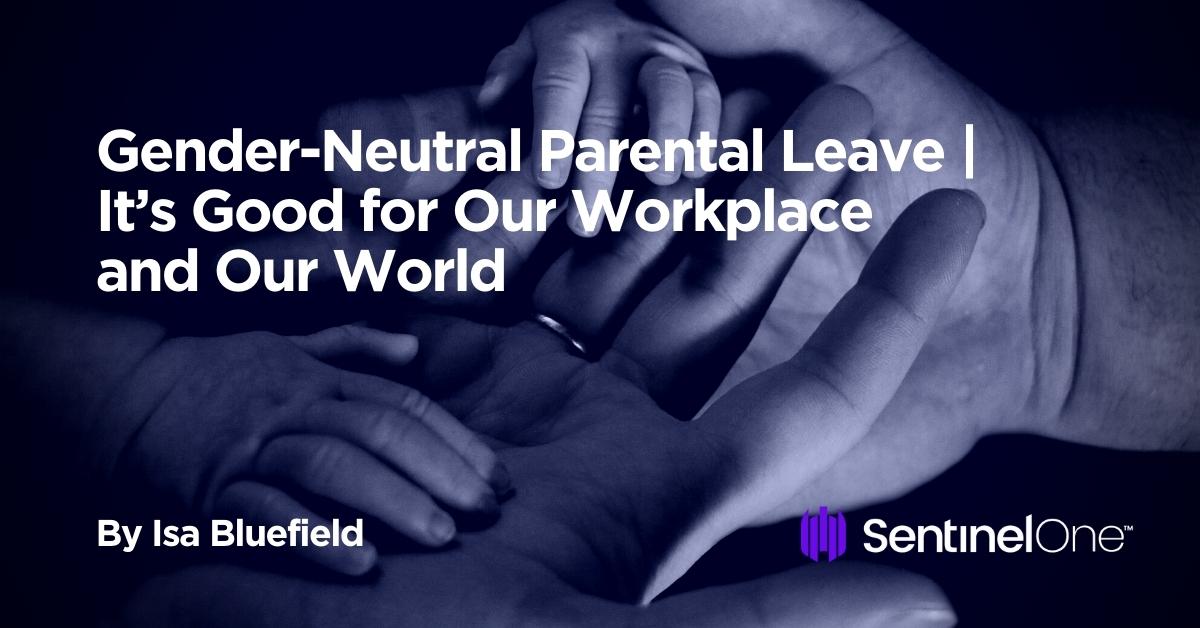 People Come First
Whether someone is a first-time parent or welcoming their third child, adding to a family is a life-changing experience for both parents. We want our people to take the time to acclimate, enjoy and celebrate their growing families. Those first few months are precious – and hard. Allowing parents to fully focus on their family will give our Sentinel families a stronger start. Knowing the importance of family support, we've included grandparents in the policy, offering five days of Grandparent Leave when a new grandchild is welcomed into the family.
Inclusion for All
Cultural norms are evolving and it's critical that policies, programs and practices continue to evolve to meet the need. Having a gender-neutral policy without asking parents to declare primary or secondary caregiving status before their child is even born is a step towards recognising the contributions of both parents. Families come in all shapes and sizes, and we want to celebrate and recognise the critical role that all parents play in the lives of their children.
Closing the Gap
As we continue to fight for equality in the workplace, it's critical to fight for equality in the home. Traditionally, birthing parents, primary caregivers and women have been given more parental leave. Multiply months of absence by 2-3 children, it's easy to see how a policy based on birthing status can contribute to inequality in the workplace. When all parents are supported to balance the demands of work and family, it helps to close the gender gap.
Remote Work Is Here to Stay
There's no denying the changes we've seen in the workplace and the world as a result of the COVID-19 pandemic. We've discovered new and wonderful ways of working to drive efficiency in running both our businesses and our households. Some working from home have found great pleasure in trading long commutes for school drop-off. Some might not return to a "traditional" office location. Most are now able to enjoy increased flexibility as they work towards a better work/life blend. Gender-neutral parental leave allows an equitable division of labour early on, and flexibility where the work day happens will hopefully allow that equity to continue long after someone returns to "work" – wherever that may be!
It's the Right Thing to Do
Family dynamics significantly impact health in both positive and negative ways. Having a close-knit and supportive family provides emotional support, economic well-being and increases overall health. Encouraging Sentinels to prioritise their wellness and their family life is a way to show them how valued they are for their contributions. As an added bonus, a robust parental leave benefit is great for recruitment, retention and rewarding amazing people.
If your employer does not yet offer a gender-neutral parental leave, I encourage you to advocate for one – just as we encourage all Sentinels to suggest steps we can take to improve their work/life blend. This is a critical step in the right direction, but it's not the last. We will continue to work on policies that align with our cultural values and care for our greatest asset – our people.
Interested in Learning More About Life At SentinelOne?
Learn more about SentinelOne's values here. Explore global career opportunities with SentinelOne here.