Life at one of the world's fastest growing cybersecurity companies can get hectic. Between constant threat and vulnerability research, product development and launches, marketing, customer retention, and an ongoing battle against the competition to own market share, it is easy to forget what makes SentinelOne so special – people.
That is why we're proud to kick off a new blog series titled Life @ S1, where we'll highlight an individual from our global team and delve into what makes them tick outside the office. For our first post in the series, it is an honor to present S1's very own renaissance woman, Inbal Levi.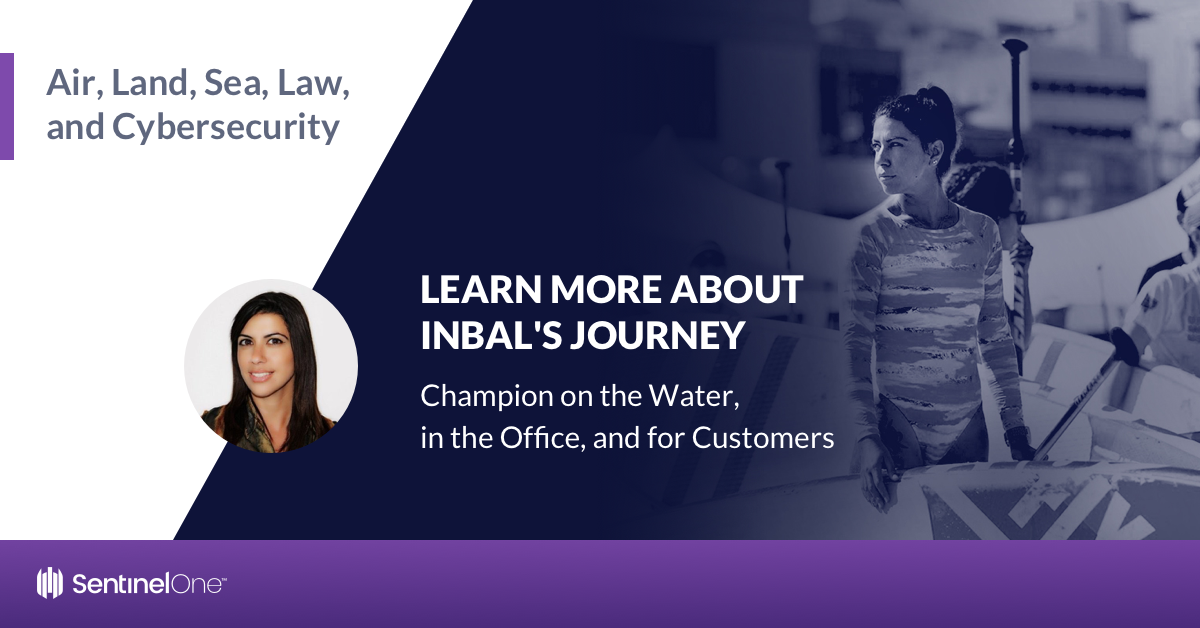 ---
Inbal works out of S1's Tel Aviv office as Global Renewals Manager, but attaching just one title to Inbal and her wealth of professional and life experience is a great injustice. Growing up in the Tel Aviv area as the oldest of three, Inbal's two greatest passions – people and the sea – have led her on an amazing life journey.
Upon completing her service in the Israeli Army as an Education Officer, Inbal embarked on a career in law, receiving her LLB in Law from the Hebrew University. After passing the bar, Inbal practiced criminal law as a public defender with great success but found herself searching for something more in her pursuit of professional happiness.
"The long hours preparing for cases with my nose in a book was a great learning experience, but the process left a void in my desire for creating meaningful relationships through human interaction on a daily basis," said Inbal.
So, what did Inbal do? She took the path that any attorney does while figuring out how to best align their personal and professional goals – she became a flight attendant!
While working for El Al across Europe, Asia, Africa, South America, and North America, Inbal continued her advanced education and in three short years earned her MBA from the Open University of Israel – law degree, check, MBA, check – see what we mean about renaissance woman? Keep reading, the story is just beginning!
Inbal landed at SentinelOne after excelling in several high-profile, customer-facing positions that satisfied her desire for working closely with people each and every day. Inbal has been an integral member of SentinelOne for a little over a year, but before joining the team, Inbal discovered an avenue to pursue her other main passion in life, the sea.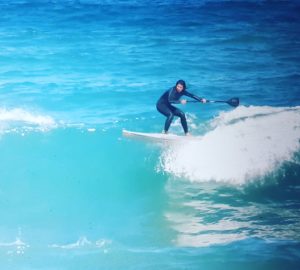 Not often does someone pick up a completely new activity and become a national champion within a few short years, but that is exactly what Inbal has done with paddle boarding, winning the 2017 Israel Championships. Inbal was exposed to the sport through a friend, and began paddle boarding in a beach club group in Tel Aviv.
"Spending early mornings on the water with friends satisfied my greatest pleasures. Being introduced to paddle boarding was a gift and I knew I had to take full advantage of the opportunity to do something I truly love."
And that is exactly what Inbal did. Inbal began training seriously, and in her very first competition, took home first prize. Even with sustaining a scooter injury, Inbal returned to the sport winning first prize yet again.
Inbal now leads a group of S1 employees as a staff trainer, taking the group paddle boarding every Tuesday morning. With the 2018 Israel Championships quickly approaching in November, Inbal is in training, looking to repeat as champion – we wish her all the best. 
Inbal's diversity of experience and passion for growth is what inspires her to help our customers and partners each and every day as Manager of Global Renewals. Whether it be turbulence in the sky, waves at sea, or a tough court case, Inbal's can-do attitude and perseverance to win is contagious, felt on a global scale outside and inside the SentinelOne customer, partner, and employee family.
---
SentinelOne is comprised of an amazing group of talented, driven and diverse individuals. We hope you have enjoyed our first Life @ S1 post, and a big thank you to the champ for being the first profile in the ongoing series.