SentinelOne is Recognized as a 2018 Gartner Peer Insights Customers' Choice for Endpoint Protection Platforms
The Gartner Peer Insights Customers' Choice Distinction Is Based on Feedback and Ratings From End-User Professionals Who Have Experience Purchasing, Implementing and/or Using the Product or Service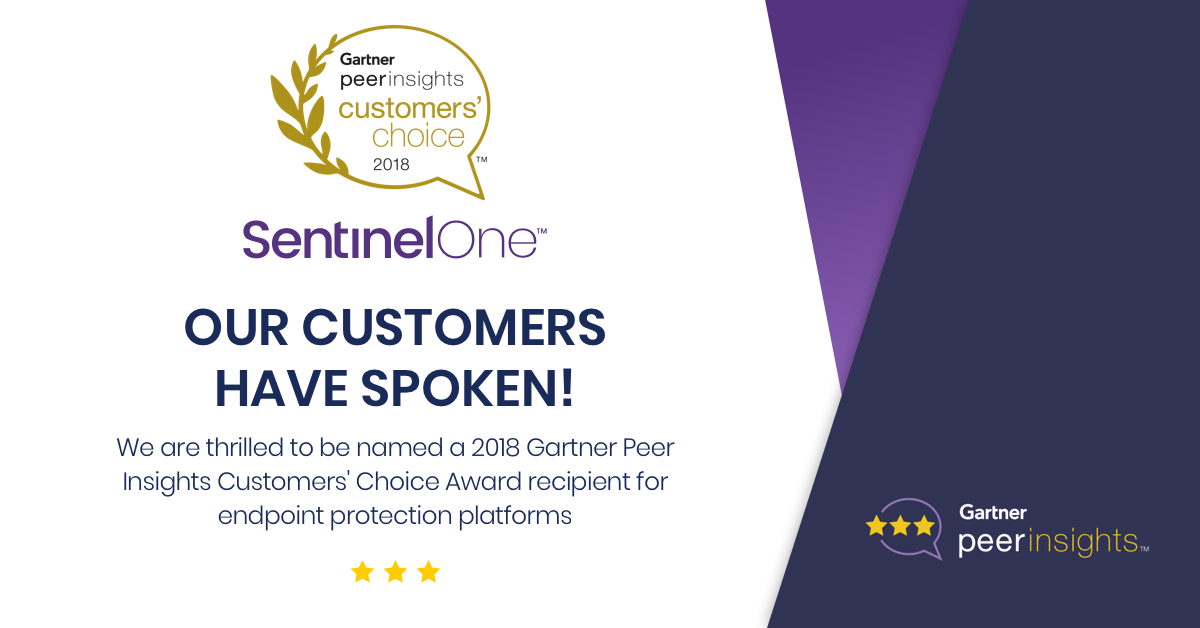 Mountain View, CA,  November 19, 2018 – SentinelOne, a leading provider of Autonomous Endpoint Protection solutions, is excited to share that they were named a 2018 Gartner Peer Insights Customers' Choice for Endpoint Protection Platforms. Gartner defines Endpoint Protection Platforms as a solution deployed on endpoint devices to prevent file-based malware, to detect and block malicious activity from trusted and untrusted applications, and to provide the investigation and remediation capabilities needed to dynamically respond to security incidents and alerts.
"We believe that being named a 2018 Gartner Peer Insights Customers' Choice further validates our commitment to listening to customers and constantly innovating our solution to best meet their security needs, and having some of the world's largest companies as our customers is a great attestation that our technology is in the forefront," said Tomer Weingarten, CEO and Co-Founder, SentinelOne. "SentinelOne firmly believes that today's threat landscape requires automated endpoint protection, that can respond autonomously to every vector of attack, in real time, and we are constantly working to ensure our platform always keeps customers ahead of threats – on every device, virtual or physical, endpoint, server, or cloud."
As of November 17, 2018, SentinelOne has achieved an overall rating of 4.7 out of 5 in the Endpoint Protection Platforms market, based on 276 verified reviews. Some of the reviews that SentinelOne has received include:
"SentinelOne is an amazing next-gen endpoint protection platform. The ease of implementation, strength in detection of threats, remediation with the ability to roll-back changes a threat may have made, and prompt response from their support team really won us over. We've seen threats that our previous AV platforms missed and some are a bit disappointing to know that SentinelOne caught them when others did not. I highly recommend SentinelOne. Their development team is quick and prompt to integrate or improve their product which is always a plus." – Sr. IT Systems Administrator
"We chose SentinelOne for the following reasons: 1.) Security effectiveness levels surpassed rivals in the same space — as reported through NSS Labs and Gartner 2.) Ease of use, lightweight client load on endpoints, and ability to deploy and manage based on our scaled growth as a company 3) Offline detection capabilities 4) Total cost of ownership ranked at $148 versus the industry average of $690 USD 5) Cross OS (operating system) compatibility." — IT Manager – Endpoint Systems in the Manufacturing Industry
"I attacked it from every angle possible with live viruses and ransomware and EVERY TIME it keep my test system clean. They were kind enough to let me test in production as well and it exceeded my expectations in detection, prevention and ease of install and management. I finally feel as if I am truly protected from the threats out there."  –Owner in the Manufacturing Industry
By applying machine learning and AI, SentinelOne Endpoint Protection Platform (EPP) proactively protects organizations from advanced threats, as well as detects and remediates endpoint issues fully automatically and autonomously. SentinelOne's Behavioral AI engine monitors each system process providing not only superior protection from the widest array of attack vectors, but also yielding unparalleled endpoint visibility in one single codebase.
About Peer Insights:
Peer Insights is an online platform of ratings and reviews of IT software and services that are written and read by IT professionals and technology decision-makers. The goal is to help IT leaders make more insightful purchase decisions and help technology providers improve their products by receiving objective, unbiased feedback from their customers. Gartner Peer Insights includes more than 70,000 verified reviews in more than 200 markets. For more information, please visit www.gartner.com/reviews/home.
Required Disclaimer:
Gartner Peer Insights Customers' Choice constitute the subjective opinions of individual end-user reviews, ratings, and data applied against a documented methodology; they neither represent the views of, nor constitute an endorsement by, Gartner or its affiliates.
About SentinelOne
SentinelOne delivers autonomous endpoint protection through a single agent that successfully prevents, detects and responds to attacks across all major vectors. Designed for extreme ease of use, the S1 platform saves customers time by applying AI to automatically eliminate threats in real time for both on premise and cloud environments and is the only solution to provide full visibility across networks directly from the endpoint. To learn more visit sentinelone.com or follow us at @SentinelOne, on LinkedIn or Facebook.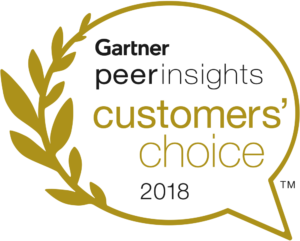 The Gartner Peer Insights Customers' Choice logo is a trademark and service mark of Gartner, Inc., and/or its affiliates, and is used herein with permission. All rights reserved. Gartner Peer Insights Customers' Choice distinctions are determined by the subjective opinions of individual end-user customers based on their own experiences, the number of published reviews on Gartner Peer Insights and overall ratings for a given vendor in the market, as further described here, and are not intended in any way to represent the views of Gartner or its affiliates.