SentinelOne Names Tim Mackie Vice President of Worldwide Channels
Former Cylance Executive Joins SentinelOne to Empower Partners with Game-Changing Technology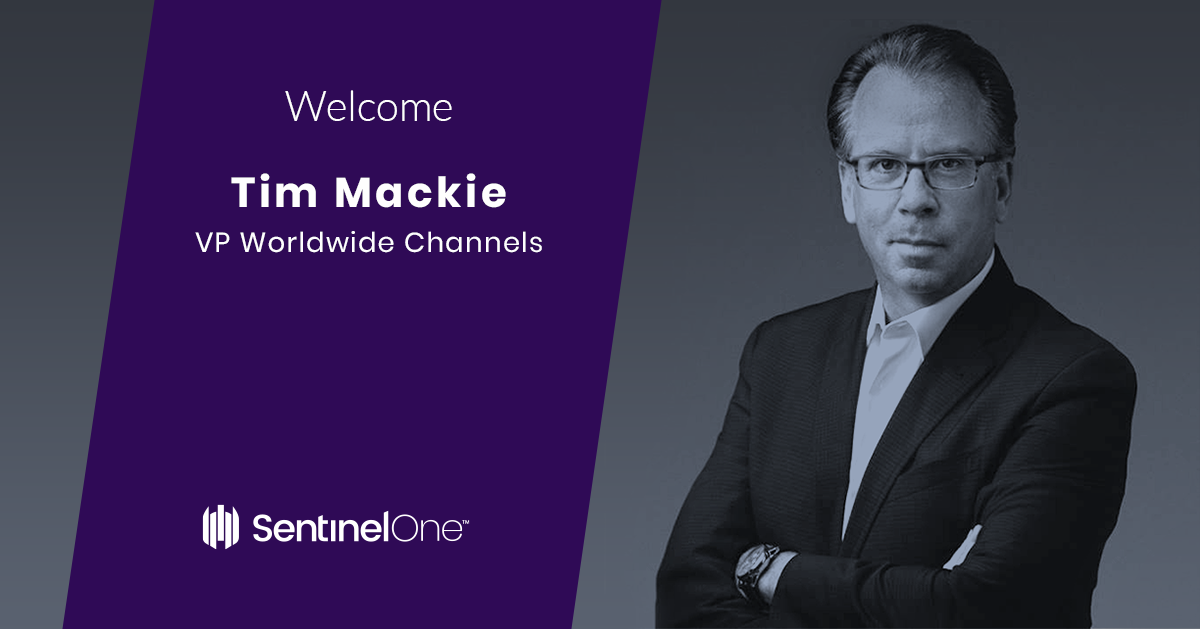 Mountain View, Calif. – February 29, 2019 – SentinelOne, the autonomous endpoint protection company, today announced that Tim Mackie has joined the SentinelOne executive team and will lead the company's rapidly growing global channel program. Mackie is a well-respected leader within the cybersecurity and broader technology industry; prior to joining SentinelOne, Mackie led Cylance's international channels and worldwide distribution.   
"SentinelOne's technology is simply unmatched in its innovation, and the consistent evolution of the platform to meet a rapidly changing threat landscape is something I have long admired. Simply put, I believe that the SentinelOne platform is the best positioned and most capable solution to protect enterprises of today and tomorrow," said Mackie. "Combine the revolutionary technology with the truly world-class team that SentinelOne has built, and I couldn't be more excited to share our story and opportunity with partners around the world."
At SentinelOne, Mackie will oversee worldwide channel efforts as partners continue to realize the benefits of SentinelOne's unique ability to converge next-gen EPP and EDR in a single platform.
"Tim's reputation, experience, and success building global channel programs and working with partners across the globe is simply unmatched and will further propel our growing channel presence to the next level," said Nick Warner, COO, SentinelOne. "Beyond Tim's incredible skill-set and experience, he is also an innovative and tenacious leader, embodying the same traits that make SentinelOne such a force to be reckoned with in the space."
Mackie brings more than 20 years of experience working with channel partners in the security and technology industry, holding several senior-level positions overseeing global initiatives. Tim was previously Worldwide Channel Chief at SD-WAN company Talari and VP of Worldwide Distribution and Global Service Delivery at Riverbed.  Most recently, Mackie served as Vice President, International Channels and Worldwide Distribution at Cylance where he architected and built the company's international go-to-market model.
"Tim is the best type of channel executive, one who puts an immense amount of importance on ensuring partners have the best solutions available with the right kind of program to support the go-to-market," says Julien Antoine, VP EMEA, Exclusive Networks.  "He only puts his weight behind world-class and game-changing technologies so for him to join the SentinelOne team, it speaks volumes about the company's offering and trajectory. We cannot wait to learn more."
SentinelOne is the world's fastest growing cybersecurity company and has become the unquestioned innovative leader in the space. By aggressively converging EPP and EDR in a single autonomous agent, the company continues to evolve their best-in-class enterprise security platform to take AI-driven autonomous protection technology to places it has never been before.
About SentinelOne
SentinelOne delivers autonomous endpoint protection through a single agent that successfully prevents, detects and responds to attacks across all major vectors. Designed for extreme ease of use, the S1 platform saves customers time by applying AI to automatically eliminate threats in real time for both on premise and cloud environments and is the only solution to provide full visibility across networks directly from the endpoint. To learn more visit sentinelone.com or follow us at @SentinelOne, on LinkedIn or Facebook.
Contact:
Eric Searle
fama PR for SentinelOne
(617) 986-5020
[email protected]