SentinelOne Appoints Divya Ghatak as Chief People Officer and Raj Rajamani as Chief Product Officer
C-Suite Adds Proven Industry Leaders to Accelerate Record Company Growth
Mountain View, Calif. – September 30, 2019 – SentinelOne, the autonomous endpoint protection company, today announced the appointment of Divya Ghatak to Chief People Officer and Raj Rajamani's return to the company as Chief Product Officer. The C-Suite appointments of long-established industry leaders support continued record growth on the journey of becoming the next great cybersecurity company.
In 2019 year-to-date, SentinelOne has more than tripled company revenue, serving hundreds of Global 2000 enterprises and three of the Fortune 10. In June, the company raised $120 million in Series D funding and in September was the only endpoint security company named to the inaugural Forbes AI 50 list, recognizing the 50 most promising companies utilizing AI as a core part of their business model and success. SentinelOne's focused business strategy and unrivaled innovation has delivered unprecedented results; Mrs. Ghatak and Mr. Rajamani will play integral roles in further amplifying the company's human capital growth and product successes.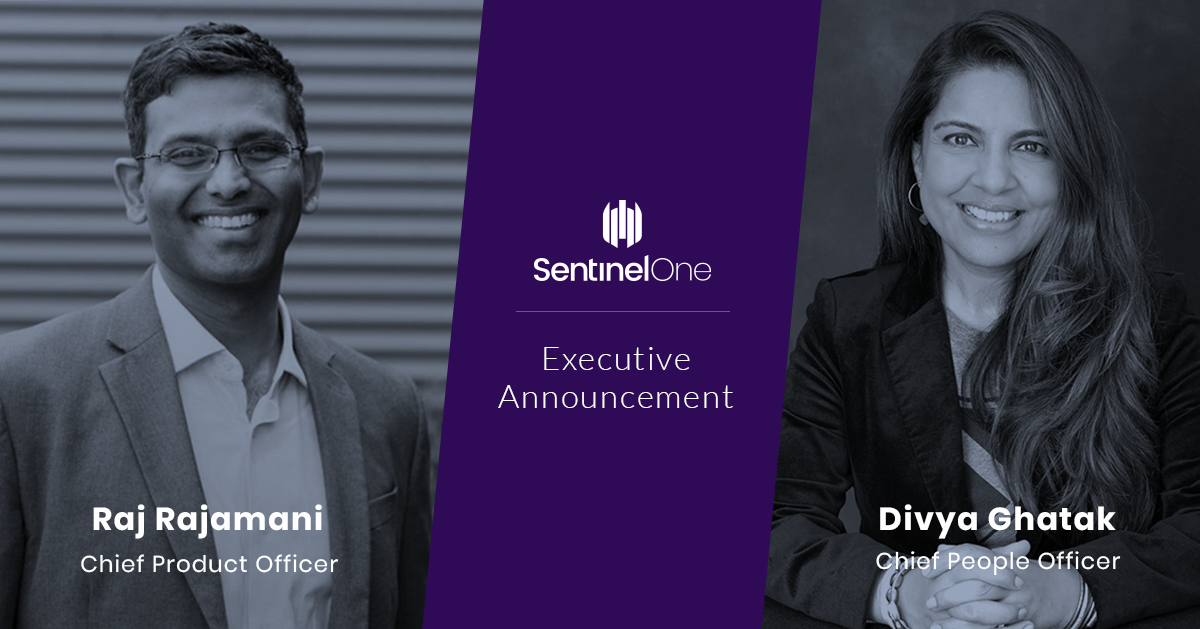 Mrs. Ghatak is one of technology's most-accomplished HR professionals, most recently holding the position of Global Vice President of People at publicly traded medical technology company, Nevro. At Nevro, Mrs. Ghatak built out the global people function and helped drive hypergrowth as the company nearly doubled in both revenues and size post IPO. Prior to Nevro, Mrs. Ghatak was Chief People Officer at GoodData and held global HR leadership roles in a variety of technology companies including Cisco and Tavant. At SentinelOne, Mrs. Ghatak will lead People and Talent functions across SentinelOne's global footprint and enable the company's significant growth and expansion plans for go-to-market and engineering, along with further strengthening SentinelOne's amazing company culture.
Mr. Rajamani returns to SentinelOne as Chief Product Officer after spending a year at data management and storage solution provider, Cohesity, where he led product management. During his first tenure at SentinelOne, Mr. Rajamani delivered industry-leading feature delivery velocity and enterprise quality as the company entered hypergrowth. Mr. Rajamani's desire to return to SentinelOne affirms the unique opportunity in leading product management efforts for one of cybersecurity's most innovative and results-driven R&D teams. Drawing on his prior experience and success at SentinelOne, in addition to product leadership positions at Cylance, McAfee, Marketo, and Solidcore, Mr. Rajamani will work closely with SentinelOne's executive leadership team to define product strategy and execute aggressive innovation and growth plans.
"Raj and Divya have distinguished themselves as visionaries in their respective fields and bring tremendous leadership qualities to SentinelOne," said Tomer Weingarten, CEO and Cofounder, SentinelOne. "As we continue achieving our goal of becoming the next great cybersecurity company, we aim to build the best technology supported by the rich mission-driven culture we've created at SentinelOne. Assembling the brightest minds to shape industry-leading products is critical to paving new, disruptive paths in cybersecurity."
About SentinelOne
SentinelOne delivers autonomous endpoint protection through a single agent that successfully prevents, detects, responds and hunts attacks across all major vectors. Designed for extreme ease of use, the S1 platform saves customers time by applying AI to automatically eliminate threats in real time for both on premise and cloud environments and is the only solution to provide full visibility from edge to cloud across the network. To learn more visit sentinelone.com or follow us at @SentinelOne, on LinkedIn or Facebook.
Contact:
Jake Schuster
fama PR for SentinelOne
P: 617-986-5021
E: [email protected]