April is World Autism Month, dedicated to increasing understanding and acceptance of people on the spectrum. According to a new study published by Autism Research, 1 in 100 children globally are diagnosed with Autism Spectrum Disorder (ASD) and that number increases to 1 in 36 in the United States.
As we work to create a more inclusive world and workplace, customizing things like the interview process, working norms, retention strategies, and social expectations, allows us to increase the awareness and acceptance of neurodiverse individuals and uncover an amazing untapped resource of diverse talent.
SentinelOne is proud to foster a workplace culture where all people can fulfill their potential. Our advantage comes from designing with the intent to protect everyone, everywhere, and knowing that inclusion transforms the customer experience.
In this blog post, meet three Sentinels who are eager to share their personal experiences with ASD, hoping to welcome more neurodiverse candidates to join us in our mission to Secure Tomorrow™ as we determine the future of cybersecurity – together.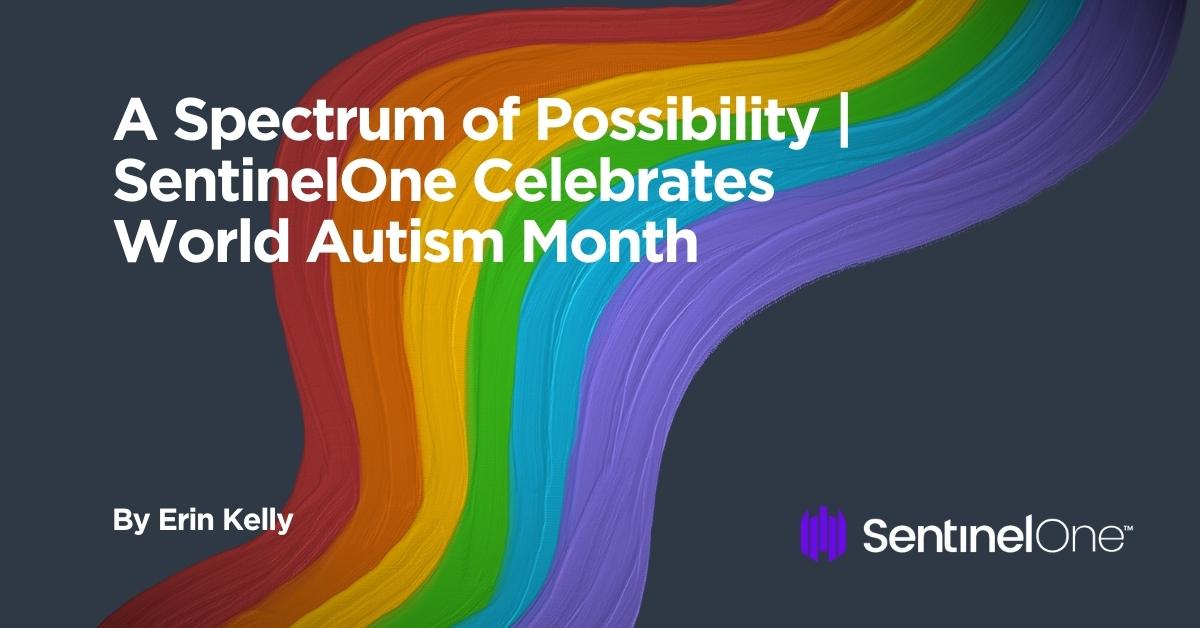 Meet Aubrey Robertson, People Operations Specialist
Aubrey Robertson, People Operations Specialist, has been with SentinelOne for 18 months and is based in Eugene, Oregon. As a People Operations Specialist, she handles information updates in Workday and assists in onboarding and offboarding employees, consultants, contractors, and interns.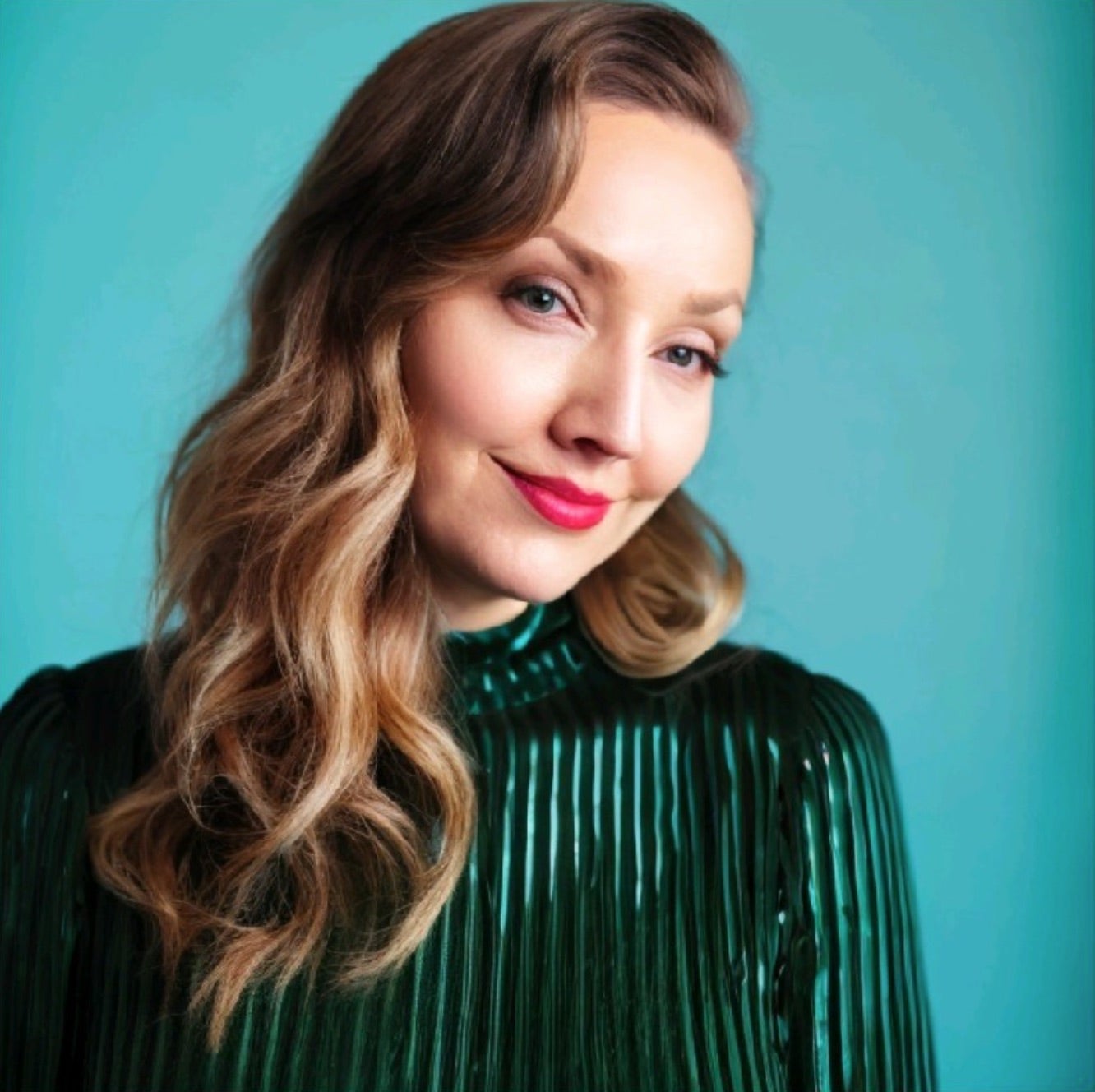 "Being diagnosed with Autism well into my adulthood opened a door to a myriad of resources, leading me to understand my feelings and challenges more deeply," said Aubrey. "On days where I feel overwhelmed, I analyze what triggered me to avoid that in the future."
Aubrey believes stereotypes in the media are not accurate and create an unrealistic expectation that people with Autism all have obvious social deficits that coexist with a redeeming academic or savant quality.
"Autism in real life often doesn't look the way it's portrayed in popular culture," said Aubrey. "This trope creates a real-life expectation that all autistic people are geniuses in a particular subject and socially awkward in a way that's endearing. The expectation for an autistic person to possess these qualities can be damaging."
Aubrey believes that the unconscious bias towards neurotypical behavior creates an implied social expectation for people with ASD to mask symptoms, causing exhaustion, burn out, and anxiety. She feels fortunate to have the self awareness and coping skills to thrive in our inclusive environment at SentinelOne.
To support someone with ASD in the workplace, Aubrey suggests trying to engage them in different ways. Instead of sitting across from one another during conversation, try sitting side by side on a sofa or a bench where it's socially acceptable not to maintain eye contact, which does not come naturally to people on the spectrum.
"For me, worrying about what to do with my hands or my facial expressions makes me so self-conscious that I lose track of the conversation entirely," said Aubrey. "If I have something to hold and eat, a fidget toy, or a passive card game to play while chatting, that helps keep my mind off my social quirks and allows me to be present as my authentic self.
Aubrey describes ASD as different for everyone. Things like gender, age, level of intervention, and basic personality traits make no two people alike. If you have a direct report or teammate who is open with their diagnosis, Aubrey suggests asking them what accommodations they would find helpful to be more successful and comfortable at work.
"I find large group meetings very intimidating if I don't know what to expect," said Aubrey. "If meetings could be prefaced with a detailed agenda at least a day in advance, that would be a dream come true."
Aubrey also suggests inclusive strategies like using Mentimeter for group feedback, offering frequent breaks during longer group meetings, and replacing ice breakers with something less intimidating for introverted teammates.
"I can recognize when I need a break and have techniques to charge my social battery," said Aubrey. "When I'm in a highly social situation, I'm using 80% of my energy to blend in socially and can't efficiently access the problem-solving or creativity centers in my brain. Offering safer and more inclusive ways to share discussion feedback will ensure you're getting everyone's best thoughts."
Aubrey encourages those living with ASD to be open with teammates, family, and friends about needs and share helpful strategies for success.
"Chances are, people will understand and want to accommodate your needs," said Aubrey. "Your needs deserve equal respect. You can and should expect a reasonable amount of comfort, even when it must be achieved through extra effort."
Meet Christof Jacques, Senior Solutions Engineer
Christof Jacques, Senior Solutions Engineer, supports sales teams in Belgium and Luxembourg by creating meaningful experiences and solutions for our customers. Christof was diagnosed with ASD at 38 years old.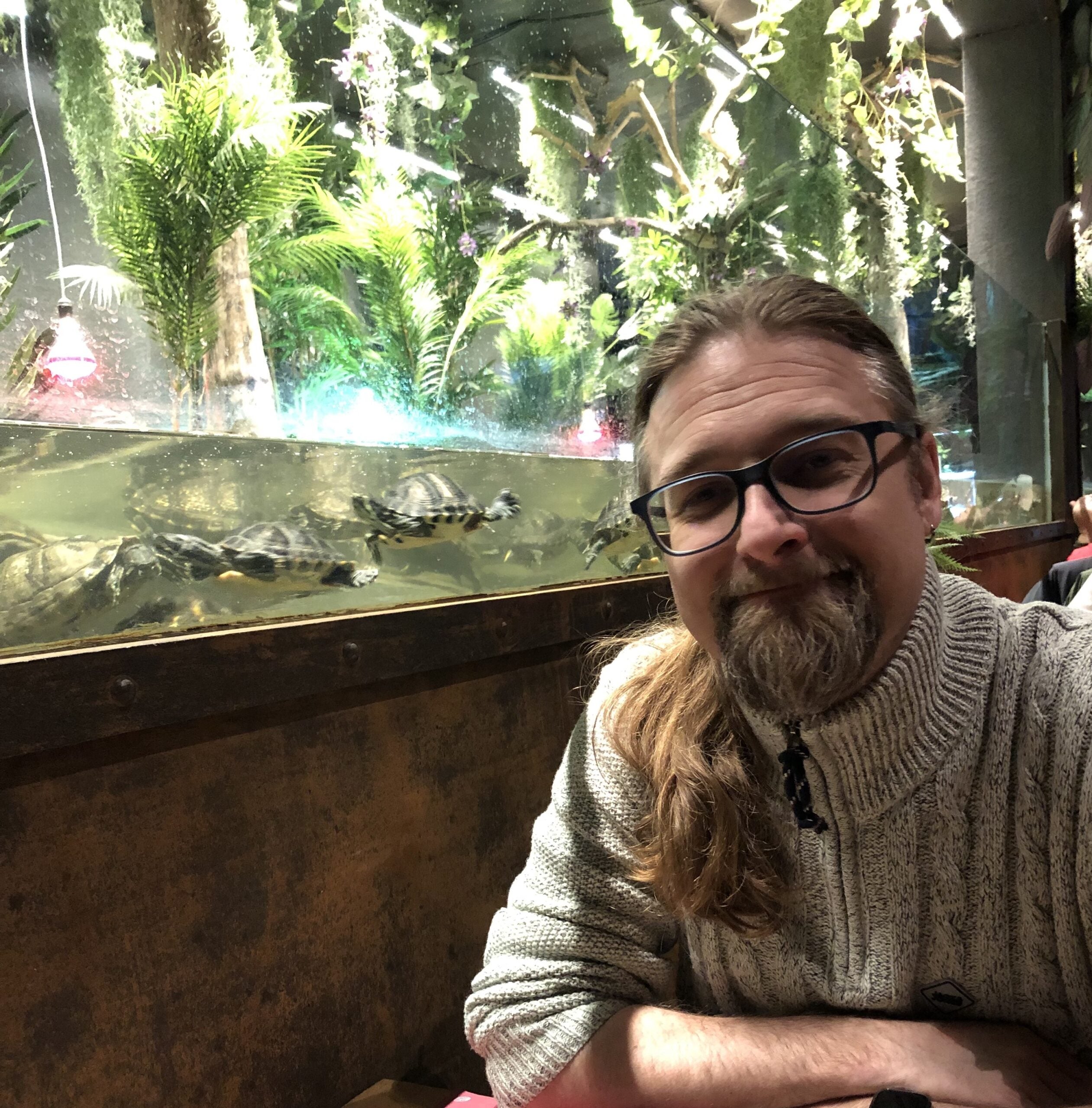 "I learned from my diagnosis that it's ok to respect my limits," said Christof. "This mindset makes it easier for me to excel in other areas and use my energy more efficiently. I think that's valuable advice for everyone."
After being diagnosed with Asperger's Syndrome, Christof learned all that he could. Reading books helped him understand himself and confirmed why some day-to-day tasks were so challenging. Social gatherings are also challenging for Christof to navigate. He said it's not easy to explain why he won't attend a social event, but he's learned that it is ok to say no.
"For me, there are a lot of things that are complicated that shouldn't be," said Christof. "I think it's important for employers to understand that social events can be challenging. Participating should not be a factor for promotions or recognition."
Christof has been open and active in leading conversations about ASD at SentinelOne in the two years since he joined. When his manager learned of his diagnosis, he approached Christof to ask how he could be more accommodating.
"The question itself shows that you care," said Christof. "It was cool that it was asked. It's important to underline that every person is different. So, what is important to me might not be to someone else. If you work with someone with Autism, ask them what can help them."
When asked to share insight about creating an inclusive workplace, Christof said remote work options are helpful for those who find frequent interruptions challenging. He also said clear communication with added context is also helpful.
"Be patient," said Christof. "There may be a need to explain and re-explain. Allow teammates the opportunity to think through a problem and come back with a response. Depending on their energy level, they may need time to process."
Meet Erin Kelly, Head of Internal Communications & Talent Brand
Erin Kelly, Head of Internal Communications & Talent Brand, has been with SentinelOne for just over a year. With 25 years of communication experience and 17 years of experience with Autism, Erin credits her ability to break down complex topics in compelling, clear, and concise ways to raising a child with communication challenges.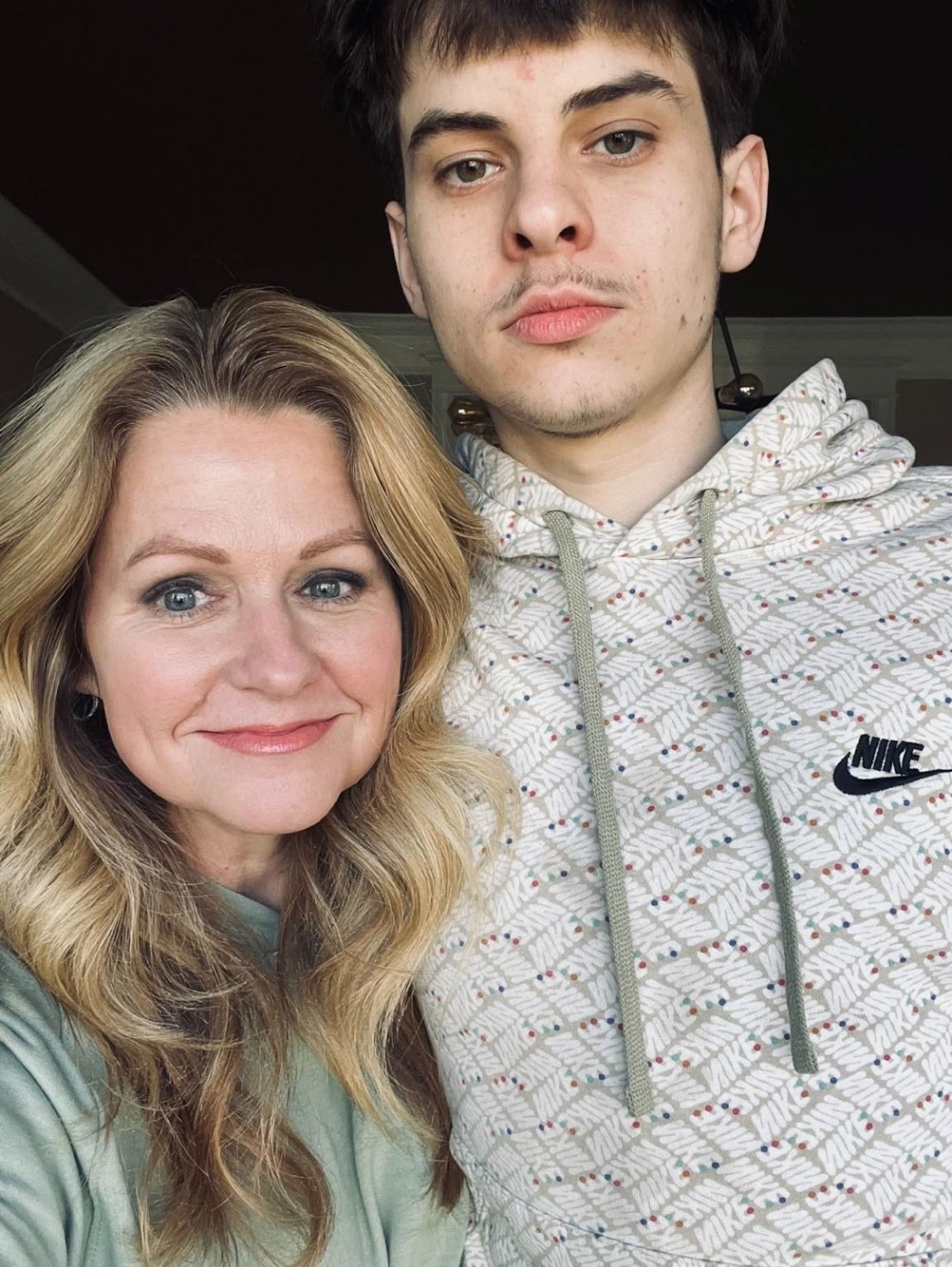 "When I create content, I imagine the audience to have no experience with the subject matter," said Erin. "I strive to tell stories and deliver explanations in the right order with an appropriate level of detail – too much of anything can be overwhelming."
Erin suspected something was different about her son's development when he stopped using the 20 words he had racked up at two years old, and his irritability increased to an almost constant level.
"My toddler stopped talking and was super cranky," said Erin. "About four weeks into his tantrum spell, Jack started banging his head on hard floors. I took him to Children's Hospital of Philadelphia and waited a few weeks for doctors to tell me what I already knew. Jack had Autism."
Erin describes the years that followed as an uphill race against time. The team of therapists sent by the state of New Jersey described Jack's first five years as the most critical and coached her to dedicate time and resources into maximizing his potential.
Jack had 30+ hours of intervention for the better part of his childhood. He started talking again at five years old and hasn't stopped since. Jack was mainstreamed in middle school and graduated from high school last year.
"Finding a place where Jack can feel included academically, socially, and recreationally is a challenge without end," said Erin. "He is 19 and still struggles to find his place. While he continues to strengthen coping strategies, I would love the world to meet him halfway with greater understanding and acceptance."
Erin believes that kindness, active listening, open communication, and structured settings can go a long way in making the workplace more inclusive for people of all abilities. Strong people practices create a better culture for all – not just those living with ASD.
"Jack has a photographic memory, an incredible attention to detail, and a great work ethic," said Erin. "These are all awesome qualities in the workplace. That said, eye contact, social situations, and group conversations can be problematic. Making it ok to be socially different – and even distant – would be a great start."
Having a People Business Partner who feels comfortable helping teammates navigate the world of accommodations is also critical for success. Remote work has opened a world of possibilities for those who may be perceived as introverted and excel in a smaller controlled environment.
"Investing in talented people and giving them the space and confidence to be their authentic self at work is a best practice for everyone, not just people on the spectrum," said Erin. "People of all abilities want to make an impact and feel included at work. Fostering inclusion is good for our people and for our business."
How Businesses Can Expand Their Spectrum of Possibility
Fostering a truly inclusive workplace means examining how we can embed awareness and acceptance of neurodiverse individuals. The key in building this space focuses on open communication, asking for suggestions and strategies, and mutual respect.
Broadening your talent base means setting up all people in a company for success where they can reach their full potential and grow with the business. SentinelOne is dedicated to the continuous growth of its inclusive workplace culture and is proud to provide a space where all Sentinels will always feel welcomed.